Background
SHARE is a nonprofit that provides dedicated, experienced support for women facing breast, ovarian, uterine, cervical, or metastatic breast cancer. The nonprofit hosts over 50 programs each quarter and needs quick updates to keep its schedule running smoothly.
The Project: Program Calendar Update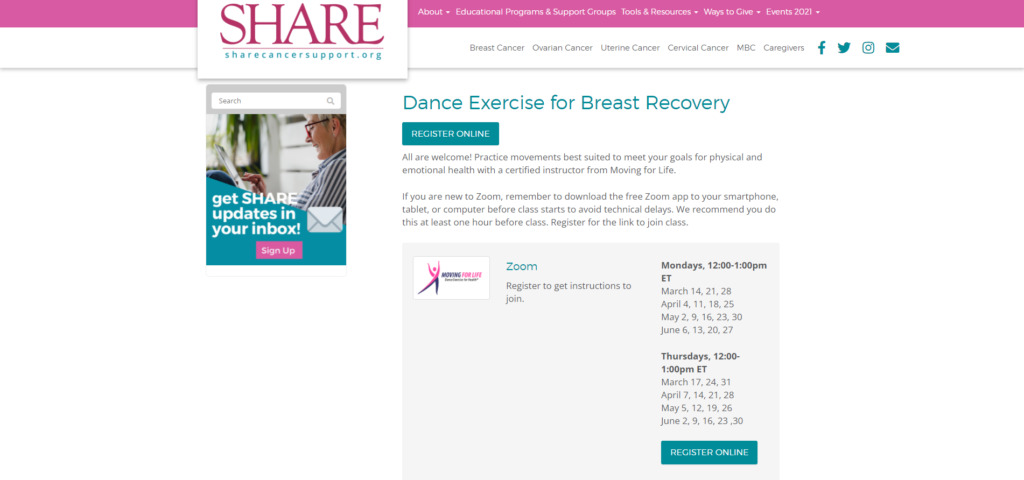 Each of SHARE's programs have independent pages with unique Zoom registration links
As the year's first quarter was wrapping up, SHARE approached Pronto needing a quick and efficient way to update their program calendar page for Q2. This included:
Updating program dates
Updating Zoom links
Adding and removing programs
A task request on SHARE's dedicated project board got the project started:
The Website Update Request

Hi there,
Here is a link to the Google Sheets spreadsheet that has all of our Jan-Mar 2022 programs — please update our calendar and registration pages accordingly to our Educational Programs & Support Groups page. 
All registration pages should be given an additional "Register Online" button next to the title of the program.
We should still have the "Register Online" button next to the date, time, and day of the week, so a total of two buttons should be present on the page.

Thank you so much!
Project Breakdown: A Custom Workflow to Streamline Updates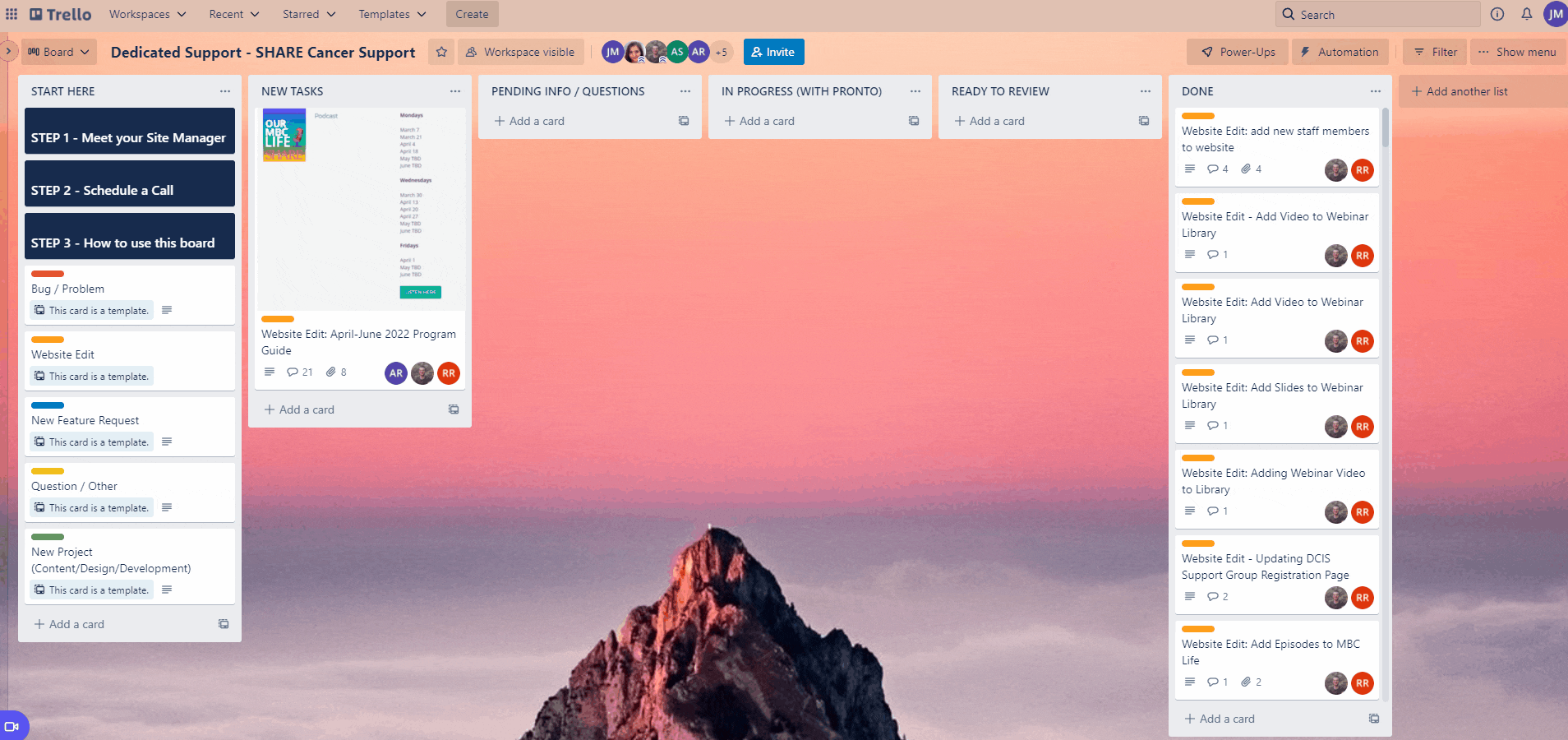 A live project board was shared to keep track of updates, and revisions in real-time
Planning
With over 50 programs each quarter, Pronto's dedicated support agent took a step back and scheduled a live call with SHARE to discuss the desired updates and project at large.
This allowed both parties to get on the same page and address any questions concerning expectations and project timelines. The call established firm deadlines for each stage of the project.

Project Management
To streamline updates, SHARE's project board was heavily leveraged throughout the project to keep track of new requests, updates, and revisions in real-time.
The project board allows project items to be slid from one column to another. For SHARE, this meant that any new request would be filtered through a custom-built workflow.
All revisions, questions, reviews, and final updates are represented on a step-by-step basis to keep all parties informed on where the project is at all times.
Execution
SHARE got things started by requesting a "New Task" that detailed their desired updates. They shared two documents:
Program Calendar — a spreadsheet that outlines each of Share's upcoming programs with dates, times, and registration links.
Program Guide — a document that includes program descriptions and instructions on where to add them.
With this, SHARE's dedicated support agent got right to work.
First, a duplicate of the Educational Programs & Support Groups page was created before applying the new updates to ensure the live one remained undisturbed.
Once the updates were finished, a first draft was sent to SHARE for review via the project board. The nonprofit came back with corrections and submitted them through their Program Guide.
The page was revised and sent again to SHARE for a final review. Once approved, the live page was immediately replaced with the new version.
Project Outcome & Next Steps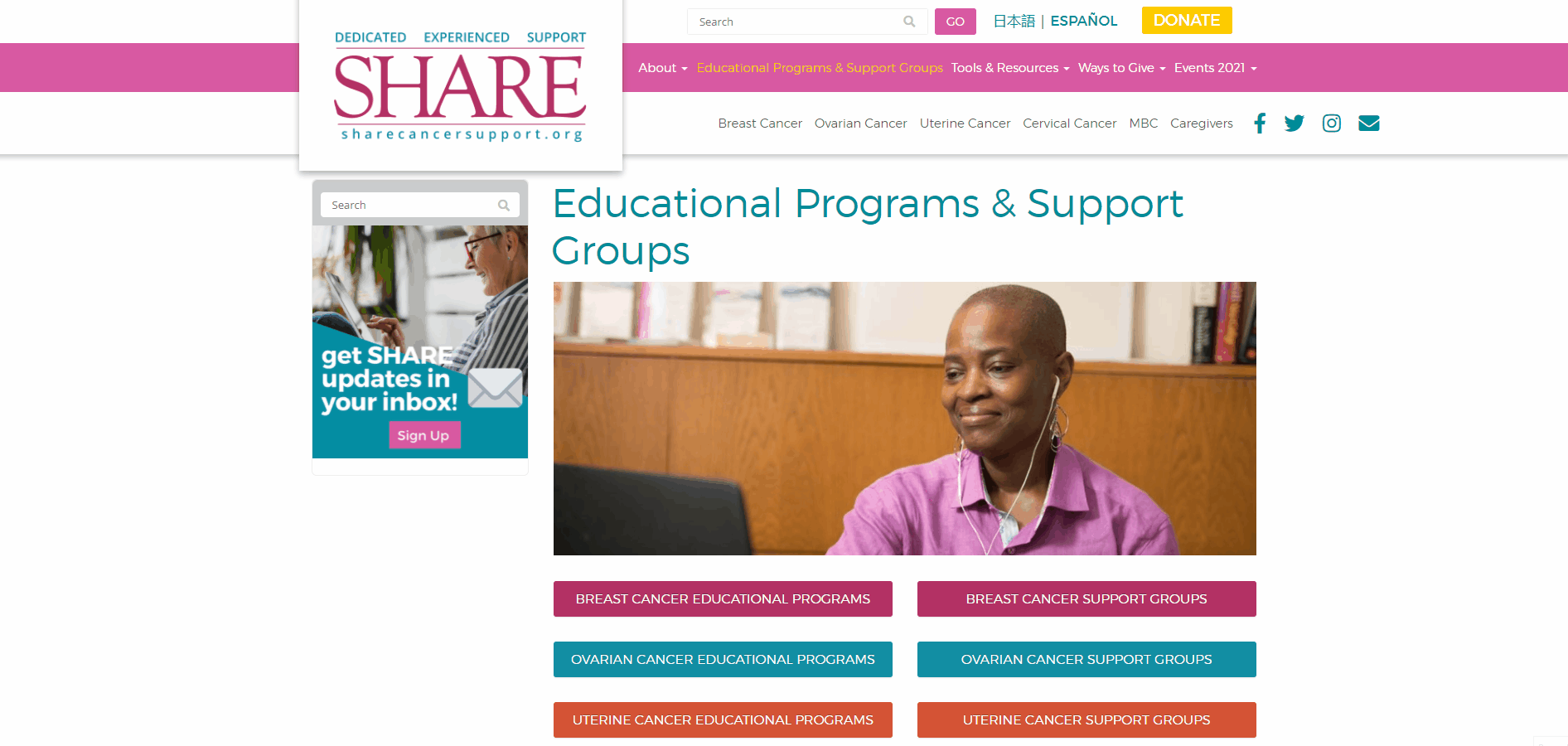 All SHARE programs were updated with new dates, descriptions, and registration links
SHARE was able to update its entire program calendar page quickly and efficiently, enabling a smooth transition without any disturbance to its visitors. The nonprofit website is now able to process new registrations for each of SHARE's upcoming programs in early 2022.
The new page looks fantastic! Thanks for all your help on this! — Amanda Russel, Communications Manager
Pronto's Dedicated Support service makes it easier for WordPress website owners to manage multiple website tasks and projects while still getting things done as fast as possible.
Request a free consultation to learn more about our white-glove support service.