Content curation is a growing tool that bloggers and publishers use for content marketing to attract and expand the content they have online. It can help them share their content all over the internet and increase the buzz with their own audiences. They can also add commentary on different topics from other sites.
When you curate content, it may be a valuable item that you want to share with your audience. By adding your own bit of commentary, you would then publish it along with your blog. Just be sure that you don't plagiarize (i.e., duplicate content that you don't own).
You also want to ensure that you attribute or cite your sources with the appropriate backlinks to the content source. That way, you can give credit where credit is due, and you won't break any writing laws online.
With content curation, you can share topics and content with your audience. This can help increase and expand your blog posts and publishing. Here are a few easy ways to help you curate content properly.
What is Content Curation?
Have you ever seen an article that referenced several other articles and also included the author's work? That's an example of content curation. Content curation is a way to review other content from a host of different sources, and then assemble them into a well-organized article that cites these sources. You can then add your own commentary to the existing content, and publish all of the information. This requires quite a bit of research as you cite/aggregate the sources and put all your information together in an easy-to-read, informative piece.
How to Publish Content You've Curated
When it comes to content curation, there are a few keywords you should know to help you better understand what content curation entails. These include content syndication and content aggregation. By learning these terms, you can successfully curate the content you publish on your blog.
Check out these examples below:
Content Aggregation: When you leave out the actual articles and only put together a few links to content that already exists online, this is considered content aggregation. Look for sites like news aggregator, PopURLs or headlines from popular articles or Alltop as examples of content aggregation online.
Content Syndication: Content that is syndicated has been aggregated and then redistributed. This can be entire articles or just partial articles that can then be used for publishing by third parties. Look for sites like blog article site, Newstex or NewsCred as examples of content syndication sites.
With content curation, you can access a variety of articles online that you might want to share with your blog audience. If you think your audience might benefit in some way from the links and articles, you can share the information with them – even if it's just a snippet, and then publish it in your blog post. That way you've shared external links and cited your sources properly. That's providing the appropriate attribution that you would want if someone were citing/referencing your site/blog.
Why Curate Content?
If you've published content for a lengthy period of time, chances are you want to mix things up. You never want your audience to get bored with your content, and so offering new material can encourage them to check back with you for more. You're sharing something with them that's informative.
Here are a few other ways to help you share content with your audience:
Share your opinion: When you curate content, share your thoughts, and include a quote or an abstract. This can help give you views and offer insight into the shared material.
Mix up your content: Adding a mix of curated and original content can help separate your blog and writing from the curated content you're sharing. Make sure to customize it to your audience, and use content that's informative with key points and opinions if you plan on sharing it for a healthy mix of resourceful content.
Take the focus off of "you": One area that can help is to not be you-centric. Using only your information and interjecting only your opinion can be very one-sided. Share perspectives from others in a similar genre to offer a wider perspective.
Answer questions through curated content: When you use third-party content, you can address the various inquiries your audience may have while sharing your expertise in that particular area.
How to Use Curation to Publish Round-up Blog Posts
A great way to leverage content curation to maximize your blog posting and share informative content from all over the internet is with publishing round-up blog posts.
An example of this would be having a monthly post of shared links with descriptions to content from different sources about the same topic.
This gives you the chance to add your own commentary, and it's a fun way to share information with your audience while highlighting the work of other publishers who may include you in their curated content in the future.
How to Use Slideshows to Highlight Curated Content
A slideshow is an appealing way to increase page views because your audience has to click on each page to see the content.
This is a fun way to share curated content that breaks from the traditional blog post with links citing sources.
Tip: Your slideshow can integrate with sharable social media like Twitter, Instagram and Pinterest.
How to Embed Curated Content into Your Blog
To embed curated content, you can use formatting tools through a third-party site. At times, these are the easiest ways to embed curated content.
All you need to do is pick the sources you'd like to use and then add your comments or abstract to each one. Then embed the codes via copy and paste, and publish it.
For examples of how this is done, check out sites like Storify and Rebelmouse, as these have easy-to-use features for embedding curated content.
How to Curate Content with an Online Video
If you would like videos to be used in your curated content, you can easily create a video, add your content, and then publish it.
You can do this through YouTube, and the video can be embedded in your blog. Just don't forget to use the URLs for your cited sources. You can add this in the video and in the description you make for the video.
Curated content is a great way to share new information with your audience. It helps you give a variety of sources and share well-rounded information that your audience can identify with. It's also a great way to reach other publishers who may come back and share your work as well.
---
Need some help?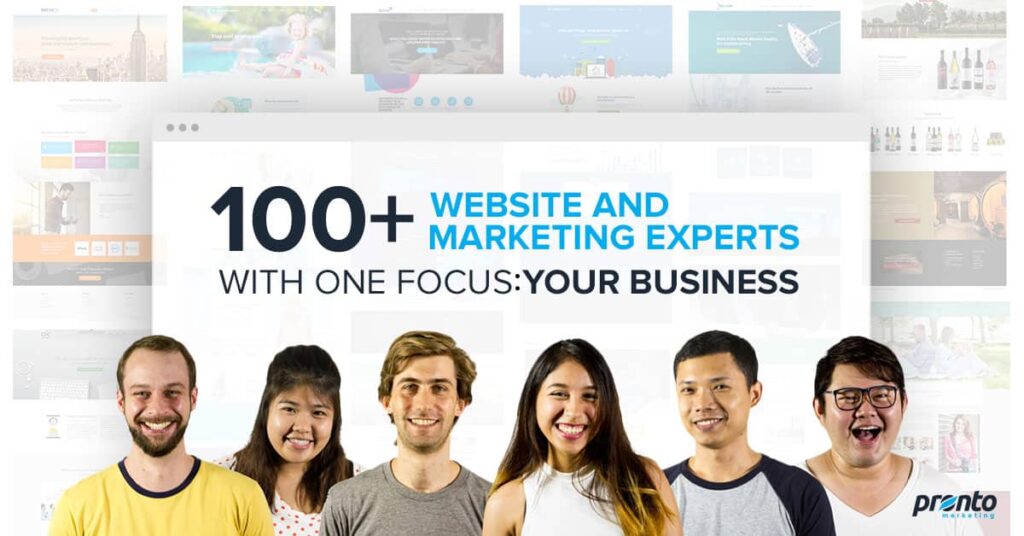 If you feel confused or overwhelmed, don't be. Pronto has you covered. With over 1500+ WordPress websites under our belt, we can help you with all your WordPress needs and more. From Content all the way to integrating platforms.
Schedule a call with one of our Pronto Experts and learn how we can secure your website so you can focus on your business.