Your chosen page builder may be one of the most important plugins you'll install on your website. Elementor is a popular option that enables you to fully customize your posts and pages via a user-friendly drag-and-drop interface. However, not every WordPress theme works smoothly with Elementor.
By using an Elementor theme, you can ensure that your page builder works seamlessly with your theme files. This can give you a smooth editing experience and reduce the risk of software conflicts. With that in mind, here are some of the best Elementor themes:
In this post, we'll delve further into why you should consider using an Elementor theme for your business website. Then we'll explore these five top options. Let's get started!
An Introduction to Elementor
Elementor is one of the most popular page builder plugins available. Using its visual editor, you can simply drag and drop content onto a page or post, and create a unique site quickly and easily: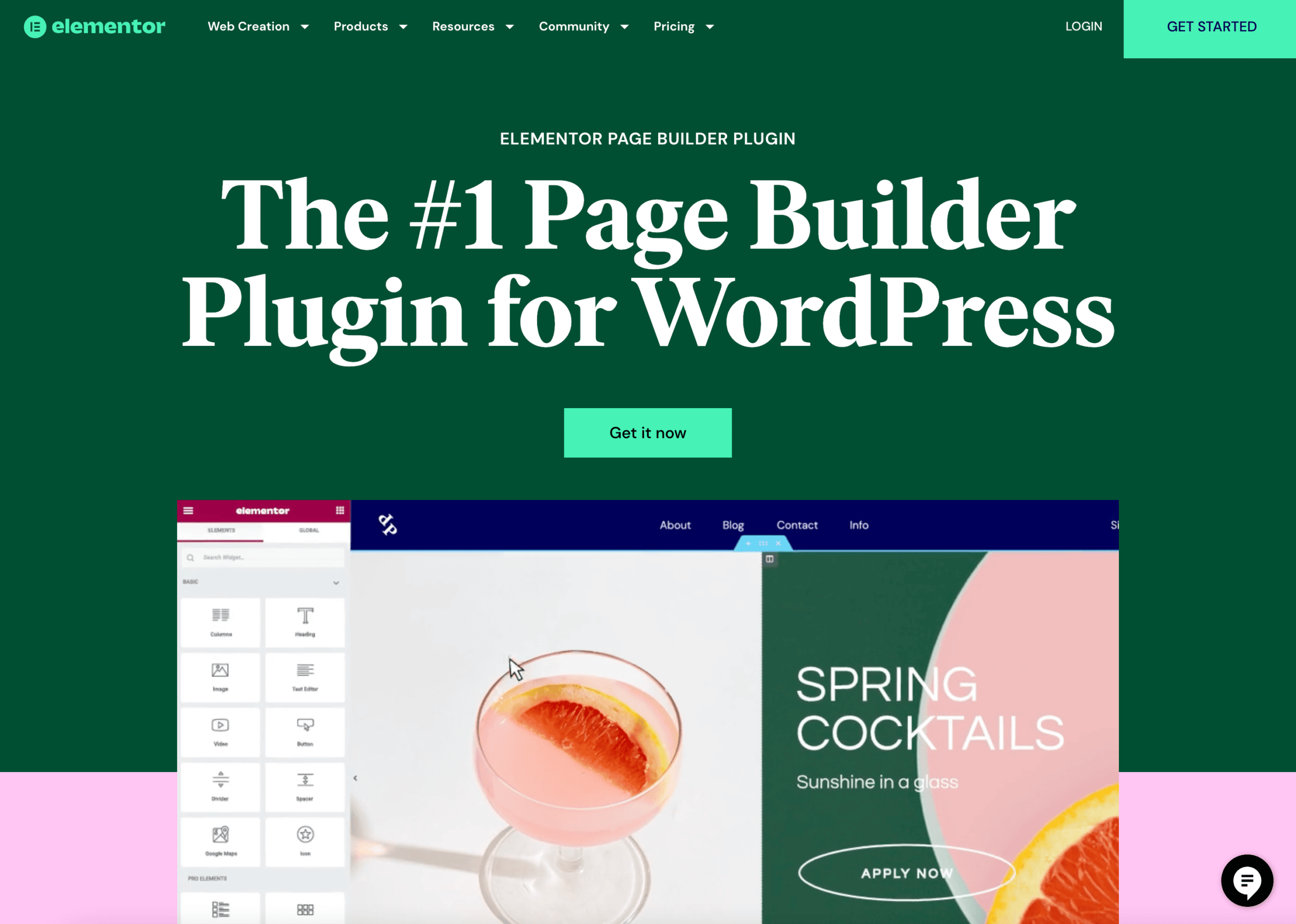 Among other use cases, Elementor makes it easy to develop a custom business website. Since it integrates with WooCommerce, this page builder can help you create an efficient and engaging shopping experience for your customers.
The premium version of the plugin also comes with 'website kits'. These are responsive and SEO-friendly designs that can jumpstart your development process. In the Elementor Kits Library, you can find page layouts for e-commerce stores, education websites, blogs, and more: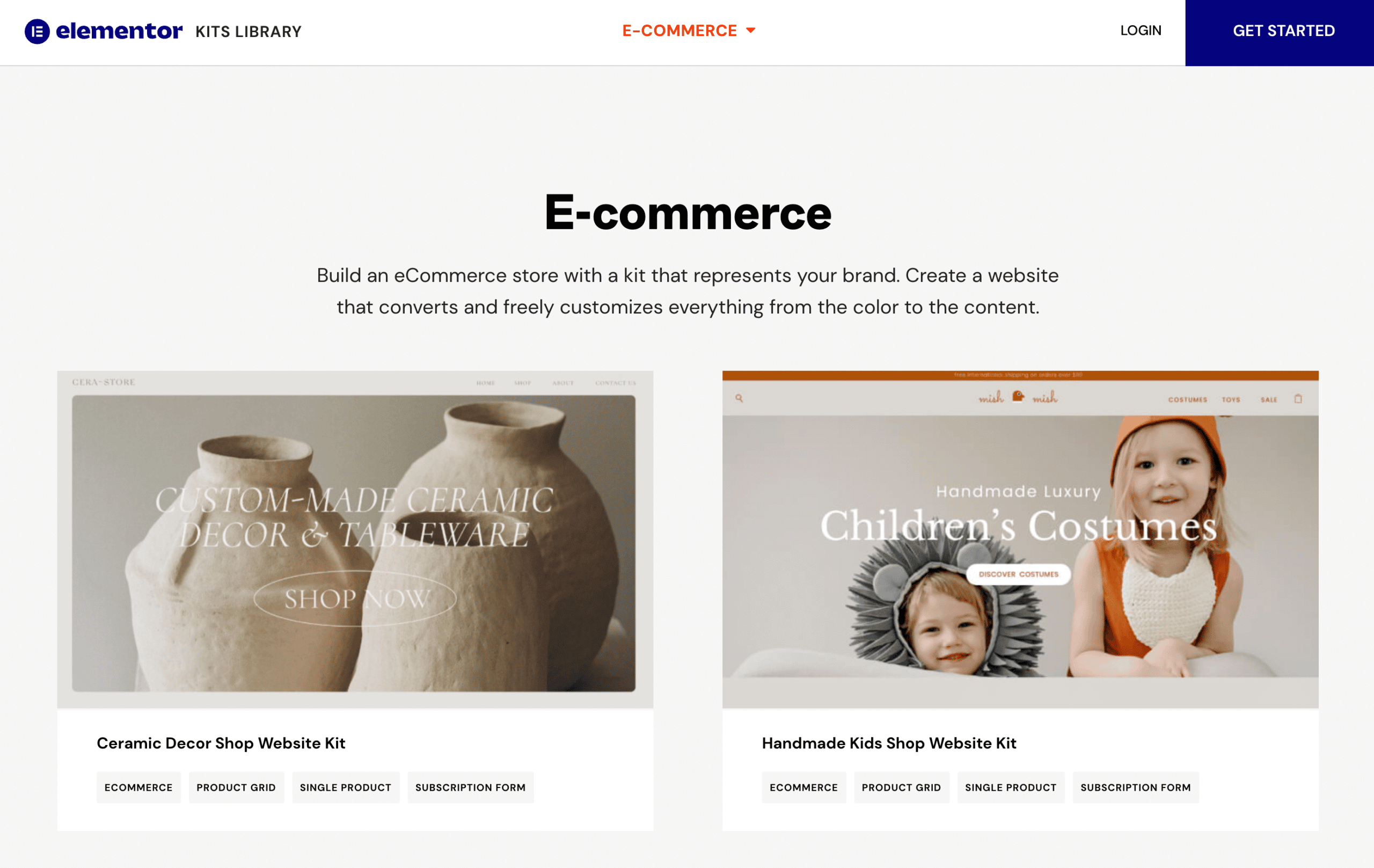 Although there are many page builders on the market, few can top Elementor when it comes to flexibility. With this plugin, you can create web pages and page layouts that look and function exactly the way you want them to, and you won't need any development experience or coding knowledge.
Why You Should Consider Using an Elementor Theme
Before you start using this page builder, you'll need to find an Elementor theme. Put simply, this is a WordPress theme that is built to be compatible with Elementor.
WordPress is an open-source platform, which means that any third-party developer can create its own themes and plugins. Although WordPress has coding standards, there's no guarantee that every theme and plugin will follow them or will work well together.
For example, you'll likely run into issues if you use Elementor alongside a block theme. Since Elementor themes and templates are not designed to work with WordPress' Full Site Editing feature, this can cause compatibility issues.
However, there are many Elementor themes and templates you can choose from. These are usually simple, lightweight designs that won't conflict with the page builder's coding and give you a starting point to build the site you want. Usually, the developers will specify that the WordPress theme was created with Elementor in mind: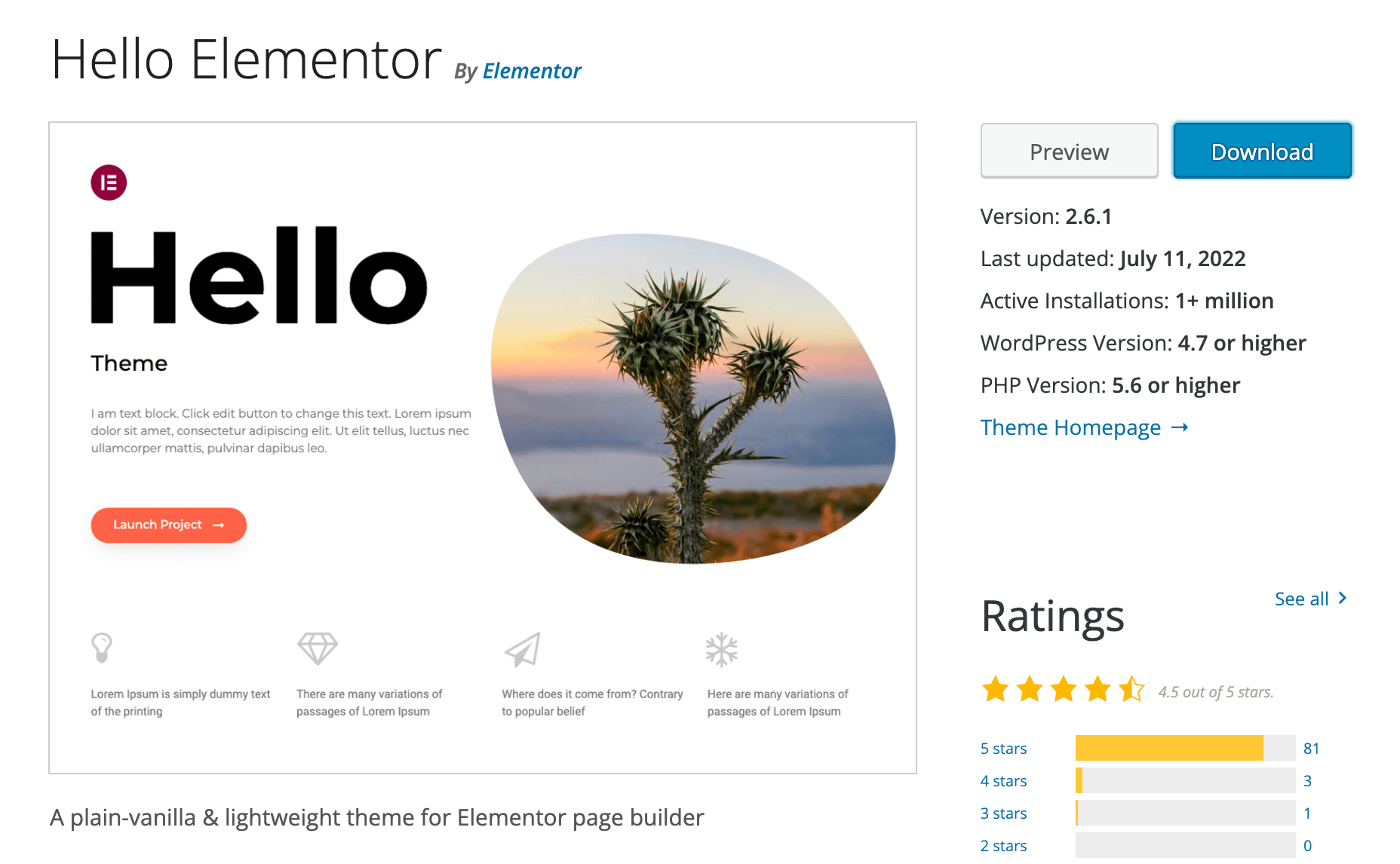 Using a compatible theme and Elementor page builder helps you work more quickly and efficiently. You shouldn't experience annoying bugs and glitches that can slow down your workflow. Instead, you can devote more time to growing your business.
Plus, ensuring compatibility between your chosen tools upfront means you can build a fast website that performs smoothly. This is an excellent way to improve the user experience for your customers, and ultimately improve conversions.
5 Best Elementor Themes for Business Websites
Once you decide that Elementor is the right page builder for your website, it's time to find a compatible WordPress theme. To help you get started, let's discuss some of the best WordPress Elementor themes!
1. Hello Elementor
Free, Accessible, Ideal for Beginners
If you're looking for maximum compatibility between your theme and Elementor page builder, look no further than Hello Elementor. Developed by the same company that built Elementor itself, these tools are custom-fit to work together:
Hello Elementor is one of the best themes for beginners because of its simplicity. With its minimum default styling, this WordPress theme can help you build many different types of pages from scratch. The Elementor Pro templates will also integrate seamlessly with any page on your e-commerce site: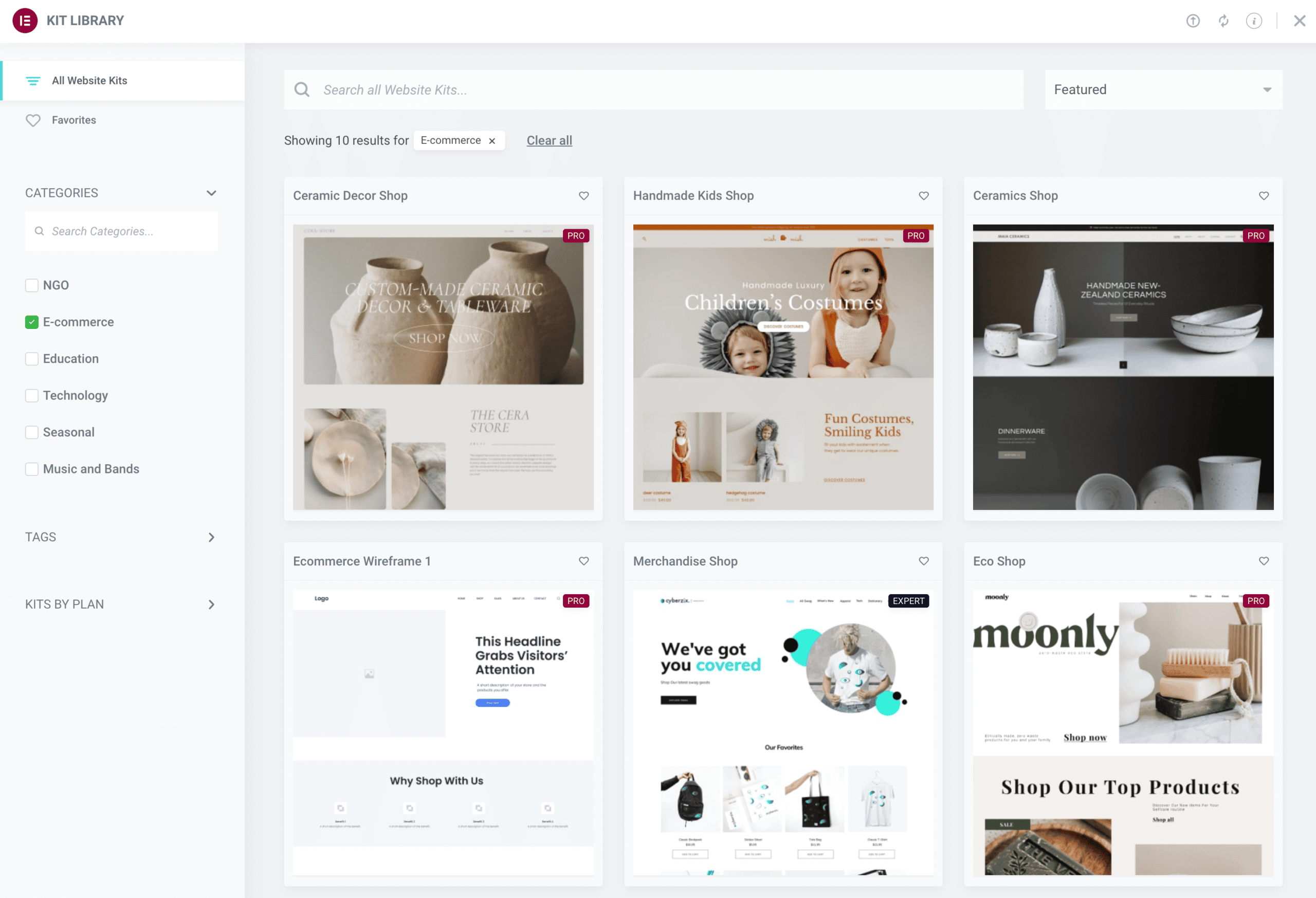 Since it loads in only a quarter of a second, Hello Elementor can also significantly speed up your website. If you run an e-commerce store, this can be the key to gaining new leads and retaining existing customers.
Key Features:
Price: Hello Elementor is one of the completely free WordPress themes. You can access all of its features without needing to purchase a subscription or extra extensions. This makes Hello one of the most accessible Elementor themes available, and a beginner friendly WordPress theme.
2. Neve
Simple, Flexible, Lots of Starter Sites
If you don't want to build your website from the ground up, you may want to find an alternative to Hello Elementor that's less stripped-down. However, you may still enjoy that theme's simplicity and minimalist design. In this case, Neve can be a perfect middle ground: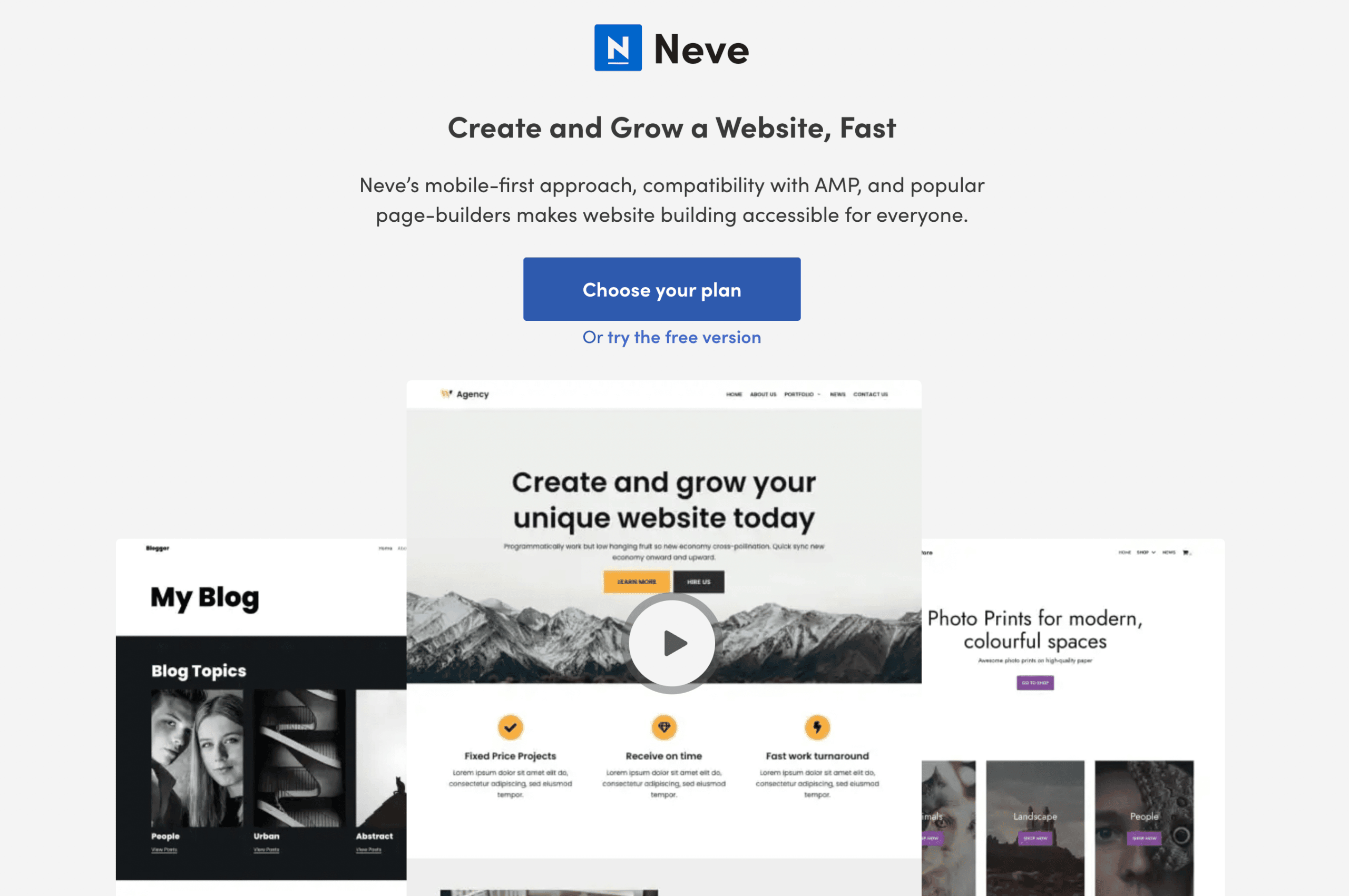 Like Hello, Neve is a flexible and beginner-friendly Elementor theme. It is fully customizable, from its header and footer design to its global color palettes. If you need help creating your web pages, you can also import one of Neve's Elementor starter sites: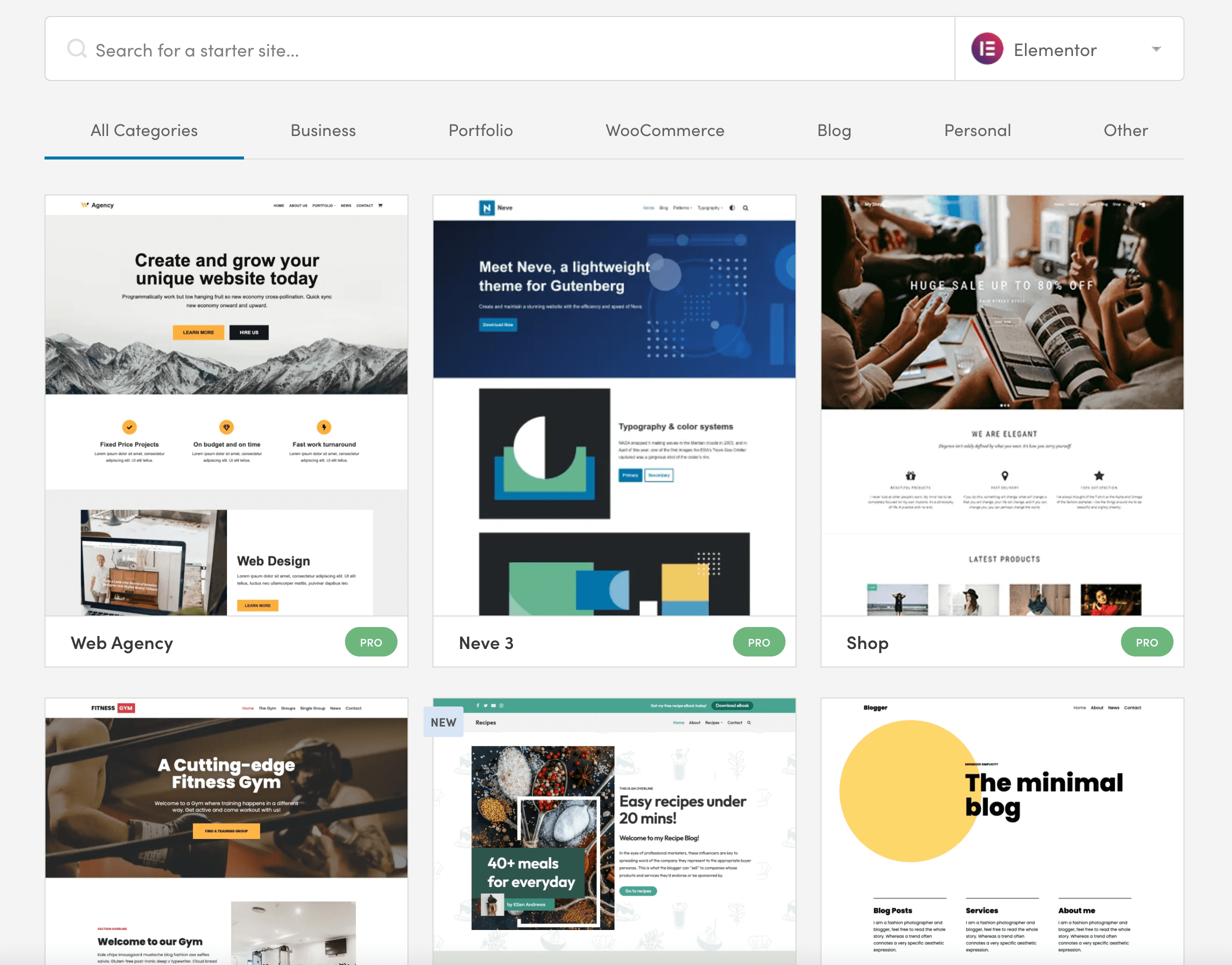 Key Features:
Loads in less than one second
Boasts a 28 KB file size
Includes 100+ starter sites
Integrates with WooCommerce
Is ready for translation, including RTL languages
Is SEO-friendly
Price: The basic version of Neve is available for free. Since the basic features don't come with starter site templates or usage rights on unlimited sites, however, you may prefer to purchase a premium WordPress theme. Neve's subscription plans start at $69 per year.
3. Astra
Feature-rich, Capable, Well-established 
With over one million active installations, Astra is a very popular multipurpose WordPress theme. It was developed to be lightweight, making it one of the fastest-loading themes you can find. If you want to create a high-performing website, Astra is an effective option: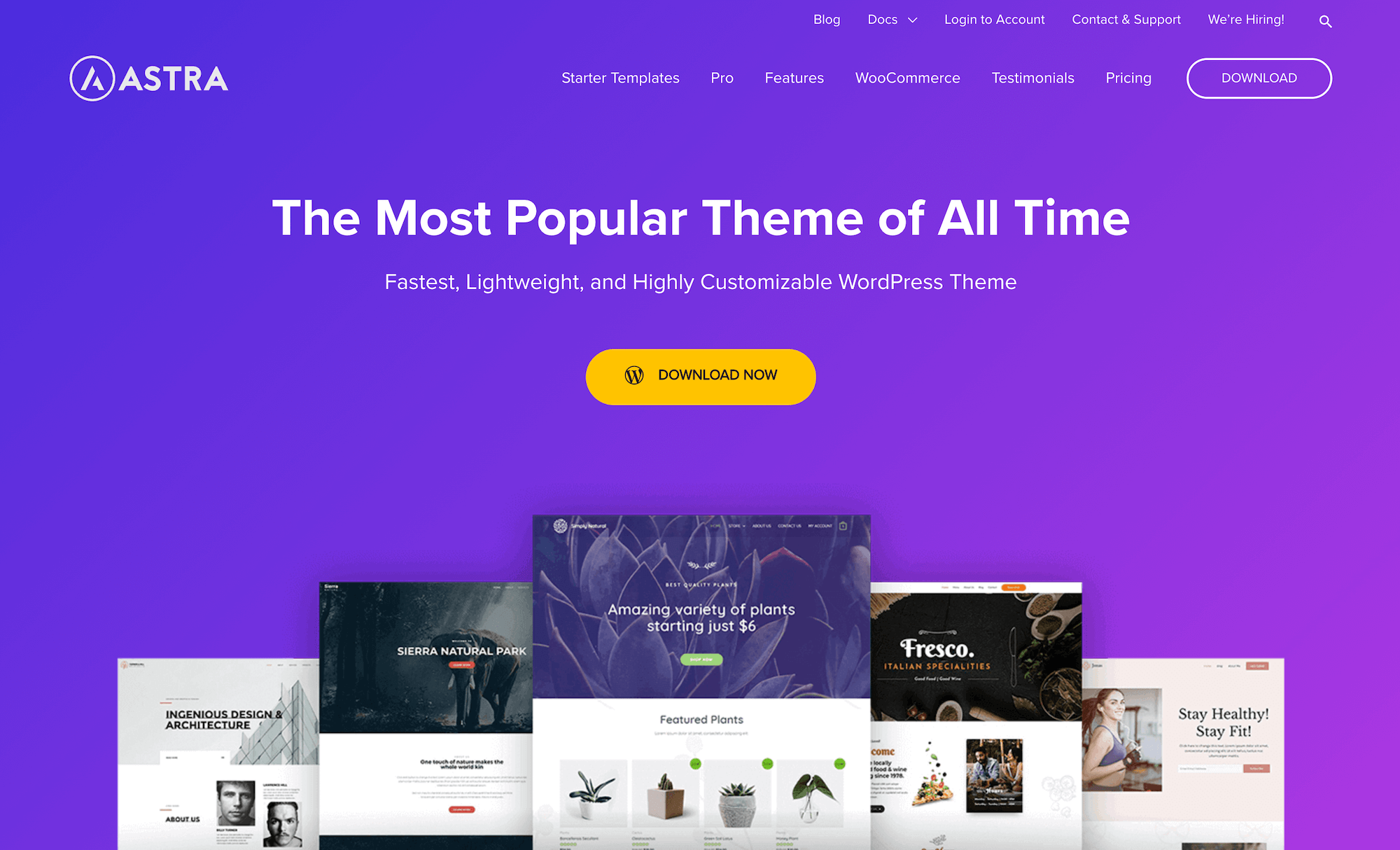 Among the themes on this list, Astra has the largest collection of website templates. Its starter templates library contains over 280 pre-designed layouts. Plus, you can import Elementor-specific themes and templates using the free Astra Starter Templates plugin: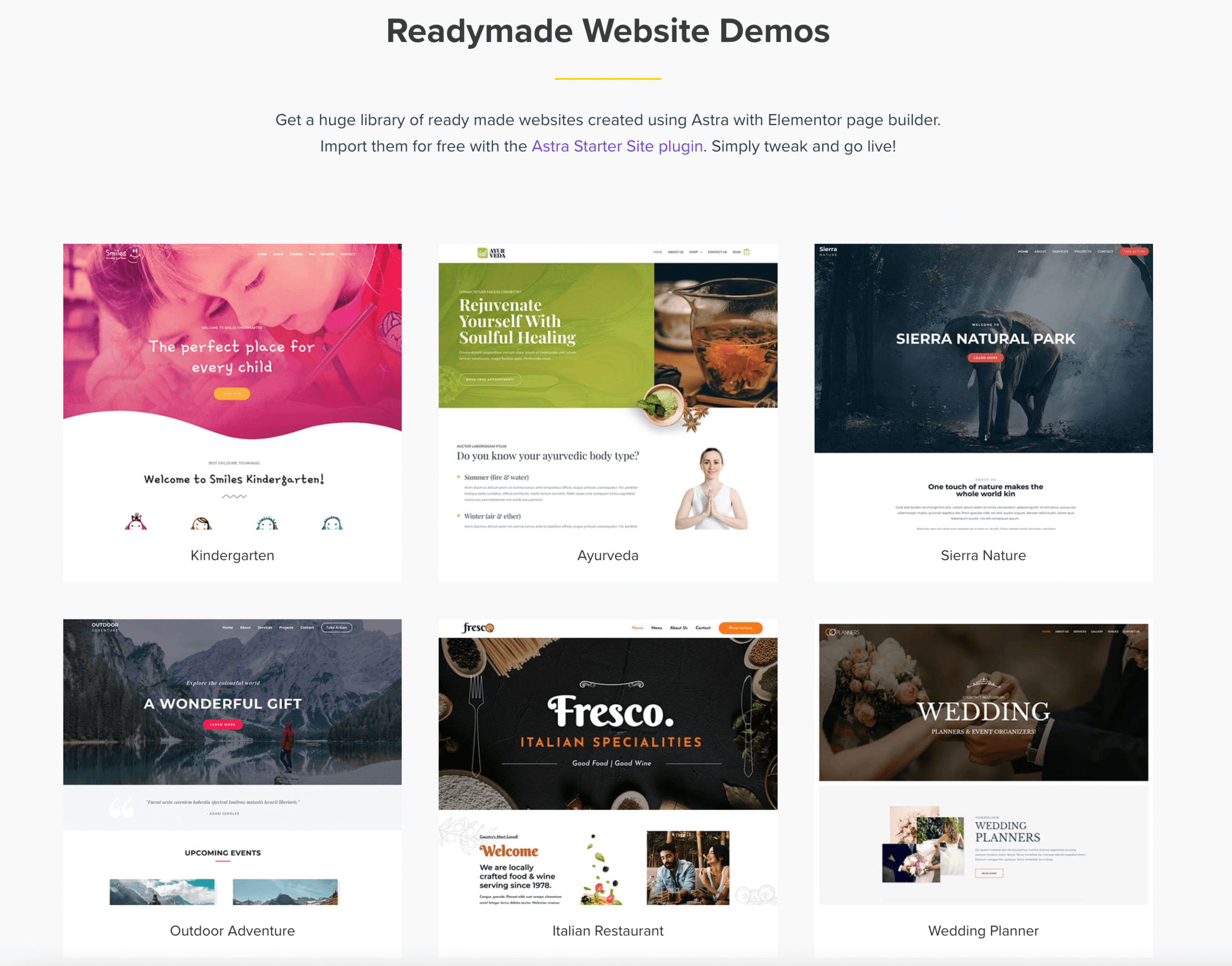 Additionally, Astra offers something called 'Smart Elementor Integration'. With this feature, Astra will automatically understand when you want to build an Elementor page. Then, it tweaks its settings for you, providing you with a smooth editing experience.
Key Features:
Loads in less than half a second
Adds less than 50 KB of resources to your site
Offers 280+ website templates
Provides Smart Elementor Integration
Features SEO-friendly markup
Is translation- and RTL-ready
Price: You can download the base version of Astra for free. Astra Pro starts at $47 per year and this theme includes white labeling, WooCommerce controls, custom layouts and hooks, and much more.
4. Zakra
Compatible with Plugins, Good for Businesses 
No matter what type of website you're building, Zakra can likely meet your design needs. This is a multipurpose Elementor theme that's well-suited to WooCommerce stores, blogs, business websites, and more: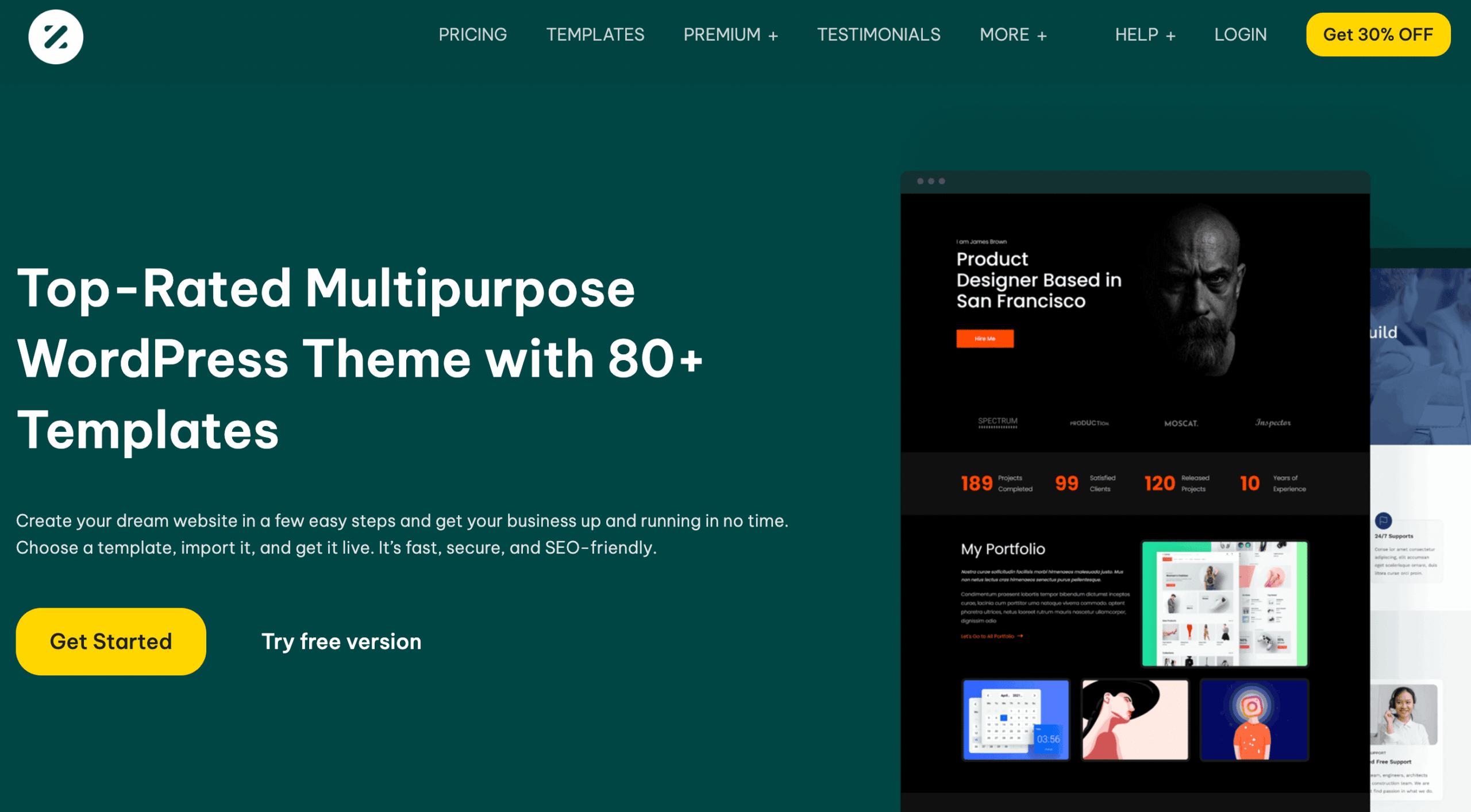 Another feature that makes Zakra so versatile is its starter sites. If you need to quickly design your pages, you can browse Zakra's template library and import some premium and free Elementor themes and templates: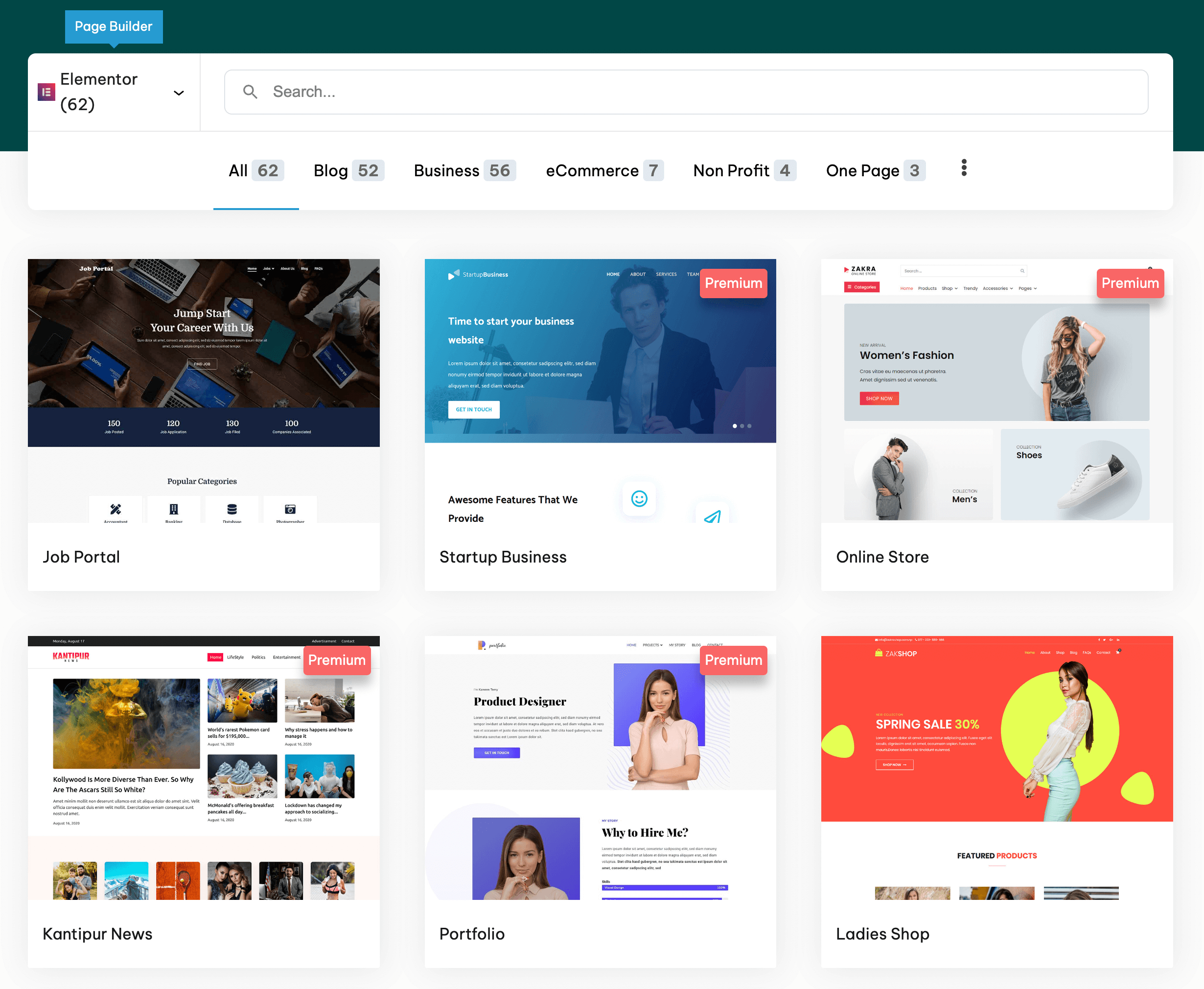 Key Features:
Optimized for Accelerated Mobile Pages (AMP)
Loads in less than one second
Offers 80+ starter sites, including Elementor Pro templates
Provides compatibility with popular plugins like Elementor, WooCommerce, Yoast SEO, and more
Is SEO-friendly
Price: You can download Zakra for free from the WordPress Theme Directory. If you'd like more advanced customization options for headers, footers, blog styles, and typography, you can purchase the premium version starting at $69 per year.
5. OceanWP
Lightweight, Versatile, Great for Premium and Free Extensions
Similar to the other best Elementor WordPress themes on this list, OceanWP is a fast, lightweight theme, and compatible with the page builder. What makes it stand apart, however, is its extra extensions. Using OceanWP, you'll be able to access a variety of new widgets not included in Elementor by default: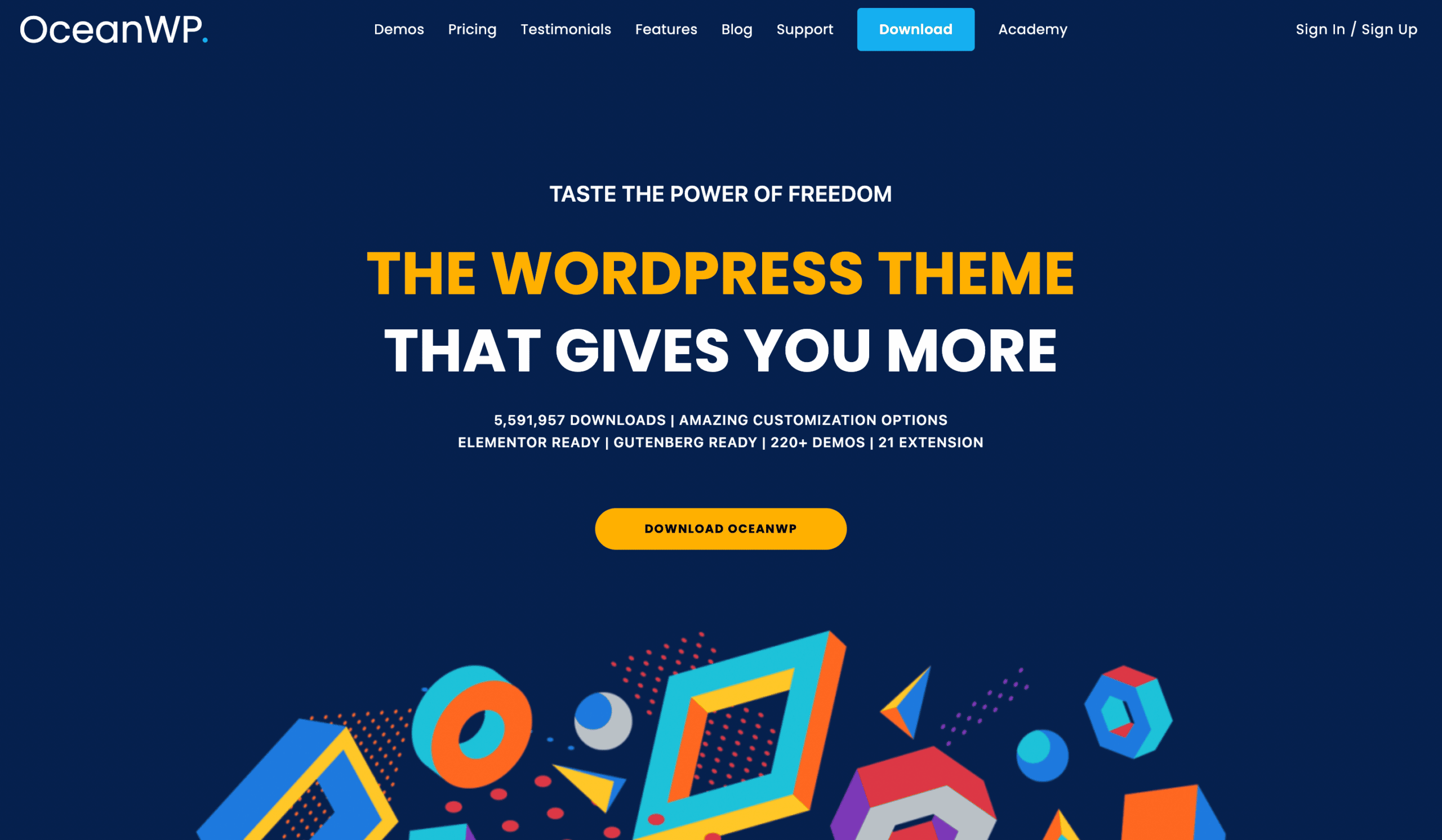 OceanWP also has an 'Elementor Sections Library'. This feature will enable you to create section layouts that are optimized for both Elementor and OceanWP. If you need to quickly design entire pages, you can also import full website templates: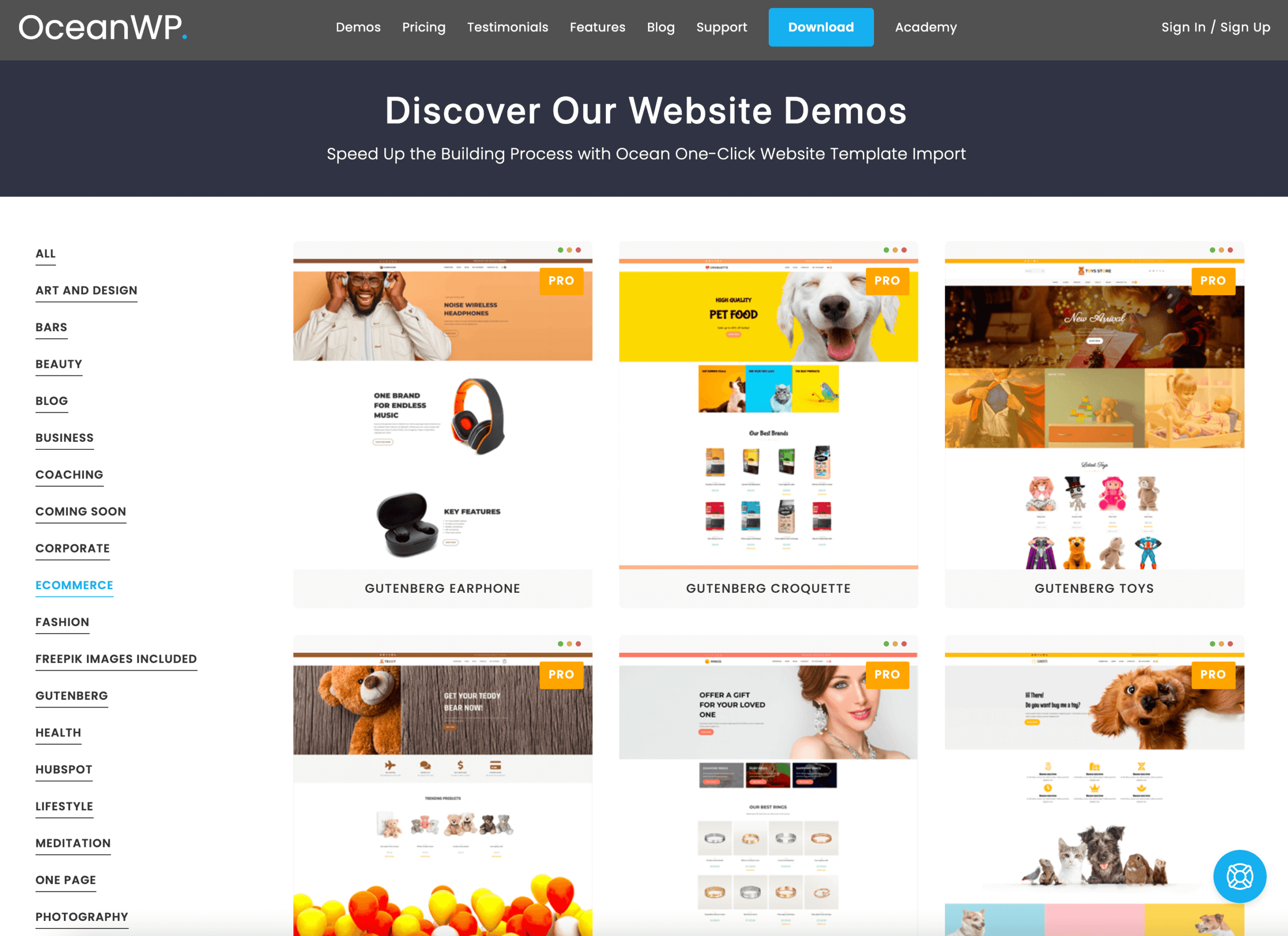 Key Features:
Includes 220+ website Elementor-ready templates
Provides an Elementor widgets extension
Offers an Elementor Sections Library
Integrates with WooCommerce
Is SEO-friendly
Price: OceanWP is available as a free WordPress theme. If you want to access the Elementor Sections Library and premium extensions, OceanWP Pro starts at $43 per year.
Conclusion
With a page builder like Elementor, you can easily design web pages without any coding experience or special knowledge. To make sure this process runs smoothly, however, you'll also need a compatible and well-optimized theme. By installing an Elementor theme, you can access some of the best Elementor templates available and ensure a glitch-free editing experience.
After you design your site with Elementor, you'll still have plenty of essential tasks to tackle, such as maintenance and marketing. It can be time consuming, especially for smaller firms who might not have the staff or resources to do the job in-house. In this case you should hire a dedicated professional or an agency to do the work so that you can get on with growing your business.
Here at Pronto we have years of experience creating websites with Elementor for businesses. We can build your website quickly and with a minimum of stress at very affordable prices. If you want help running your WordPress website, give us a call or schedule a consultation!