Is your Google My Business page not helping to boost your firm's growth? Watch our webinar recording or read further to find out how to maximize the potential of your GMB page to generate more leads and put your company on the path to greater success.
 Why is GMB so Important?
Google My Business didn't even exist a decade ago. Since its launch in June 2014, it has quickly grown to become the top factor in ranking companies on Google Maps results.
Many people nowadays use Google Maps as a kind of Yellow Pages, scrolling around and searching for a local provider of services just like yours, which means you absolutely need to feature on the map if you want to get their attention.
In other words, your Google My Business page is pretty much going to determine whether or not you get seen in local searches. If you haven't got a profile that is putting you near the top of the rankings, you are effectively invisible to all those potential customers searching for your products.
So how do you get your profile to compete with the best? Read on and find out the steps you should take to turn your GMB profile into a lead magnet.
Your GMB Optimization Checklist
Ensure consistent and accurate NAP
Choose the right business categories
Use target keywords in your description
Upload photos to your GMB profile
Post regularly
Establish a stream of customer reviews
Answer all questions & reviews promptly
Turn on Messaging for your GMB profile
Use Google Analytics with GMB
Spy on Your Local Competitors
It sounds a little dramatic, and we're not recommending you hire some James Bond-type to stage a break-in and steal files or anything!
We do, however, recommend looking at what your competitors are up to on their Google My Business profiles. The top 3 ranking companies are obviously doing something right, and it is a good idea to look closer to find out what ingredients make up their winning formula.
Firstly, you need to identify your target area, which is the town or county in which your firm is based or is planning to expand into. Then review the 'map pack'.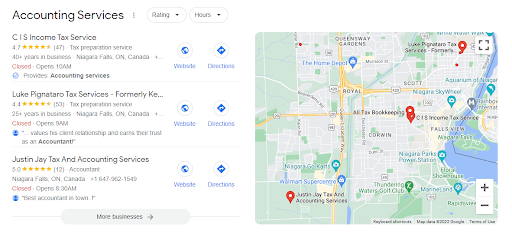 An example of a Google Maps search result for Accounting Services in Niagara Falls, ON
So why are those three companies top of the charts? You'll have to take a look at their profiles to see their posts, reviews, and Q&A sections and work out what they are doing that differs from your profile.
To learn more, we recommend reading our blog on online competitor analysis.
Optimize Your GMB Profile for Lead Generation
Ensure Consistent and Accurate NAP
NAP stands for Name, Address, and Phone Number. Google likes to have a business stay consistent with their NAPs, so remember to dot your I's and cross your T's when you put in your information as mistakes can really hurt your rankings.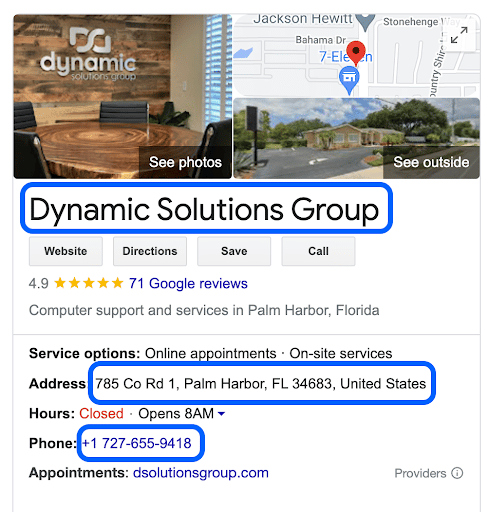 The key info for all businesses – Name, Address, and Phone Number
Even if Google were to let these little errors slide, potential clients would not. Would you trust a business that can't spell its own name or give you the correct contact details?
A lot of companies have more than one branch or office, and it's vital to remember to put unique NAPs for each and every location that you have.
Choose the Right Business Categories
Now that you have your NAP correctly entered, you need to let the public know what services and products you're offering, so make sure your firm is listed in the correct category on Google.
Remember that people specify their searches instead of trawling through results for "local businesses" or anything else so general. They know what they are looking for from the start. You need to ensure that your firm pops up in relevant searches, which is why choosing the appropriate keywords is crucial.
You get to choose no more than 10 keywords to help define your services, so it's a good idea to think very carefully about which words will bring you to the attention of prospective clients.
Use Target Keywords in Your Description
When describing your business and what it does, you should think about what relevant or related target keywords you should use. If you are an IT support firm, you should try to sprinkle words and terms throughout your description that you think people might also be searching for.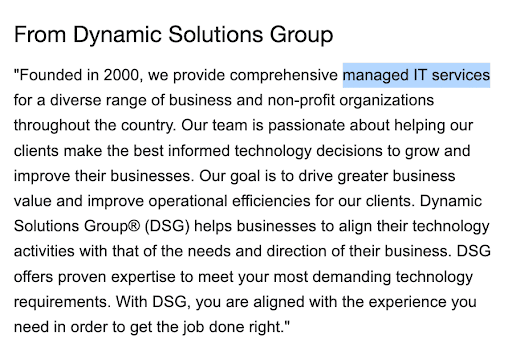 "Managed IT services" perfectly describes the company's product
Remember that you are delivering a pitch as well, so even though you are trying to fit in some great keywords, don't forget to keep your overall message coherent and readable. You still need to tell customers why you stand apart from your competitors and why they should choose your company over the rest.
Upload Photos to Your GMB Profile
A GMB profile with nothing but text is going to come across as a bit plain and boring, which isn't going to set pulses racing. A restaurant, for example, will get far more attention with mouthwatering pictures of their menu than they would by simply writing about their dishes at length.
You can also post pictures showing different promotions and discounts, and these are always a great way of getting your target audience's attention.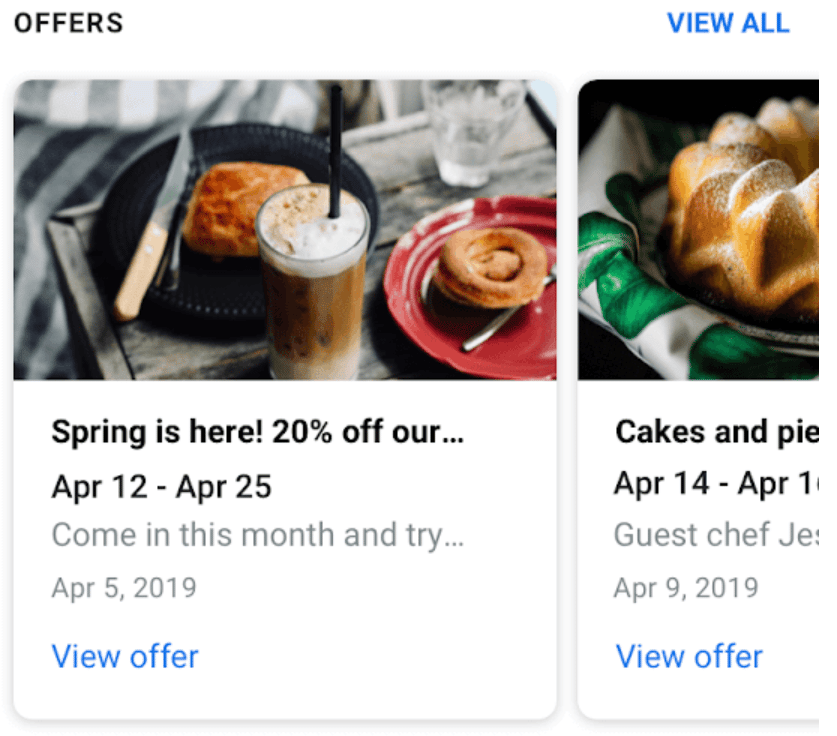 Reel in your customers with tempting offers
Post Regularly
A lot of companies sadly go out of business (or fortunately, if they are your competitors!), and a lot of them leave defunct profiles and websites in their wake. Customers are aware of this and can jump to the conclusion that a firm has shut down if its GMB profile has been inactive for even a few days or weeks.
It's vital that you let potential clients (and Google) know that you're still in business by posting announcements, pictures, promotions or even just an update on some of the comings and goings at your workplace.
Establish a Stream of Customer Reviews
If you want to rank higher in local Google searches, you need to make sure you have a steady supply of positive Google Reviews.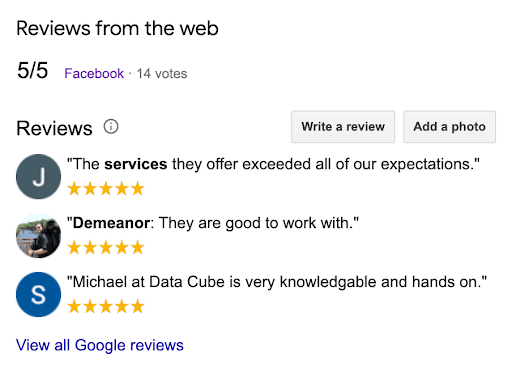 Good Reviews are Priceless
That 5-star feedback is key to pushing your GMB profile up the rankings and generating leads, but you don't need to necessarily wait and hope that one of your customers will write something nice. Be proactive – if you have a happy client, you should reach out to them and ask them nicely to leave a review.
Answer All Questions and Reviews Promptly
If a client makes the effort to write a review on your profile, be sure to show your appreciation by responding quickly. If you don't, customers might begin to get the impression that giving you a good review is a thankless task and a waste of time, and you will probably receive less in future.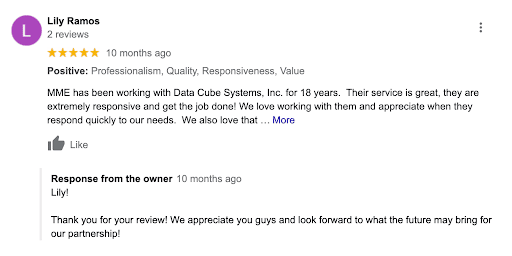 Let customers know their opinion is valued.
You should also answer questions in your Q&A section promptly. It's a chance to showcase your knowledge and expertise, reassuring anyone reading that your firm and your staff know what they're talking about.
Engaging with your customers when they write reviews or questions is simply good customer service, which is a must for any business. Not only this, but it ties in with our advice to post regularly and keep your GMB profile active!
Turn on Messaging for your GMB Profile
Your profile is not just a means of getting your business noticed or ranking highly in search engine results. It's a platform for engaging with your audience. Turning on the 'Chat' feature in message settings allows visitors to contact you directly.
As we said before, you should always try to respond quickly to reviews and questions, ideally within 24 hours.
Use Google Analytics with GMB
Google Analytics is a great tool to help you crunch the numbers when it comes to assessing your GMB profile's performance. You can keep up to date with exactly how many people are finding you through Google Maps.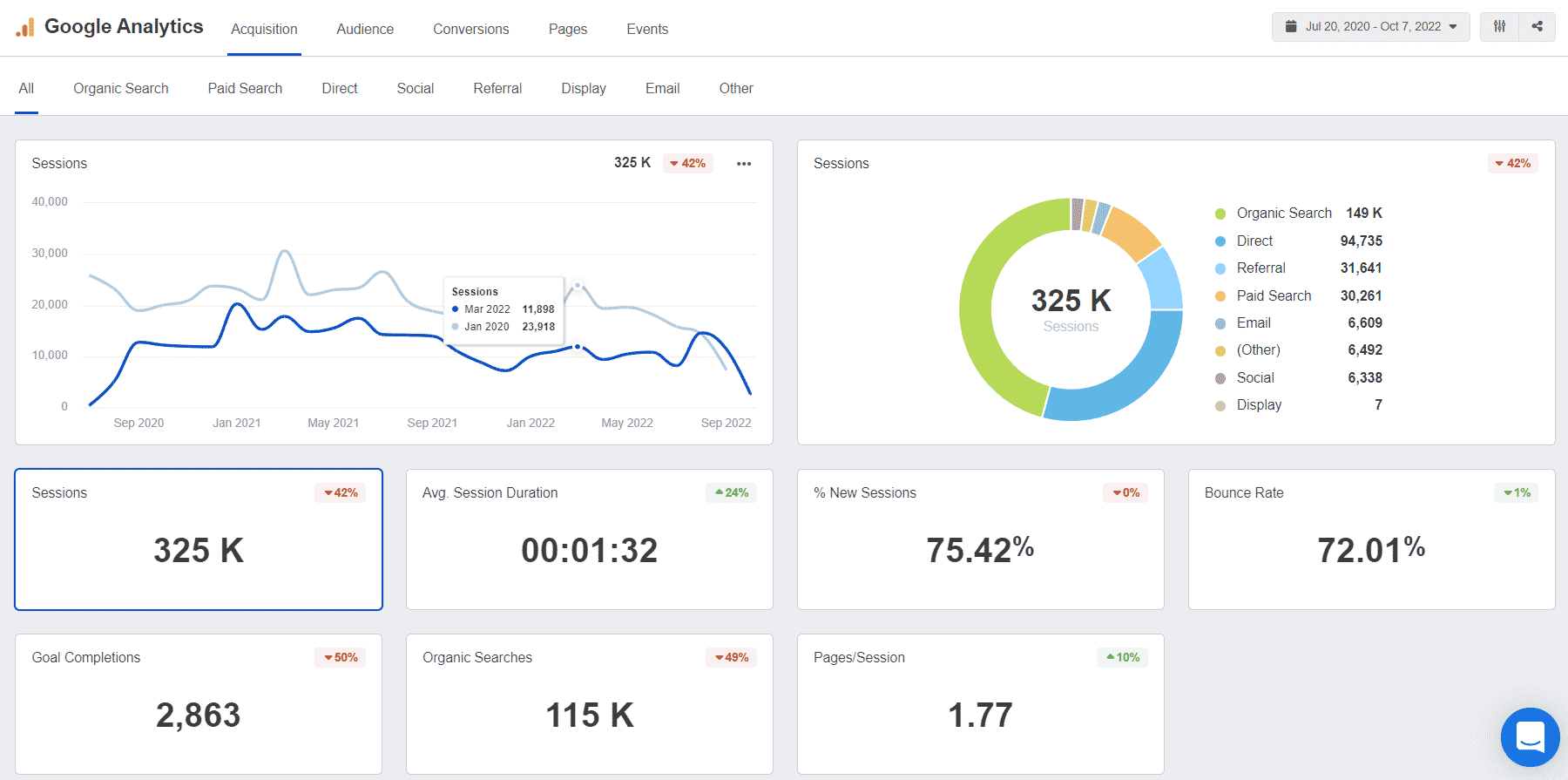 It's free to set up a Google Analytics account, and you can easily link it to your GMB profile to help give you a clearer idea of how effective it is in generating leads.
Tying it All Together
Any campaign that you implement needs planning. It's not enough to simply post updates in a scattergun approach. Your GMB profile is a tool that needs to be put to use effectively, which is why it's best to create a campaign calendar to help you schedule new content and have a more organized and strategic approach to engaging with your target audience.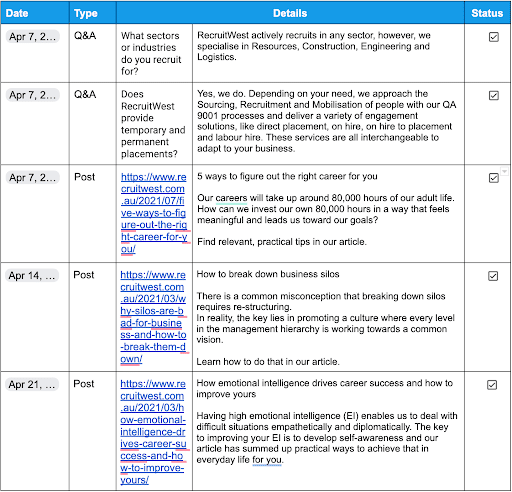 Planning your GMB profile content is crucial.
An Optimized GMB Profile in Action (Case Study)
Fresh Fit is a health food store in Oklahoma that had a Google My Business profile but lacked the resources or the expertise to employ it as an effective lead generator. So they reached out to us at Pronto to find a solution.
The Pronto team conducted a GMB & SEO audit to find areas that could do with improvement, and found that it was lacking in posts, Q&A's, pictures and reviews, and it also had no keywords that could help it appear prominently in search results.
They got to work by updating the correct business information on the profile, as well as adding citations and target keywords to help boost Fresh Fit's rankings, before finally tailoring a content calendar with a schedule to publish three or four times a month.
The results speak for themselves, with an increase of over 2000% in website visits, 4550% in direct phone calls, and over 1800% in direction enquiries.

You can read more about how we helped Fresh Fit optimize their GMB profile here.
Conclusion
If your business isn't generating enough leads then you're going to struggle. An optimized Google My Business profile is key to increasing your online visibility, and making sure that the profile has good content and high standards of customer service and engagement is vital to making your firm stand out from the competition.
There is a lot of work that needs to be done, and you don't have to do it alone. Our Google My Business management experts can help maximize your firm's GMB potential with affordable rates starting at $300 per month. Get in touch today to find out more about how we can take care of your GMB profile and offer solutions for your digital marketing needs.