Whether your business is just starting out or you're searching for ways to bolster your presence, competitor analysis is a must-have resource. It's a great way to see what you're up against and learn what drives success in your industry.
In this long-form article, we will walk you through our step-by-step guide to a strong and useful competitor analysis. From this, you will learn:

How to find your competitors on Google platforms
Where to analyze their marketing efforts
How to target unclaimed SEO opportunities
What Google Ads can offer for your business
We take a look at three main platforms — Google Maps, Google Search, and Google Ads. By taking a peek at what your competition is doing on these marketing tools, you can start to build a strategy to keep pace or outrank them altogether. Let's dive into how it's done!
Online Competitor Analysis vs. Real Life Competitor Analysis
You may have an idea of who your competitors are, whether through word of mouth or by experience. But it's imperative to know who your online competitors are, particularly the ones showing up on Google. 
The competitors you've come to know organically might not be ranking number one for effective keywords. As such, it's a good idea to start your research with your online competition.
Why you should care about your online competitors only
If you're not paying attention to your competitors online, you run the risk of falling behind the competition that matters most in your industry. Competitor analysis ensures that you're keeping up with the best keywords, platforms, and trends to help increase your online traffic. If you don't, then you could end up miles behind your online competition.
How to find your online competitors
Finding your online competitors comes down to putting yourself in your customers' shoes. Go through the customer journey on Google and note down which online competitors you come across.
Website competitors
Go to Google and type in a popular service-related keyword. If you are part of a social security law firm, this could be "social security disability lawyers in new york city." Try to put yourself in the customer's shoes and use natural language. Try this for a few searches related to your services. Your website competitors will appear below any map results or beneath paid ads. 
There may be some directories that appear in the results. While you can ignore these from the auditing process, as they aren't direct competitors, it's good practice to make sure you're signed up and have your business listed.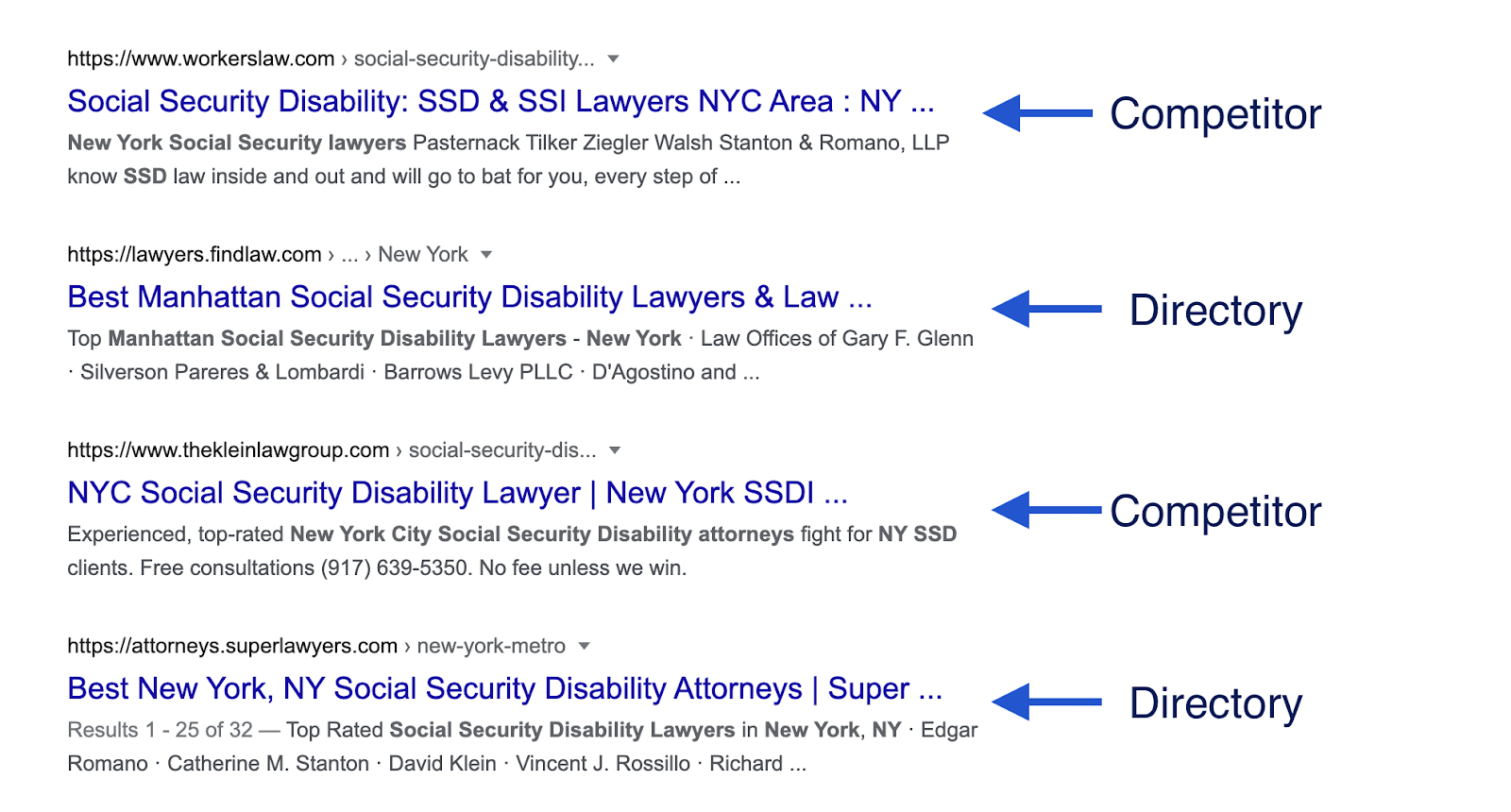 Google My Business competitors
While we typically include a city when searching for local website competitors, we can leave it out when looking for Google My Business competition. You can simply perform a search for a service you offer while located in or nearby your office. If you're a plumber, the ideal query would be just "plumbers."
If Google thinks the search calls for local business information, they will show a Google Map along with the top 3 map results (otherwise known as the "map pack"). A good indicator of your local competition will be the companies listed on the map.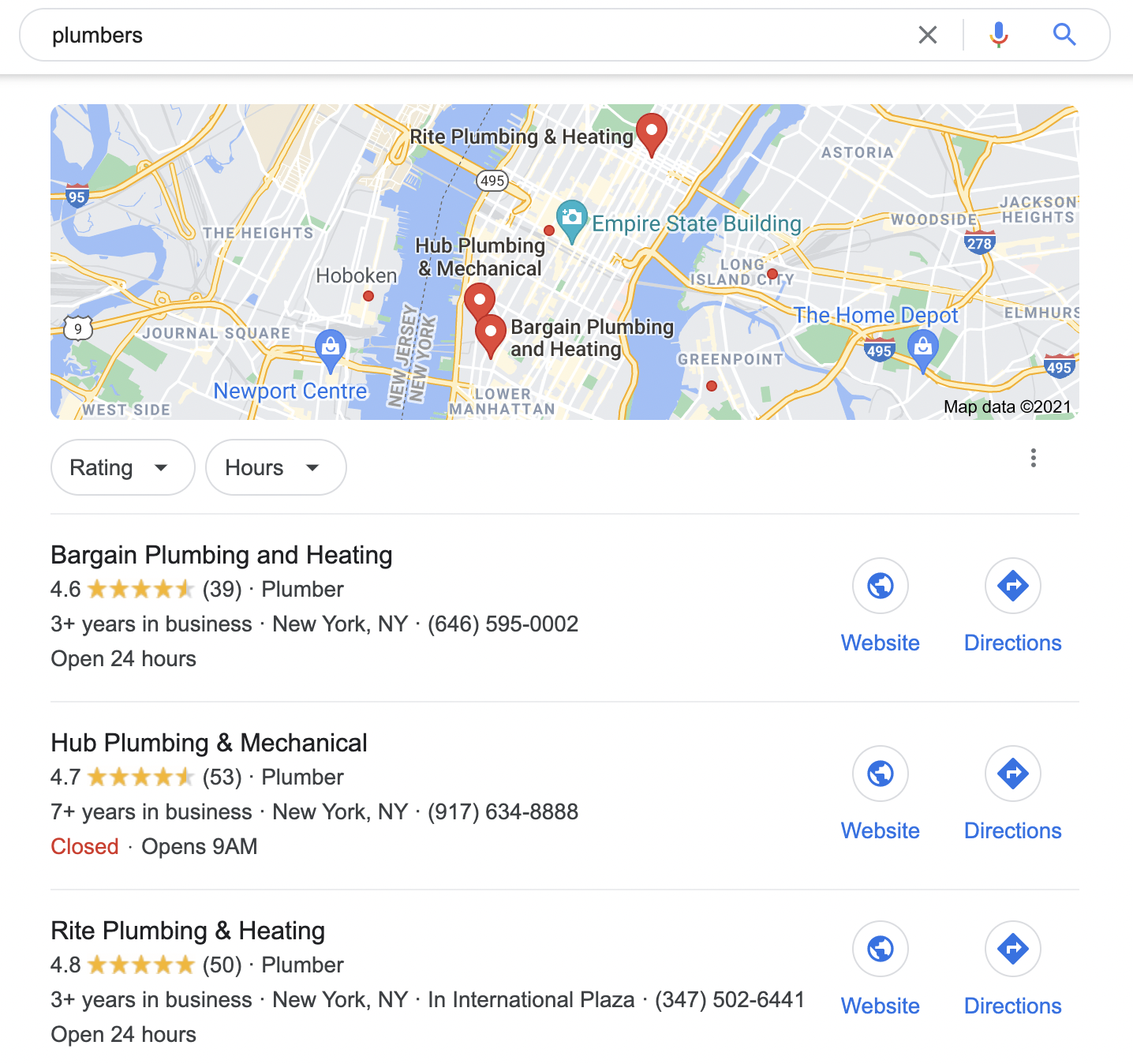 If you offer more than one service, just search for the one that best represents your business or that generates the most revenue.
Analyze your competitors' efforts in Google Maps
Now that you've tracked down your Google Map competitors, you can dive in to see what they are doing with their Google My Business listing. You can use that information to help manage your Google My Business to increase your listing's search presence.
Categories
The first element to consider is categories. Google has a running list of 300+ categories to choose from. This is why it's a good idea to perform a few customer mock searches ahead of time to check the Google Map results to see what categories are most appearing.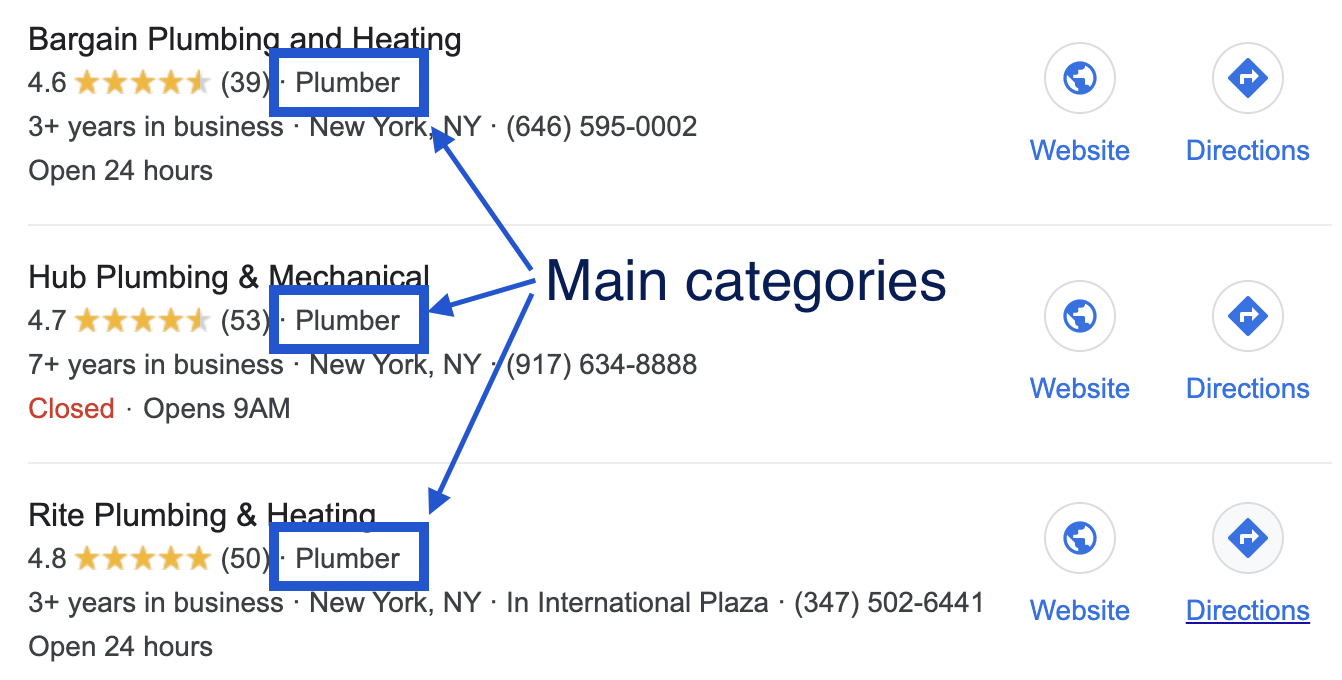 If you haven't already, perform a few searches related to your services, and write down all of the categories you come across on a simple sheet. Note down the keyword you're using and the categories that appear in search results underneath.

Once you've reviewed the categories your competitors are using, choose up to three of the most popular ones (as long as they match your services) and use them for your GMB listing.

GMB posts
Google My Business posts are a great way to communicate directly with your customers. They also help your listing look alive, active, and more engaging, which means more calls and visits to your website. Take a look at your competitors to see what kind of posts they have published for some inspiration. If they are not writing any posts, this is a good opportunity to get ahead and write some of your own.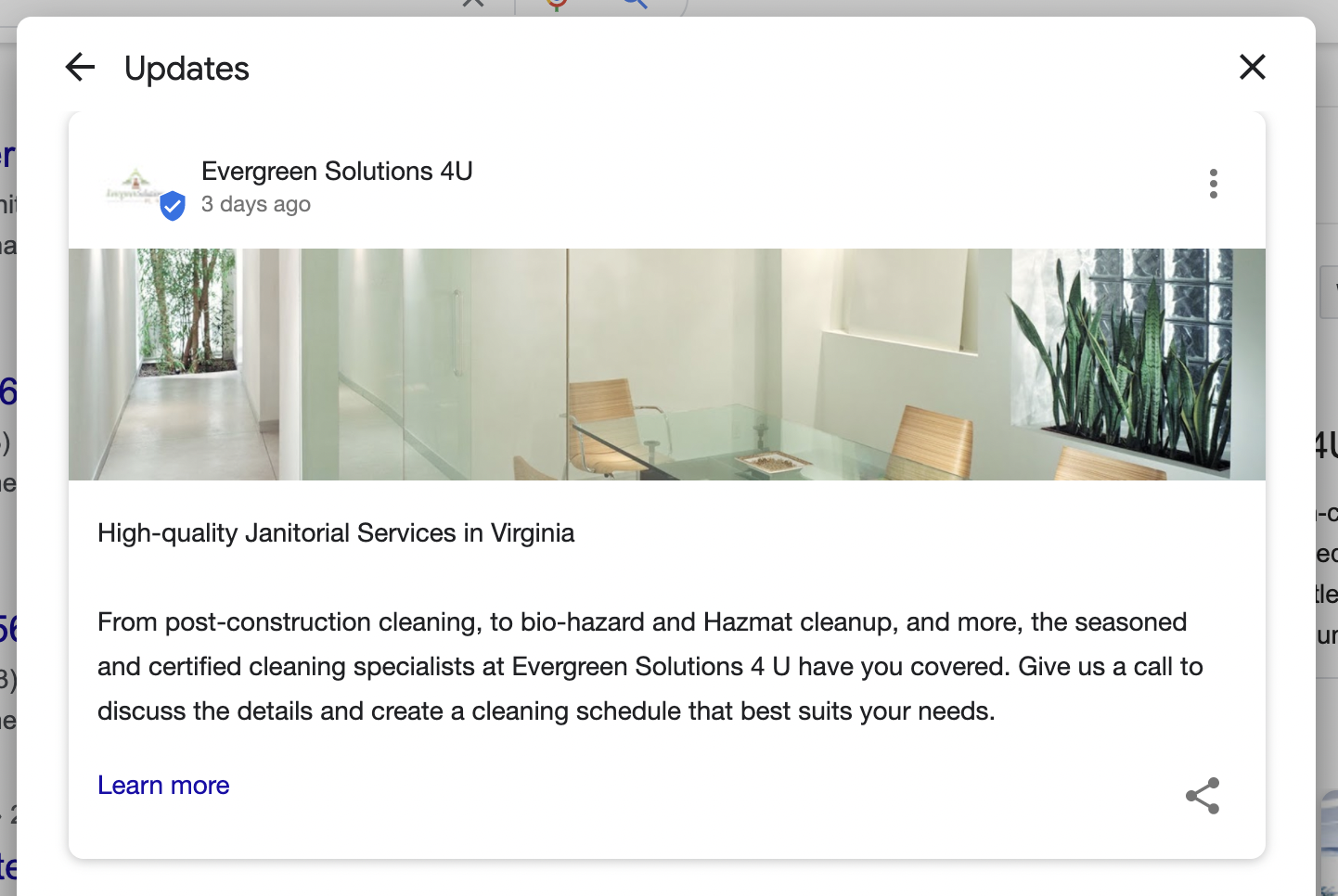 Q&As
The Q&A feature encourages prospects to ask about businesses they are interested in. It's imperative to stay on top of these, so if a customer writes a question, make sure to write an official answer.
GMB listing owners can also write in their own questions (with answers) ahead of time to serve more like an FAQ section. If you're stuck on what questions and answers to write, check out your competition's listing for some inspiration. If they are not using this feature, this is another way to get ahead of the crop.
Reviews
Reviews are another impactful ranking factor for Google. The more highly rated reviews, the better. To get an idea of how many reviews you should aim for, check out competition listings to see how many reviews they have. 
Once you have a number in mind, reach out to happy clients and ask them to leave feedback on your Google listing. 
It's important to qualify them first to make sure you're only getting positive reviews, so you could start with a simple questionnaire asking them to rate your services. If the respondents answer positively, thank them for their time and ask them to leave a review on your listing.

Responses to reviews
If you get a review on your listing, make sure you reply to it, thanking the reviewer for their comments. You can even repeat a strength mentioned in the review. For example, "Thanks Janes, we like to pride ourselves on our punctuality and efficiency." 
Even if the review is negative, it's also still important to leave a reply to fix any issues and offer a wider context to other readers. Again, check your competitors to see how they are replying to reviews to get some ideas.
Citations
Citation building is the act of adding your business details to other websites (typically directories). Adding consistent details across several indexes offers Google confidence to show your information in its search results. Google only wants to show the correct information for its users, so the greater the number of consistent information across the web, the more likely this information is up to date and accurate.
Add your business details to popular directories like GMB, Bing Places, and Yelp. You can also look to your competitors to unveil some industry-related directories that fit your business. To do this, try searching for your competitor's name and telephone number on Google and see what directories come up. Then go through each index that's relevant to your business and add your business details to them.
Analyze your competitors' efforts in Google Search
Backlink analysis of your competitors in the top 10
Backlinks, together with content, are considered by Google as one of the primary ranking factors online. Backlinks are nothing more than simple hyperlinks that go from one place to another.
To explain backlinks, here at Pronto, we like to refer to them as votes of trust or endorsements from one website to another. The more votes or endorsements a website gets from other websites, the more the ranking algorithm will think of the receiving end of those votes as a trustworthy source of information for web users. 
There are two main components to consider when analyzing the backlink profile of your website competitors. Quantitative and qualitative.
Quantitative analysis
Quantitative analysis refers to the number of links each top-performing website has pointed to them. Because any website can link to other websites multiple times, the ranking algorithm only considers one link (vote) per referring site.
So, if website B links to website A three times, website A will have 3 total links, but only one will count for ranking purposes (generally, the first one).

To count the number of total backlinks and unique domains for each given site, here at Pronto, we use an SEO analysis tool called Ahrefs. You can sign up and test it out for a week for only $7.
Upon logging into Ahrefs, type the URL of one of your competitors in the search bar and click on the magnifying glass to start the analysis. Among other things, you will notice that the tool provides you with the total number of backlinks and referring domains. The important number for you to note down is that of the referring domains. 
In the example below, the website that we analyzed has more than thirty thousand backlinks coming from 336 unique (referring) domains. 

Repeat this exercise for all website competitors ranking for your desired search phrase, sum them up, and then total an average. That number should give you an indication of how many links you'd roughly need to have to compete on page 1 of Google for that desired search phrase. 
Qualitative analysis
There are two qualitative aspects to consider in this step. The domain authority (DA) of the referring site and whether the link is dofollow or nofollow. 
Not every link is made equal. And that's why we're taking this extra step to gauge the strength of your competitors' backlinks. 
DA (or URL rating as used in Ahrefs) is a search engine metric that attempts to determine the likelihood of any given website to rank in Google. It ranges from 0 to 100, with 100 being the highest. A link coming from a high URL rating site will have a stronger impact than a link coming from a low URL rating site. 
In the image below, the strength of the link is represented by the thickness of the arrow pointing to website C.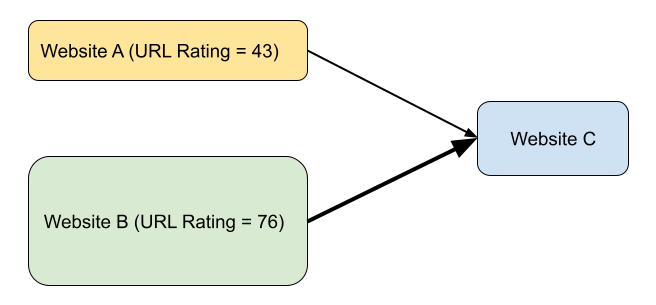 In Ahrefs, the URL rating is easy to spot. Take that number from each of your website competitors and make an average. That's the minimum URL rating you should have in order to appear on page 1 of Google for your desired search phrase.

The second qualitative aspect to consider is whether website backlinks are mostly dofollow or nofollow. Dofollow and nofollow are HTML tags that indicate whether or not a link transfers some of its URL rating credibility to the receiving website. 
Remember when we first compared backlinks to a vote of trust or an endorsement from one website to another? When the endorsement is dofollow, it's like attaching your contact information to a positive testimonial. It adds more credibility and an extra layer of trust for whoever is going to read that testimonial. 
Needless to say, you want most of your backlinks to be dofollow. This will ensure your URL rating grows over time, allowing you to compete for a first-page spot for your desired search phrases.
Ahrefs makes it easy to see the percentage split between dofollow and nofollow links for any website. 
In the example below, out of 336 unique domains linking to this website, 56% are dofollow, and 44% are nofollow. Repeat this exercise for all your competitors and total an average of the percentage of dofollow links that they get. You should strive to achieve a similar percentage split between dofollow and nofollow links as you start building links to your website.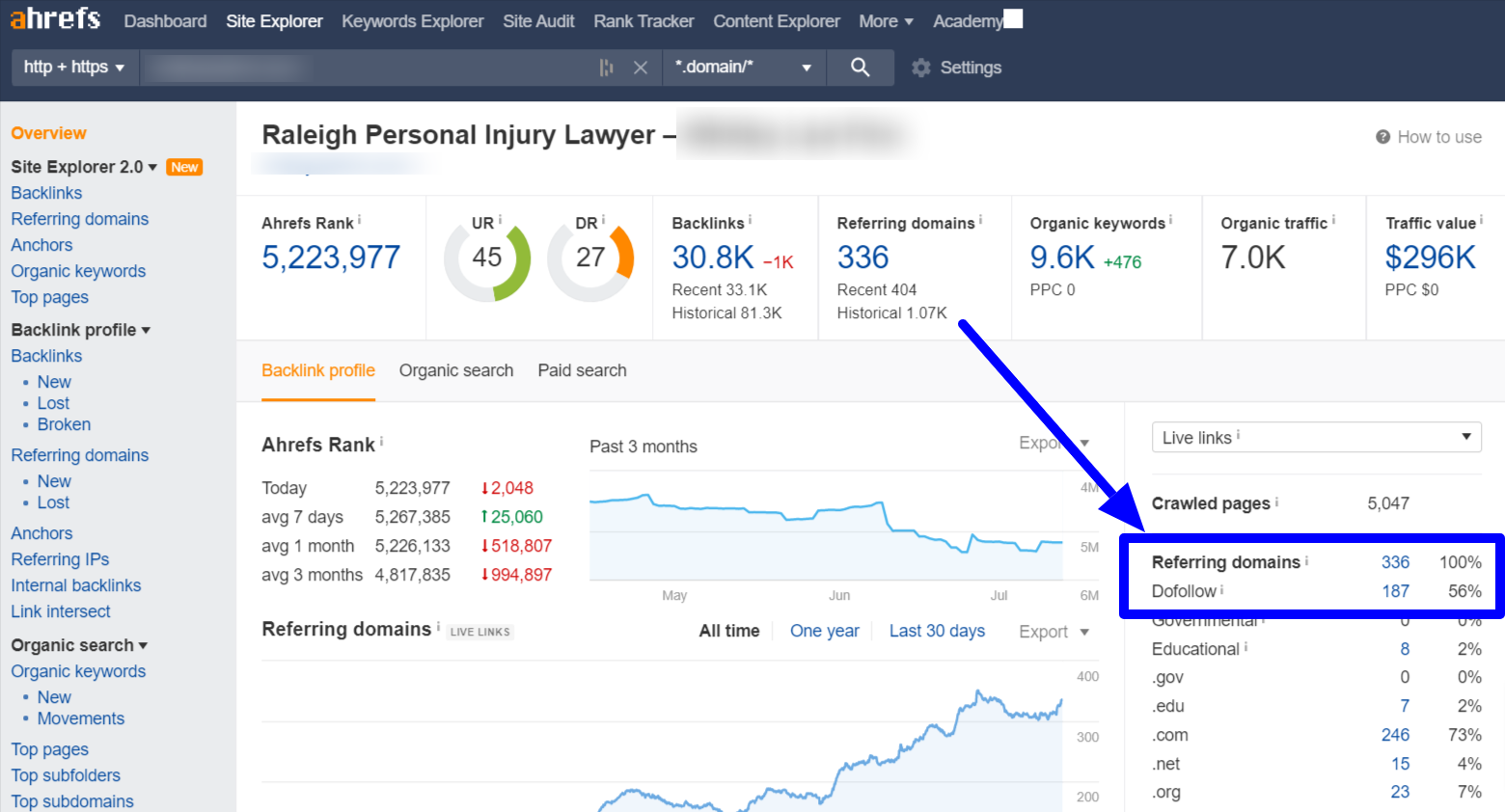 Content gap analysis
What is a content gap analysis, and how do we run one? 
In its simplest form, a content gap analysis aims at identifying what search phrases your competitors are ranking for (and you are not). 
This is a valuable tool to identify and close gaps to reclaim worthy traffic that only your competitors are getting. Furthermore, the analysis can empower you to create content that is qualitatively better than theirs. This will ensure that you're not just parroting the same content your competitors already published. You can create something superior that ultimately allows you to differentiate your brand.
For this analysis, Ahrefs is still our tool of choice. This time, type your domain in the search bar, click the magnifying glass on the right side, and scroll down until you find the "Content gap" menu item on the left.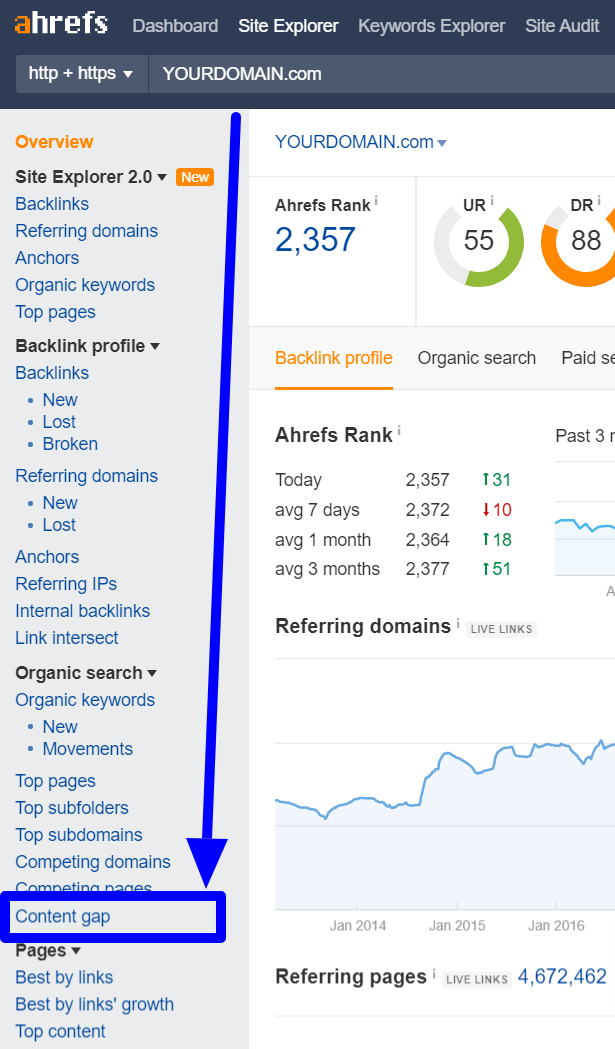 Here, you'll need to write in the domains of at least three website competitors identified in previous steps.
At this point, you're potentially facing a list of several dozen up to a few hundred search phrases that your competitors are ranking for, and you're not. It's now time to go through each one of them and determine which ones you feel are worth pursuing based on your business goals.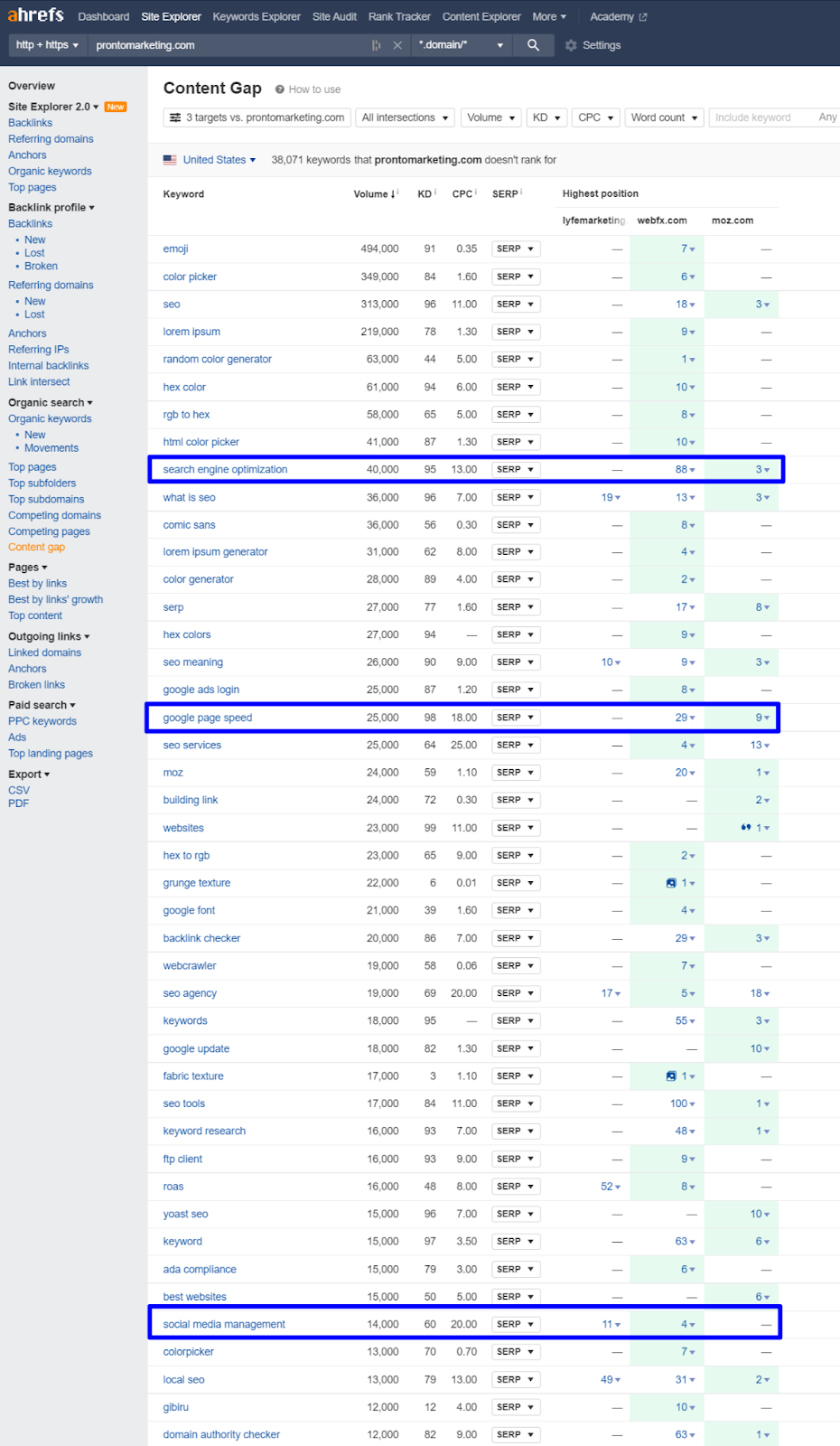 The content gap analysis should be leveraged as a source of inspiration among the whole competitor analysis process. From here, you can discover services, products, or informational material that your competitors are offering to their visitors and make them better and unique to your business.
Google Search Ads Opportunities
Do your competitors run ads?
Competitor analysis for Google search ads is an essential part of campaign planning and strategy. As advertisers, we have the opportunity to see competitor ads and execution strategies firsthand. 
Knowing whether or not your competitors are running ads is just the first measure. The most impactful step is to figure out what their game plan is before determining how to stay ahead at all times.
What do their ads look like?
To figure out what competitor ads look like, you must first think about the search terms used to find your competition online. For example, if your competitor is a personal injury lawyer based in New York, the most logical search term would be "Personal injury lawyer in New York." 
Once you have a search term in mind, you can type the query into Google and examine the results.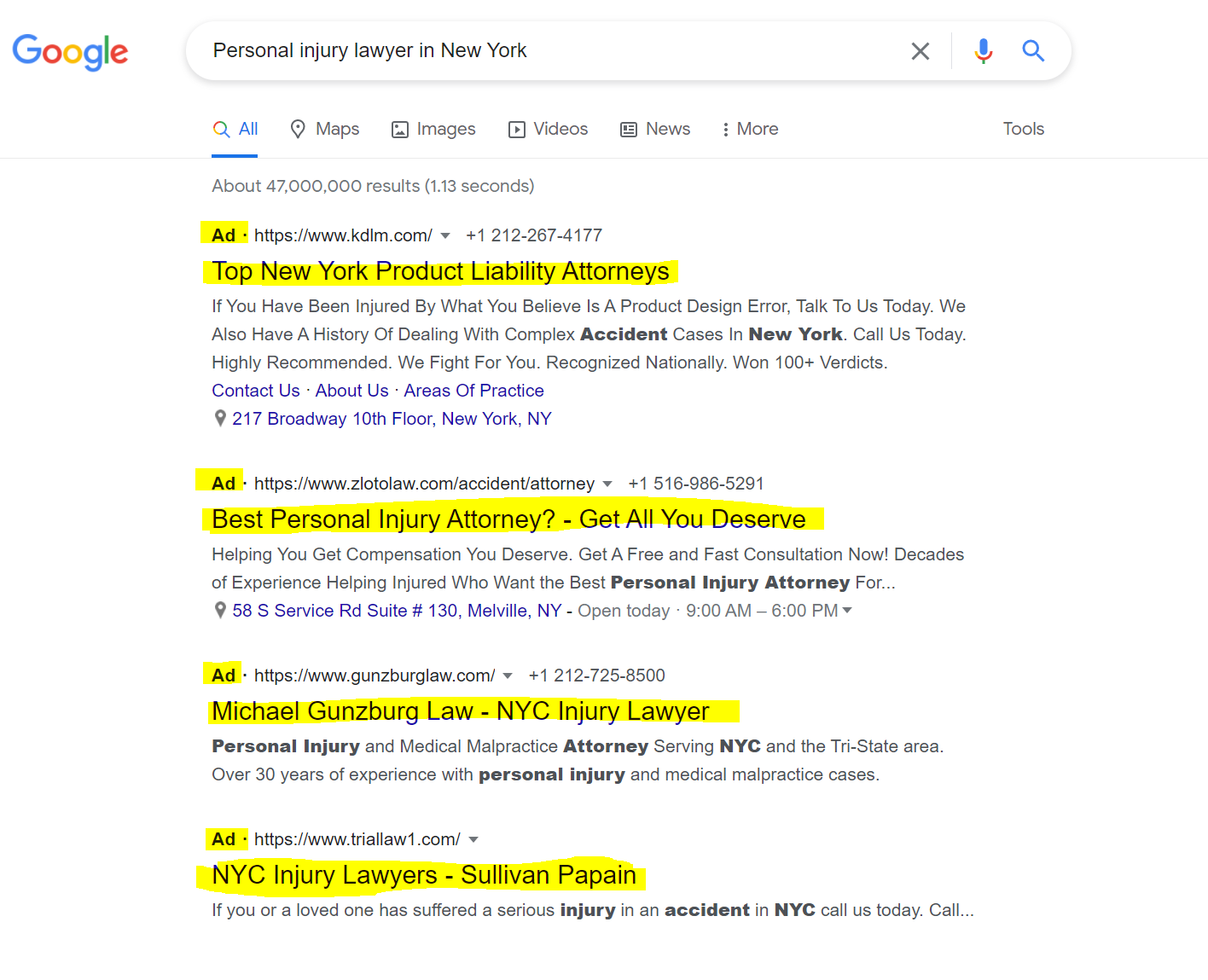 It's best to analyze the top 3 or 4 results because they have the highest search rankings. Once you nail those down, see what type of extensions they use, study their ad copy, and then look at the landing pages on these ads.
Here's an example of what our analysis would consist of:

Ad copy

– We look at the relevancy of the headlines in comparison to the search term. If the search term is personal injury lawyer in New York and the headline is Product Liability

,

then we would score this headline in the relevancy scale as low.</span.

Extensions – Extensions are used to provide more information for customers and make your ads stand out from competitors. There are 10 extensions in total, and the most number of extensions that can appear on an ad is 4. It is also essential to consider that not all extensions are suitable for every industry, so it is up to each individual to use the ones that make the most sense.
The top 4 most common extensions that can be applied to almost all industries are Callouts, Sitelinks, Structured Snippets, and Call Extensions. These extensions are going to help increase your CTR, which influences your quality and CPC.
Landing Pages

–

Landing pages

must provide the solution that the customer was searching for. If a customer is looking for lawyers but landed on a page selling personal training, then logically, the landing page experience will be poor.
Your landing pages must match the search terms to improve your quality score and reduce the overall CPC.
How to spy on your competitors' ads
The next step is to use Ahrefs to examine the competition deeper. You can use Ahrefs to analyze what keywords your competitors are paying for with any corresponding landing pages.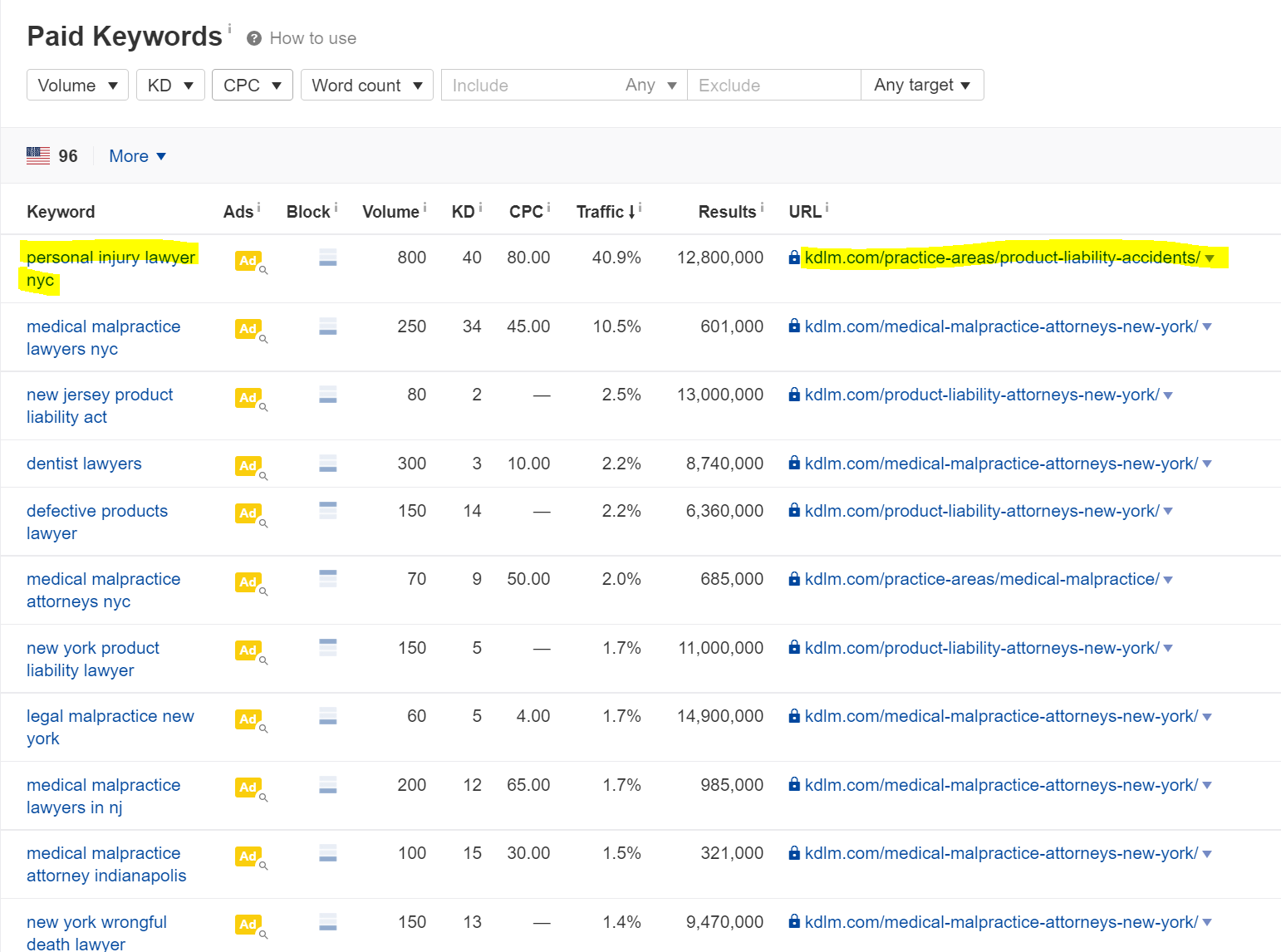 You can use this list of keywords as inspiration to create your own list of target keywords. This helps to identify opportunities that you may have otherwise overlooked. 
Next, you need to examine the ad copy of your competitors in more detail. Doing so helps you identify how many ads they are using and which ad leads to which landing page. This will help you when it comes to writing ad copy that appeals to your target audience. 
While there may be ads that Ahrefs misses, it provides enough information to properly evaluate each competitor and make informed decisions for your clients.
What type of results can you expect for your business with Google Ads?
When it comes to result expectations, you can use a predictive tool called Google Ads Forecast to help. 
To conduct your own forecast, add all the keywords that you plan to use and choose the daily budget and conversion rate that you expect to have. 
The example forecast below provides insight into how a campaign could perform if everything goes according to plan.

However, we do have to mention that the forecast does not guarantee that you will get results. It is simply a forecast under a certain scenario, and your actual results could be better or worse depending on many different factors.
Review your findings and decide on your action steps according to your priorities
The last hurdle is to review these findings and decide on your next steps. There are several factors to consider, but the average CPC, your budget, and customer lifetime value (LTV) are the most crucial.
These components are huge because they will essentially determine whether or not your campaign will be successful. If the average CPC for your industry is $30 and you have a budget of $1,000 per month, the number of clicks you get will be roughly 33. Out of those 33 clicks, you must also consider how many will convert into paying customers. 
Therefore, unless your customer LTV is above $1,000, it does not make sense to pay $30 per click. 
In an ideal scenario, you should be able to budget for at least 100 clicks per month, so if your CPC is $30, your budget should be at least $3,000. 
More clicks speeds up the learning process to help you adapt more quickly to the market. If the budget is too little, then you may never get enough data for Google to fully utilize its algorithms and maximum potential.
Conclusion
A good competitor analysis will ultimately offer a clearer picture of the current online market. It sheds light on the tactics that have consistently worked for your competitors and those that haven't yet been adopted. You will get a new perspective on how to showcase your business and an honest assessment of your own strengths and weaknesses.
Are you ready to start your competitive analysis? Consider our guide above. But if you want a nudge in the right direction, we can get you started.