Local businesses have unique needs when it comes to digital marketing.
Obviously, you want as much online visibility as possible, but more importantly, you want to reach the right people. If your best customers are local, that's who you want to find your website, social media channels, etc.
The Google My Business tool is so essential to accomplishing this goal that we've built an entire service to optimize and manage your business's Google profile. It will help locals find your listing and drive more qualified traffic to your site.
What is Google My Business?
Google My Business (GMB) is a free tool provided by Google that allows business owners to claim and manage an online profile. The information in your GMB profile is what people see in Google Maps and so-called "map packs" at the top of certain search results.
You can see this for yourself by Googling "lawyer in [your town]". You should see a result near the top that looks like the screenshot below. You'll notice that paid ads are usually the top results with Maps listings directly below them (when applicable).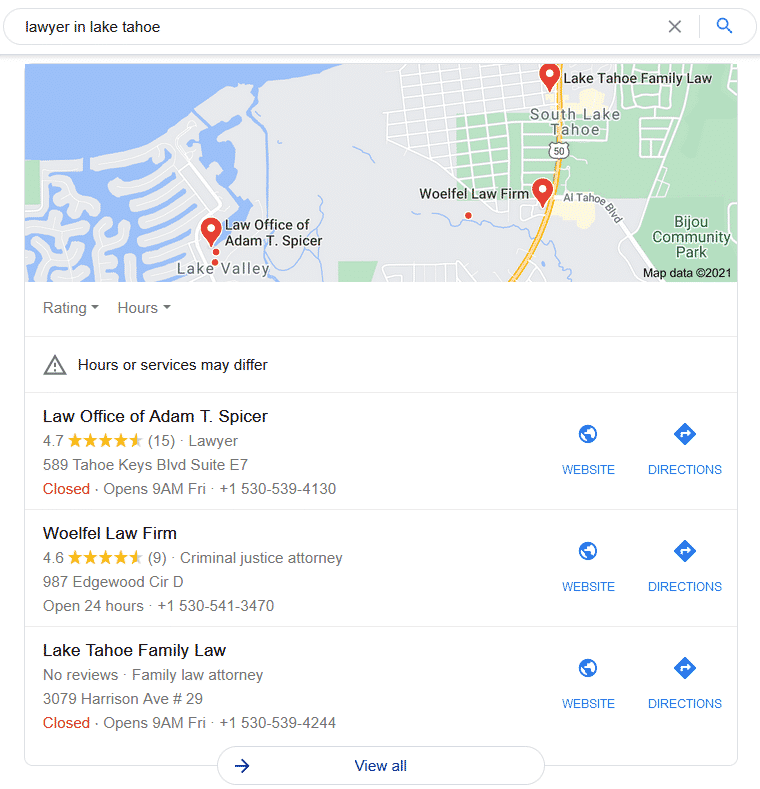 Around 46% of all searches are for local information and a Google My Business listing helps people find what they're looking for on the first try.
Claiming your Google My Business profile and keeping it up-to-date with the most relevant business information — phone numbers, website, opening hours, etc. — ensures that you're listed in the local map results and discovered by users searching for products or services that you offer.
"Around 46% of searches online are for local information"
What can Google My Business do for local SEO?
Having a GMB listing plays a key role in your local SEO. For starters, it can put you at or near the top of search results when someone makes a search related to your industry or area of expertise.
Google also displays "knowledge panels" to the right of search results. This feature grabs details from GMB and Maps to make it as effortless as possible for searchers get the information they need.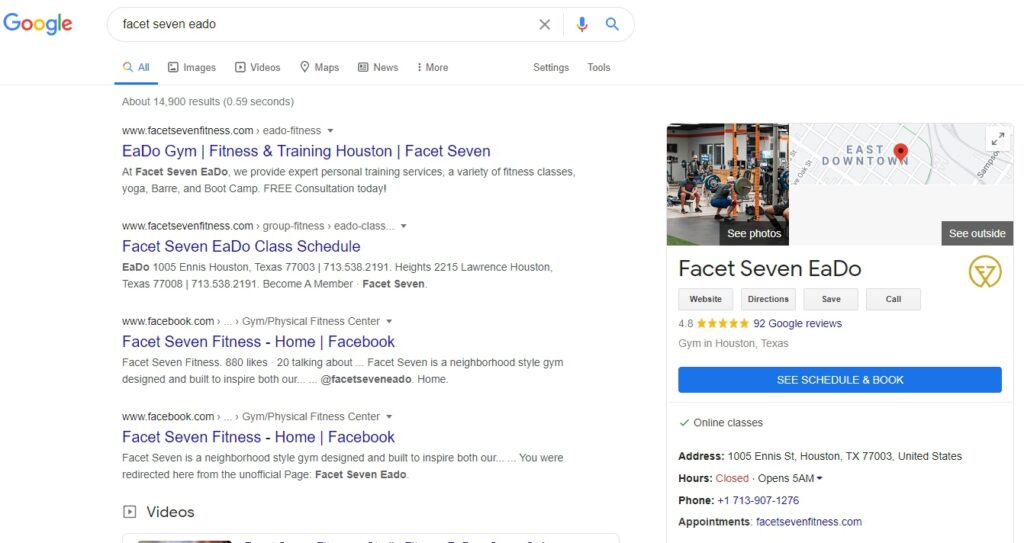 A knowledge panel for Facet Seven
Map packs and knowledge panels are indispensable because they make it possible for people to contact you even if they don't visit your website. In the Facet Seven screenshot searchers can schedule a class, call the gym or get directions, and even ask a question without ever leaving the search results page.
"So why do I even need a website?" you may ask. Google My Business doesn't provide the depth or level of control (design, branding, etc.) that your website does. All your GMB listing provides are the basics of where to find you and how to contact you, which is all some people (certainly mobile users) need.
"Your GMB listing and your website work in tandem to cover more ground and draw more customers to your business."
When GMB optimization is done correctly, everyone wins: Google boosts its reputation as the most convenient source of information, searchers find what they're looking for, and you create new opportunities to generate leads.
Google representatives say that local search results are based on "relevance, distance and prominence."
Here's what each of those mean:
Relevance – How well your listing matches searcher intent
Distance – How close you are to the searcher
Prominence – How well-known your business is
Google My Business reviews
A Google My Business listing allows people to review your business via Google Maps. And with some proactive efforts, you can get more positive reviews from customers to increase your relevance and authority.
Related reading: How to drum up more five-star reviews
GMB publicly displays reviews and their average rating in search results, which leads to many searchers picking the business they want to check out first based solely on its reviews.
If you searched for a local business and one listing had zero reviews while another had a dozen, which would you click on first? Reviews add a sense of trust and legitimacy. They're social proof that people have interacted with a business and recommend it to others.
How can you make the best use of Google My Business?
Before trying to change anything, type your company name and location into Google to see if your business already has a GMB listing. You might find that a listing with your details already exists, especially if your business has already been around for several years.
A preexisting GMB listing for your business simply means that someone has provided Google with details about the location (without claiming to be the owner). In that case, you need to provide evidence that it's your business before you can take control over the listing (visit this page to request ownership).
If you can't find a current listing, log into GMB and click the Create button. Google will alert you if a possible duplicate listing already exists.
Updating all of your business's information (name, address, phone number, hours of operation, website, etc.) should be your first priority. You also need to confirm that you're listed under the correct industry to ensure that you show up in the most relevant search results.
If you don't have a brick-and-mortar location that you want customers to visit, make sure to select the areas you serve. Google needs this information to display your listing when people make a relevant search in one of those areas.
For example, a farmer that delivers boxes of produce to customers may not operate out of a shop but does deliver to specific areas. They could list their farm's address, but registering their service area instead would help Google direct more people to their business.
Another scenario would be if you had a store or office but offered deliveries or on-site visits. In this case, you'd select "Yes, I also serve them outside my location" in your GMB profile and select the areas that you serve.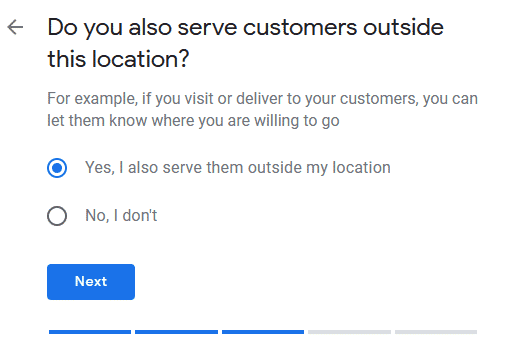 Another thing we recommend is opting in for updates and recommendations from Google for your listing. These prompts make it easier to keep your listing active and up-to-date. But if possible, don't wait for the nudge. Try to remember to update your GMB listing as soon as anything changes.
What if you have more than one location?
You don't need to create and manage Google My Business accounts for individual branches. Google solved that issue with location groups.
Location groups let you manage multiple listings from one dashboard. Simply verify your main or primary location (such as a corporate headquarters) with Google first. This will act as your main hub account and make it possible to add other locations.
It's worth noting that it may take several weeks to receive your verification code via snail mail after creating a new GMB profile. But once your primary location is verified, adding other branches is a much quicker process.
Final thoughts
Once all company details and branch offices are listed correctly, it's time to use the GMB features that let you post about promotions, answer custom questions, and add photos of your team. These updates dramatically boost the quality of your GMB listing.
It's also important to track and monitor the progress of your Google profile so you can see what's working and what needs to change. Do not let your Google My Business profile sit idle.
If you need help setting up and maintaining a Google My Business profile, check out our Google My Business service to learn more about how we can promote your business.