Are you an avid Twitter user? Are you planning a new campaign and plan to use Twitter to promote your campaign? If you answered yes to either of these questions, you'll find the following article pretty useful, especially if you want to know more about people who follow you on Twitter.
Moz recently acquired Followerwonk which is a web application used to analyze data from Twitter and has provided a lot of features available to Moz Pro account holders; however, we'll be focusing on one feature of Followerwonk which is completely FREE! All you need is a Twitter account.
To get started, go to Followerwonk and login with your Twitter account. Once you've logged in, click on the Analyze followers tab and this is what you should see.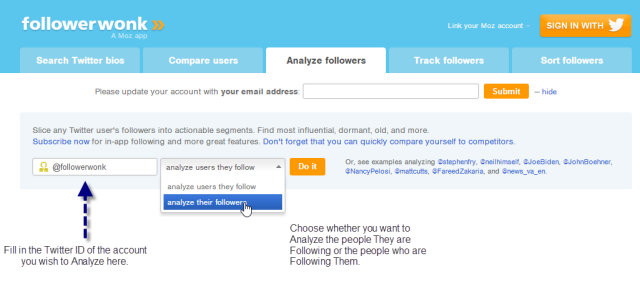 Type in the username of the account you wish to analyze and choose whether you want to analyze their followers or people they are following (in this article we'll analyze @followerwonk's followers).
Click the 'Do it' button and you should see a report with a bunch of different sections and a lot of useful information. Let's look at some of these sections of the report and talk about how you may find them useful.
Mapped Locations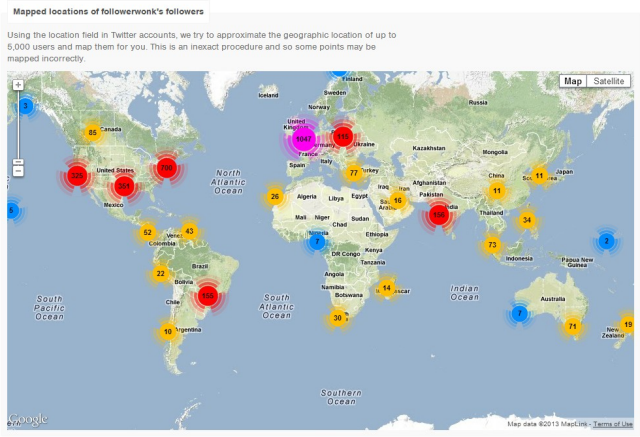 This section uses the Location field in Twitter to pinpoint where account holders are and displays it on a cool interactive map. You can zoom in and zoom out to look at followers from different countries down to followers from different towns to find out where exactly they are from.
For multinational companies, you can see the countries where most your followers are from, which can help you make strategic decisions regarding regional promotions.
For local businesses, you can click on the locations to get a shortlist of followers in your area. You may even want to reach out to them directly and notify them about your latest promotions.
Social Authority Scores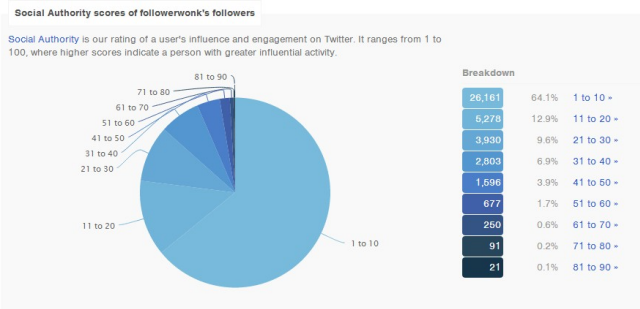 The Social Authority is a score given to Twitter users based on their engagement with other users. Things like number of followers, @replies and retweets are used to build this score and although it's not perfect, it can give you a good idea of how influential a user is.
In this section you can click on the range you're interested in to find out more about the followers who are a part of that range.
In this example, you might want to dig into the 61 to 70 range and check out who those 250 people are. Maybe you'll be able to find someone who is willing to share a piece of content you just posted to your blog. This is a good range to look at because these users have a lot of influence, but they aren't so important that they'll ignore anything you send them.
Percent of Tweets with URLs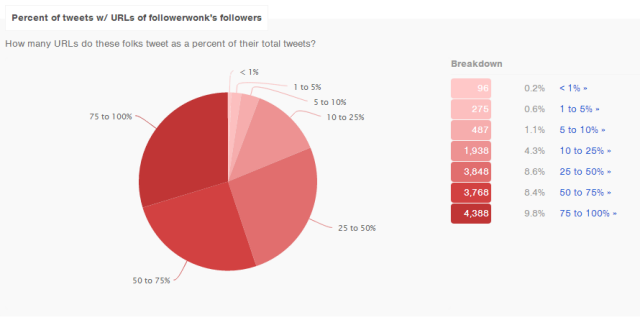 If you're looking to promote a piece of content you've produced, this graph is definitely one you want to spend some time digging into. It shows how often users include URLs in their tweets, so someone with a high percentage of URLs in their tweets is more likely to be open to the idea of sharing an article from your blog.
To get a solid list of users to contact, you can drill down into one of the segments (50-75% in this example) and then sort the list by either Social Authority or Followers. This will give you a great list of people who like to share URLs and who have the highest potential reach and influence.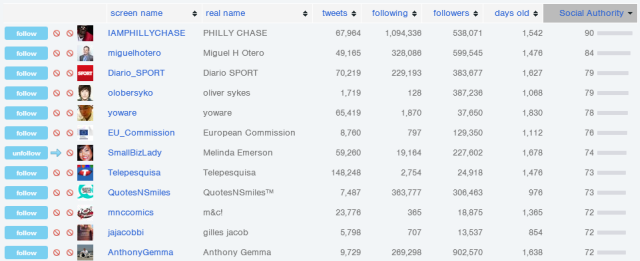 Rather than just grabbing everyone on this list, spend some time looking through each profile – make sure they share things on the same topic as the content you're trying to promote.
Then, slowly start to build a relationship with them – follow them, send a few @contacts to them, maybe even find out where they write and start commenting on their articles. When the time is right, send them your content and ask them to share it.
Percent of Retweets and @contacts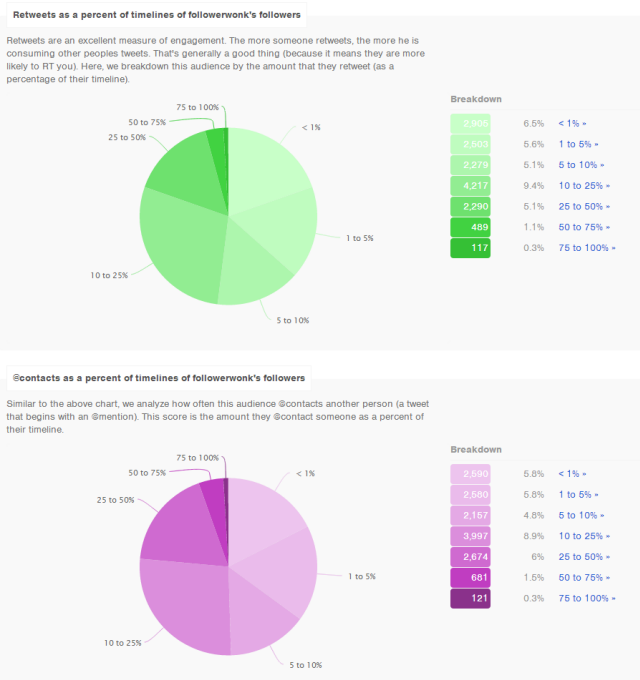 As with the Percent of Tweets with URLs chart, these are worth exploring if you're hoping to build relationships with influencers. It shows which users use the community aspects of Twitter most often. These are the people who are having conversations with other users and are resharing the tweets of people they follow.
One thing to be aware of though is that you may want to avoid users in the high end of both of these charts. Accounts with 75-100% retweets might just be bots that are spamming their followers. And accounts with a high percentage of @contacts are spending so much time conversing that they don't end up really sharing anything.
Follower gender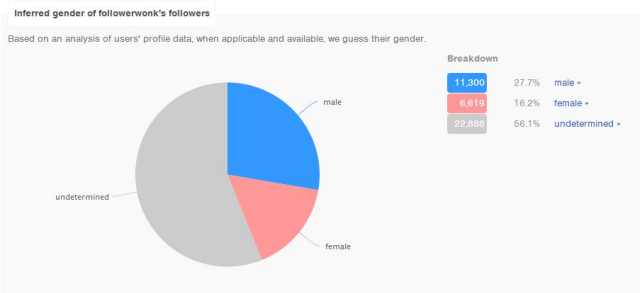 The Gender section helps you focus on male or female followers. If your main target audience for a campaign is female then you can look at who your most influential female followers are by clicking on the female block.
You can start following them to see what sort of things they are interested in and if you think your product or service might be something they are interested in, try mentioning them in your tweet or send them a private message.
Most active hours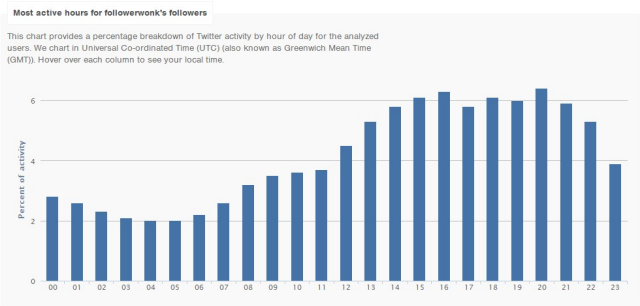 This is one of the most useful sections of the report. It shows the time of day your followers are most active. You can mouse over the bar graph to see your local time. This helps you plan the best time to send out a tweet so that you can reach the most number of people.
However, if you look at the screenshot you will see than less than 10% of the followers are active at any given hour which means even if you pick the 'most active' hour you will be able to reach less than 10% of your followers, so it's highly advised to retweet your tweets (especially the important ones) to make sure you reach most number of followers.
I hope after reading this article and getting to know FollowerWonk you can use this really amazing tool to assist you in launching great Twitter Campaigns in the future.
Also, if you own a MozPro account, don't forget to check out other features of this application, I'm sure you'll find them really helpful in your next Twitter Campaign.