Are you trying to expand your business in your local area or considering branching out to new locations? Get our webinar slides below or read further to learn how to use and optimize local SEO for your business.
Conducting an Online Competitor Analysis
It is vitally important to do your homework before you decide to expand your business to a new location. Some markets are harder to crack than others, so it is crucial to look at similar companies already in the area you have in mind before you sign off on a new service location.
When studying the competition, we recommend the three most commonly-used platforms for local search engine optimization — Google Maps, Google Search and Google Ads.
You can use it as a guide when building your own Google marketing strategy so that competitors don't get too far ahead.
How to Conduct a Competitor Analysis
Analyze your competitors' efforts through Google Maps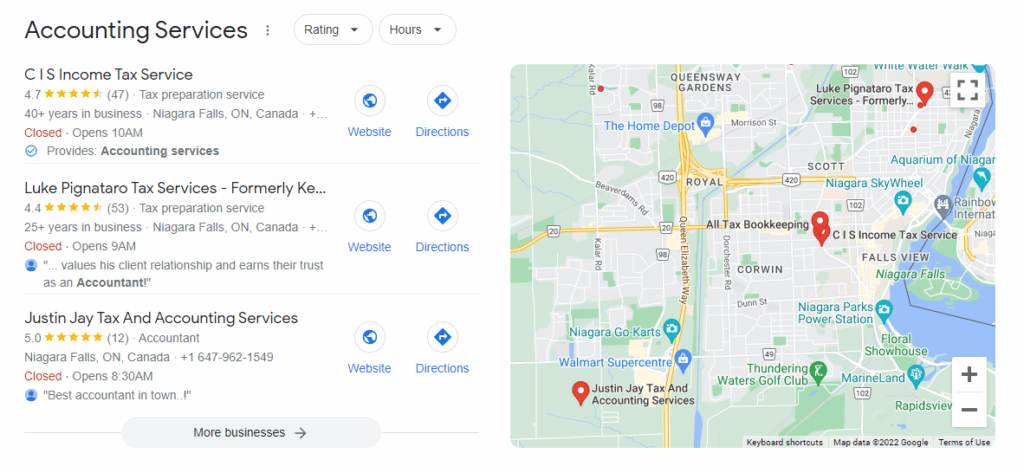 A quick Google search using relevant keywords to your business and office location should bring up Google's map pack, which provides information about similar companies in your area. Look at the top three results and find out more about what they are doing on Google My Business.
Companies that regularly post on GMB tend to attract more business, and reviews affect a firm's Google ranking. The more positive reviews, the better.
Looking at the top three to five companies listed in your area and seeing how many reviews they have received, you will have a much clearer idea of what you have to aim for if you want to break into the top three.
Analyze your competitors' efforts through Google Search

Tools such as Google Search Console and Google Analytics collect data and insights from your website, however you can't access information about other companies, only your own.
In order to get a better idea of what competing businesses are up to, you need a third-party tool that can estimate a website's traffic and links.
Ahrefs is an excellent resource for this, allowing you to type in a location and keywords relevant to your business e.g. "Raleigh Personal Injury Lawyers". Typing in a term like this will give you an estimate of Google's search engine results, which allows you to see the top ranking pages that come back with a wealth of stats to pore over.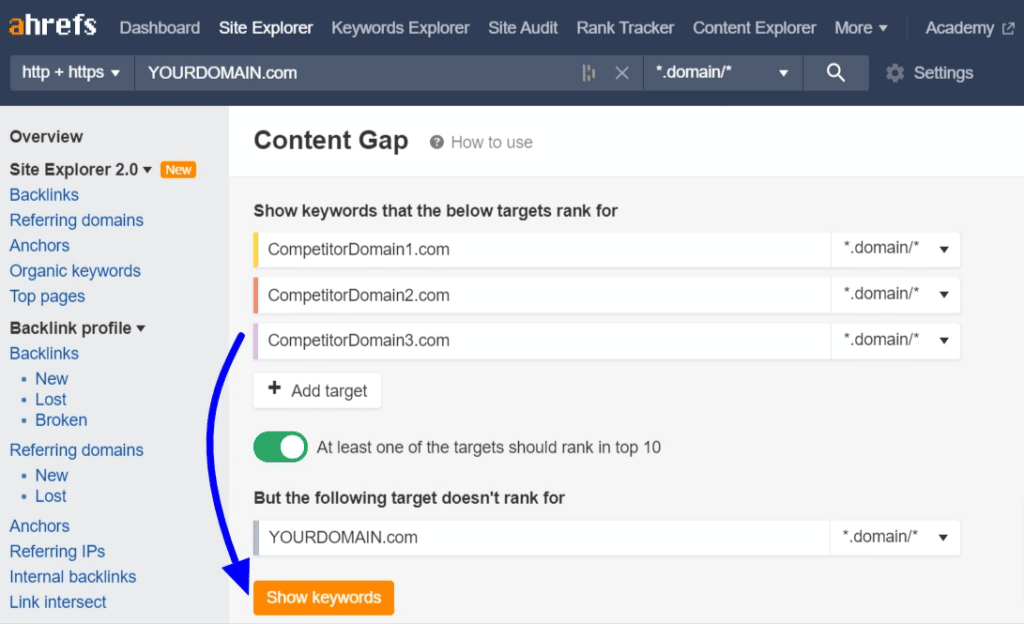 Once you've found your competitors, you can run a content gap analysis. To do this, you go to their websites and go through the pages, looking for keywords and content that they have but you don't.
If their websites are at the top of Google's rankings, then they are doing something right, so you really should look at what the differences are between your site and theirs, and perhaps take onboard some of their best practices.
If you do decide to change your strategy to be similar to competing local businesses, just remember to use their best practices and material as inspiration for your website rather than copying and pasting. You want to come across to prospective clients as a viable alternative to the competition, not a cheap imitation.
Identify Google Search Ads opportunities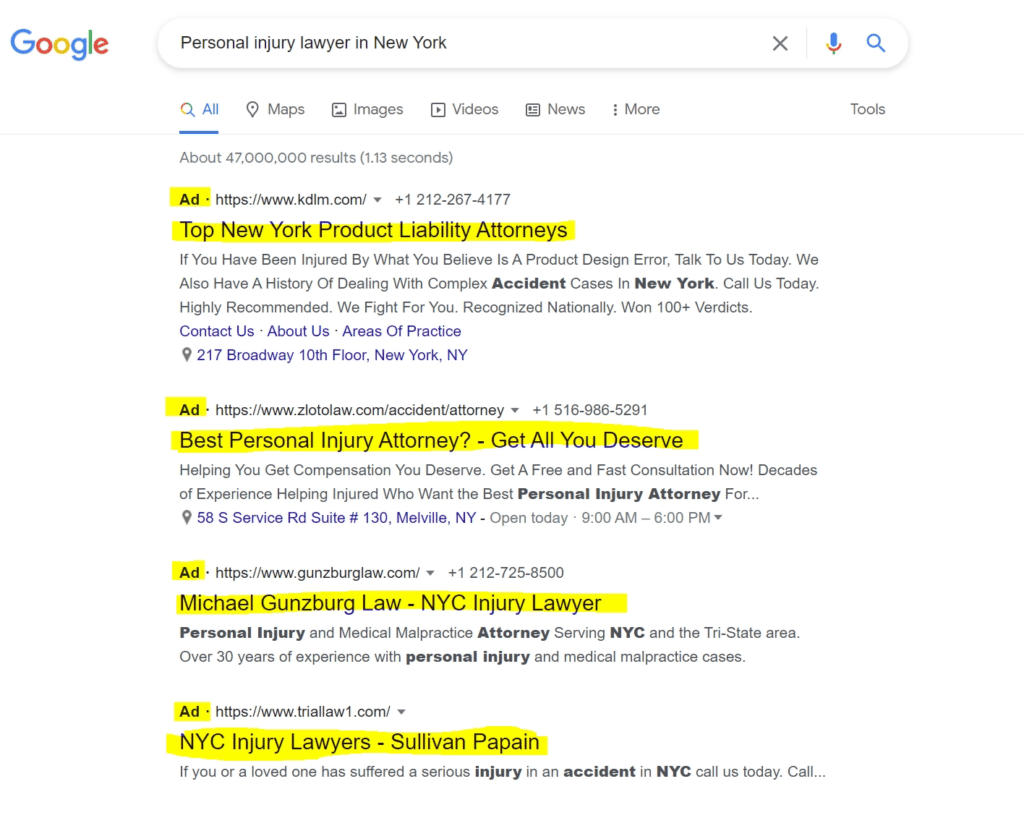 You can do this simply by typing in keywords you're interested in on Google and checking out the sponsored results at the top of the page. This can be quite helpful in identifying competitors that didn't come up through natural or organic SEO.
If you've already seen the business in your research previously, then you can check out their ad copy landing page and see what content they have.
It's important to look closer and double-check that these businesses are really your local competitors. Many companies will buy a large number of keywords that push them to the top of search results, even if they are only loosely connected with your industry or not present in your local area.
How to Rank in Multiple Markets with Local SEO
Choose Your Local Sub-Markets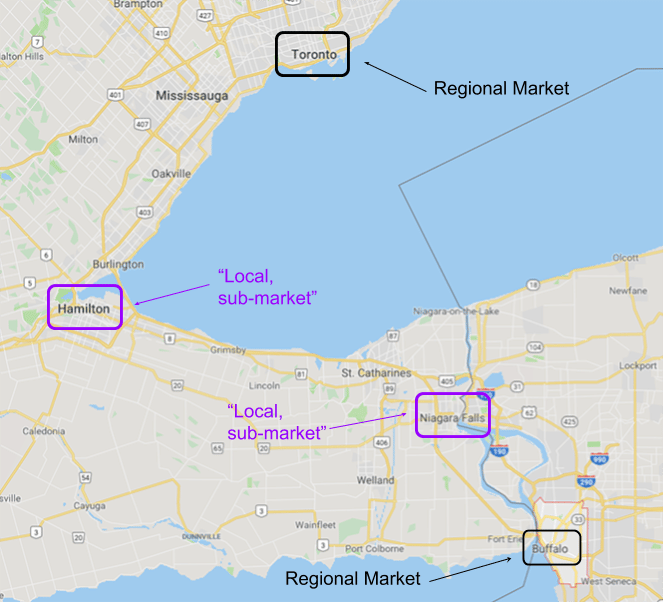 If you have local knowledge of the area that you are targeting, you should apply it to your research. If you were looking to set up an office in Hamilton, Ontario, you would probably consider terms like "Greater Toronto Area" instead of just "Hamilton" since this is what many local people might search for instead.
Don't forget that actually having a physical presence in your selected area will boost your rankings over businesses that just have a location page targeting the site.
Set Up Your GMB Profile for Multiple Locations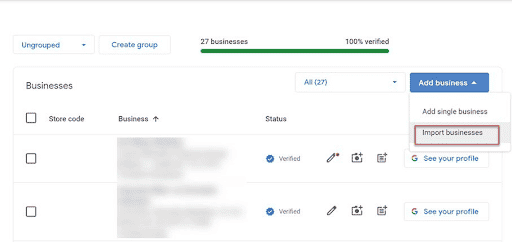 Sign in to your Google My Business account and you'll find the "Add Business" drop-down menu. Clicking on "Import Businesses" allows you to download a template to fill out, which you can then import to your company's profile.
Build Location Pages for Multiple Markets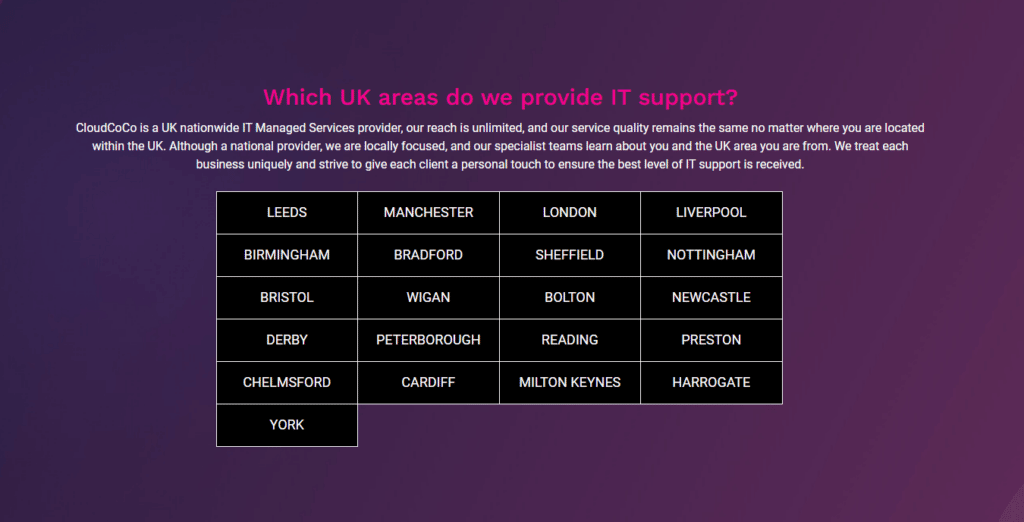 Now that your business has more than one location, you will need to set up a location page. However you need to put some time and effort into creating different content for your new office's location.
Cutting and pasting and merely changing place names doesn't create a good impression for visitors, so be sure to write unique content that is tailored to your target market.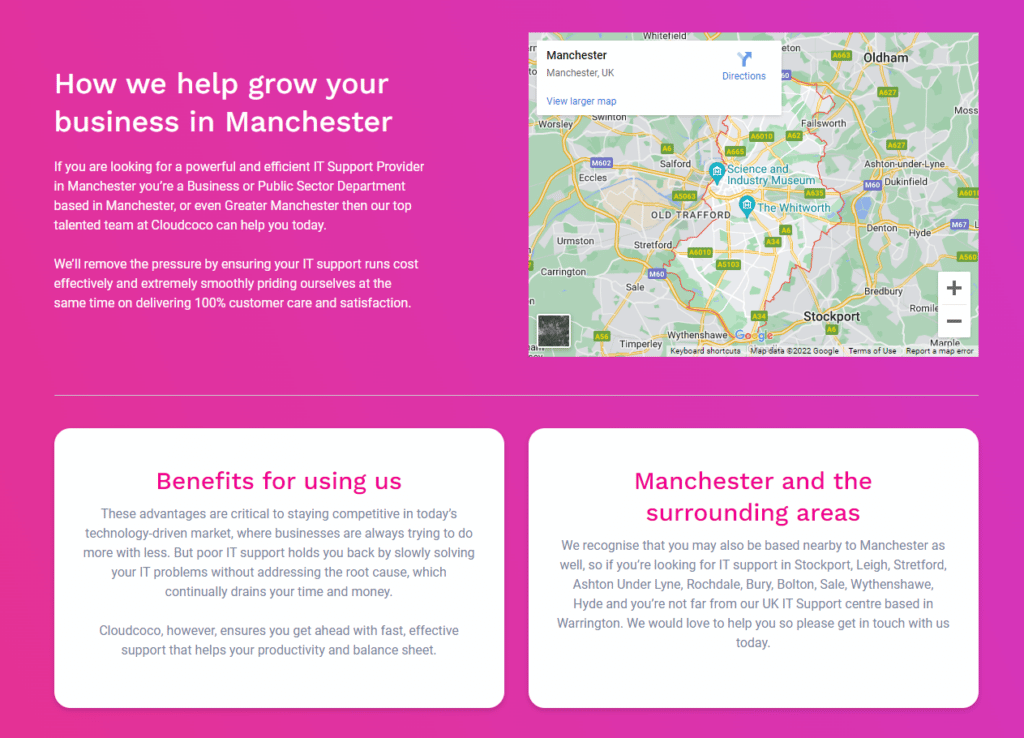 You should also embed your new company's location on Google Maps, or a map of your choice.
You can build separate pages for each of your locations, but it is better in terms of Google rankings to attach these pages to a GMB account.
As we mentioned before, you should really only create a location page if you have a real-world office or branch there. With your business in place and linked to your Google My Business account, you should be getting client citations and testimonials that will have you climbing up the rankings pretty quickly.
Ensure Your Location Pages are SEO-Optimized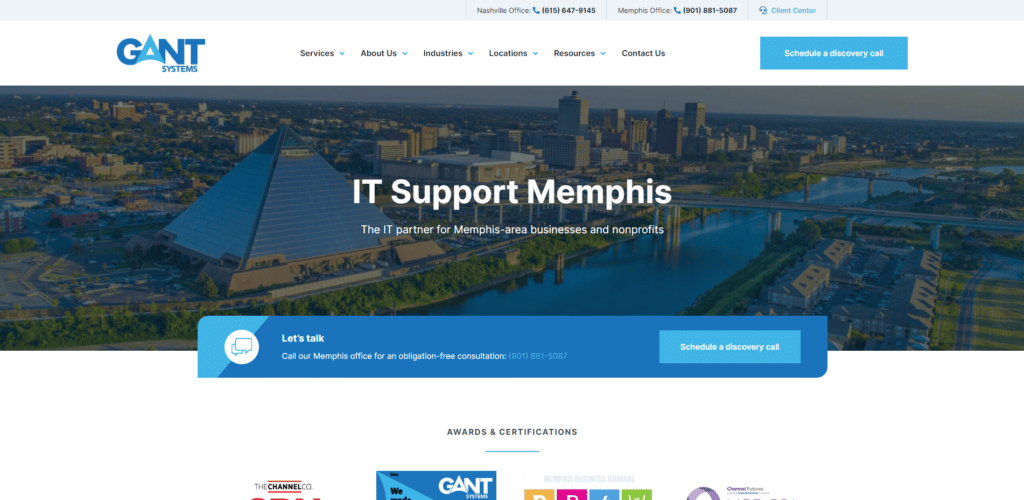 SEO-Optimization is crucial to getting your business up the Google rankings. There are quite a few things you can do to improve your rank.
Include your target keywords in your H1 heading
Add your NAP (Name, Address, Phone number) details. You need to be consistent across all your pages and business profiles with your NAP
Add relevant internal links (for example, embedding Google maps or adding staff bios)
Optimize your CTA's. You should always have a Call to Action on your location page with a contact form for visitors to fill out, either a free consultation, a request for a quote, or just to ask questions
Optimize your page structure for target locations. There are usually six main elements on each page that are relevant to SEO optimization — keyword URLs, title tag, meta description, H1 (headline), subheadings, and images. In all of these, you want to have your keywords and location e.g. Personal Injury Lawyer + Raleigh.
Write Blogs that Target Local Audiences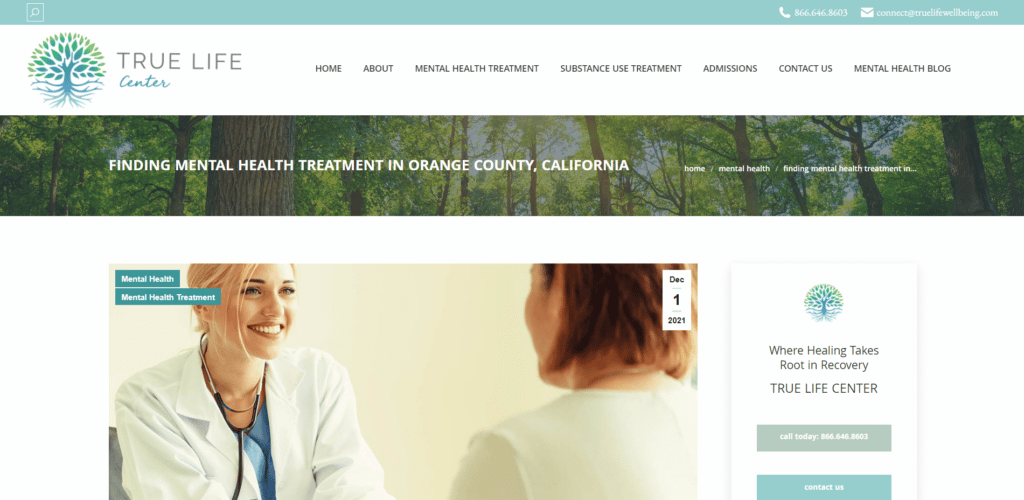 As with location pages, you should write blogs with content that speaks to people in your local area. It's best to keep the topics to a local theme. For example, if your business is based in Orange County, California, you probably don't want to post blogs about issues in China or New York.
Regular posting will help to establish you and your business as a local industry leader and a trustworthy source of information, and will help to push more traffic and leads to your website.
Acquire Inbound Links
Links are a great way of effectively improving your company's ranking online. It's helpful to think of the links as endorsements, but it isn't simply a case of more is better.
A law firm with lots of links from florists, coffee shops and yoga studios is not going to have any effect on your business ranking and may even see the business being penalized by Google — their AI is pretty smart and can detect when people are trying to game the system.
It's best in this case to have links from large, reputable law firms or individuals who are recognized authorities in the legal profession. Quality over quantity.
You can get inbound links in a number of ways. Guest posts on your blog, listing your company in local directories (such as Yellow Pages), and optimizing citations for each of your location pages are really effective methods of boosting your business ranking.
Run Google Ads Campaigns (Optional)

Getting onto the first page of Google search engine results through organic or natural links and SEO is what you should be aiming for, but it takes time, effort, patience and money.
Paying Google Ads to put you at the top of the page is quick and effective, but it is important to remember that you have to keep paying money to stay there. The moment you stop paying, you will drop off the page. You could regard this as a quick fix, but you may wish to think about how sustainable or affordable this strategy is in the long run.
If you do decide to go ahead with Google Ads campaigns, you can use Google Keyword Planner to see what impact your keywords (service + location) will have. This gives you data and figures that let you see how cost effective it will be, and you can then decide if Google Ads is the best option for your business.
Your marketing activities are stronger together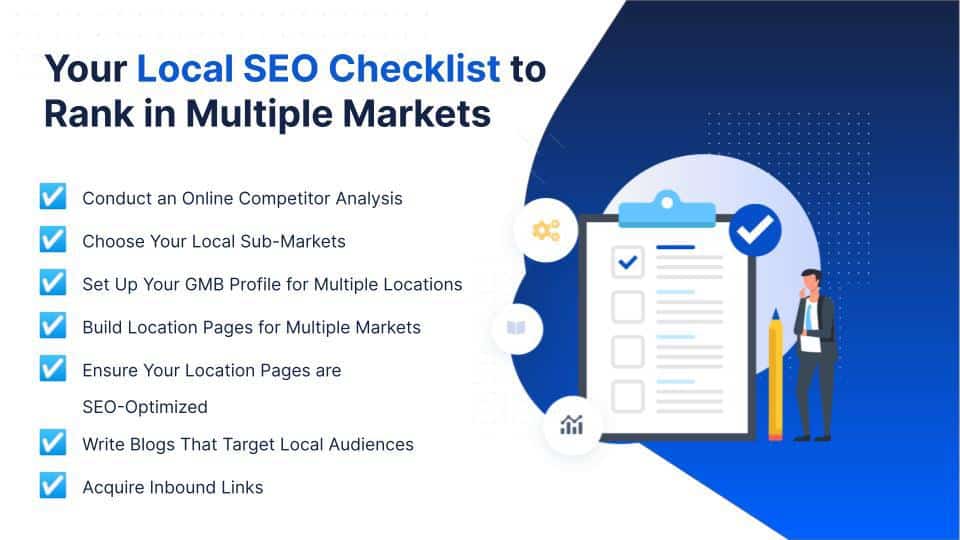 All of these activities that we have covered in this guide are great tools to improve your Google rankings and get you on the first page, but it's important to do them together.
Building links, maintaining your GMB profile, regular posting of relevant and unique content, landing pages, and Google Ads campaigns will have a greater impact when employed together as parts of your overall Google marketing strategy.
Local SEO in Action (A Case Study)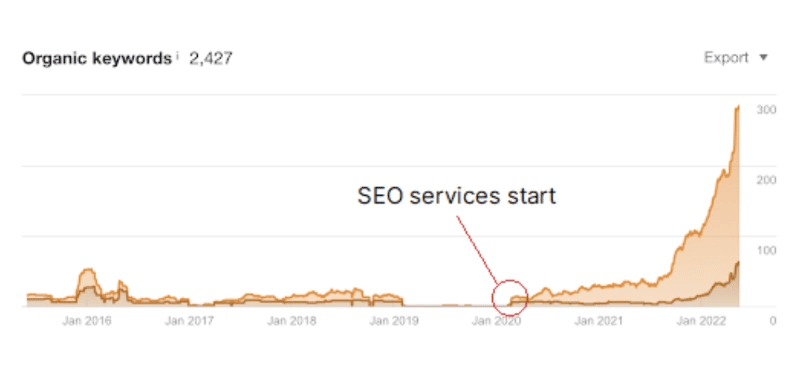 Dynamic Solutions is an IT company that wanted to increase its online presence in an area that had quite a lot of competition. They were almost non-existent in Google search engine results and were struggling to keep up with other businesses in their target location.
We started with a competitor analysis, identifying gaps in the company's strategy, and came up with a plan to improve their rankings.
Next we built a location page for their primary location and optimized it for SEO, with target keywords placed at appropriate points on the page, and then built links to the page in order to boost the site's authority and rankings.
Over the next year, Dynamic Solutions saw their domain authority increase by six points.
We also employed our blog writing service team to regularly post industry-related articles with researched keywords to increase their organic rankings and traffic.
In addition to this, we also helped to optimize the company's Google My Business profile, with regular posts, geotagged images, and a Q&A section, as well as building directory listings.
Over the course of a year, Dynamic Solutions went from having zero organic keywords that ranked in the top 10, to over 300, with more than half of these being in the top three.
Conclusion
Local SEO is a great way to establish your online presence in new markets, and poor online marketing strategy could be disastrous for your company's fortunes. 46% of searches on Google are for local information, and if you haven't got a website that's up to the task, you're missing out on a golden opportunity to get ahead.
A regularly updated website with keyword optimization, together with Google My Business and Google Ads is a surefire method of generating leads and traffic and getting you to the top 10 or even top three in search results.
We hope that this guide will get you started on the path to realizing your firm's online potential, however if you feel that you would like to leverage the expertise of our team at Pronto, get in touch with us and let our experts help you become a market leader in your area!