Delivering the gold standard in web design and development for over a decade, Pronto Marketing sets itself apart as GoodFirms' top-rated web development company.
With dedicated services ranging from website design to WordPress hosting & support and speed optimization, we have been creating custom solutions tailored to industry needs across the globe — and it all began just 15 years ago.
To learn more about our extraordinary story and core values, GoodFirms had an enlightening chat with our Managing Director Tim Kelsey. Let's dive in!
Where there's a will, there's a way
Pronto has come a long way since its beginnings in 2008, with over 3,800 websites launched under our belt. Our experienced and driven team is devoted to helping businesses reach the highest levels of success by creating stunning designs for sites that generate an impressive 1 million visits monthly — all delivered on time.
Tim told GoodFirms how Pronto Marketing was born out of a father-son partnership, with Derek and Cory determined to develop web solutions that would challenge industry standards. Fueled by their passion for providing MSPs with stellar online experiences, they brought forth an enterprise brimming over with exceptional performance capabilities.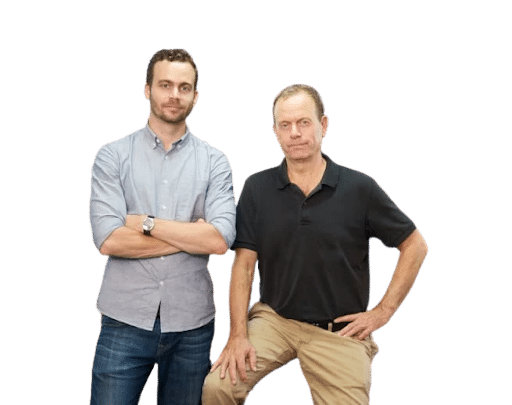 Derek and Cory Brown, a father-son duo, founded Pronto in 2008 in Bangkok, Thailand.

Business model
Tim also spoke about the diverse team at Pronto — comprised of 90+ members from all corners of the globe. From project managers to creative copywriters and developers, our professionals collaborate in an in-house business model to bring success.

Innovative vision
Tim knew that the success of Pronto was in our versatility — we offer an extensive breadth of services, from digital product development to promotion.
But Tim said there's one thing that sets us apart: "our team's determination and commitment."
No matter what issue or challenge a client faced — large or small — they could count on Pronto for creative solutions designed with long-term goals in mind, building robust partnerships along the way. This dedication is why clients have been entrusting Pronto IT Solutions as their go-to problem solvers again and again.

Empowering industries
Tim told GoodFirms that apart from IT firms, Pronto also specializes in other industries including:

Customer-first approach
GoodFirms inquired about our client's satisfaction rate, which is now at a 56.2 net promoter score and 92.2% overall.
Tim added that our technical team provides 24/7 support to their clients with complete resolutions regarding website errors or other service-related issues. We offer this support through email and chat systems, sometimes helping clients with a phone call on specific requirements.





Click for more reviews.

Flexible & inexpensive but not cheap
For those looking for flexibility in their payment structure, the good news is that Tim revealed that Pronto has a convenient pricing for clients of any size. Not only does this make it easier to budget for services but also allows clients to cancel contracts if they are not completely satisfied with what's on offer.
Website builds require careful consideration and the right payment plan. Fortunately, two options are available: go all-in up front with a 50/50 split or spread payments out over several months.
Tim also told GoodFirms that the minimum budget technical support and maintenance is $99/month. For more significant projects like building the website from scratch, the minimum price for small websites is $3,000 and up to $10,000 for large websites with complex features.
Lastly, Tim revealed his vision for the next ten years.
Pronto is committed to providing top-notch customer service through cost efficient solutions, and we don't plan on letting up anytime soon. Connecting with the latest innovations in website development and digital marketing ensures that we will stay ahead of the curve when it comes to taking care of their customers' needs.

The detailed interview is available on GoodFirms.
About GoodFirms
Washington, D.C.-based GoodFirms is an innovative B2B Research and Reviews Company that extensively combs the market to find business services agencies amongst many other technology firms that offer the best services to their customers. 
GoodFirms' extensive research process ranks the companies, boosts their online reputation, and helps service seekers pick the right technology partner that meets their business needs.