Ranking for keywords relevant to your business on search engines is a cornerstone of your website's success. The Keyword Rankings Dashboard helps you track the performance of your most important keywords and see how your search rankings fluctuate over time.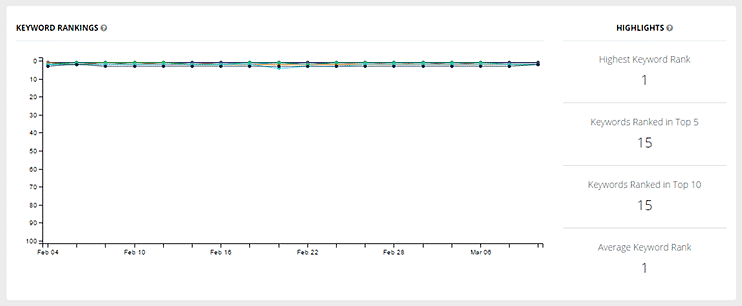 Main View
At the top of the Keyword Rankings Dashboard you will see the main view, which gives an overview of your keyword rankings over time.
The information available in the main view includes:
Keyword Rankings – An overview of all your keyword rankings on Google over time.
Highest Keyword Rank – Which of your keywords ranks the highest on Google.
Keywords Ranked in Top 5 – How many of your keywords come up in a Google top 5 ranking, out of all your tracked keywords.
Keywords Ranked in Top 10 – How many of your keywords come up in a Google top 10 ranking, out of all your tracked keywords.
Average Keyword Rank – Your average Google ranking for all your tracked keywords.
Pronto Insights gathers information about your keyword rankings every two days. You can also view the rank of specific keywords on certain days by rolling your cursor over that date.
Tracked Keywords View
Underneath the main view is a full list of your tracked keywords, which gives a detailed overview of the keywords you are tracking.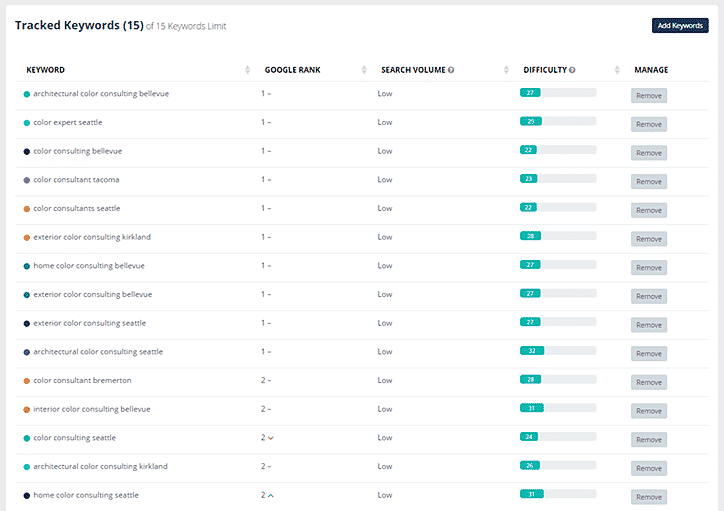 Information available in the tracked keywords view includes:
Keyword – The name of the keyword.
Google Rank – Its current ranking on Google.
Search Volume – The volume of searches for this keyword every month.
Difficulty – How difficult it will be to rank within Google's Top 10 for a specific keyword, represented by a 1-100 score, 100 being the most difficult. If the difficulty score is displayed in orange or red, it will be quite difficult to rank for that specific keyword.
Adding or Removing Keywords to Track
Adding a keyword to track
Adding a tracked keyword is simple. Click the "Add Keywords" button in the top right corner. Once on the new page, you can add up to 15 tracked keywords. The page also contains helpful information about how to choose the right keywords to track. After you're done, click "Add Keywords" at the bottom.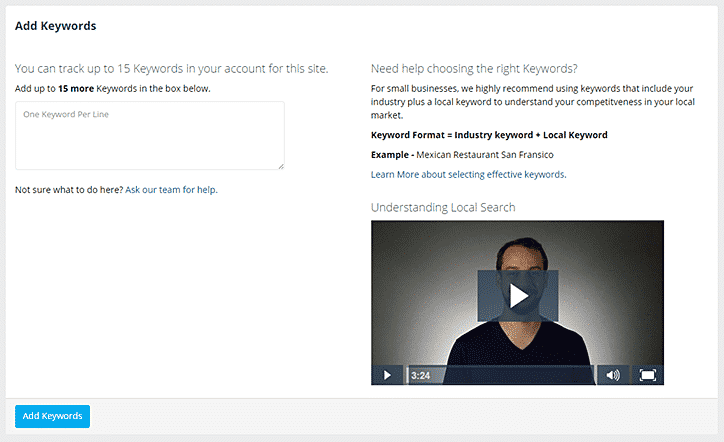 Removing a keyword
To remove a keyword, simply click on the "Remove" button under the Manage column of the "Tracked Keywords" View.
Keyword Settings
The Keyword Settings page helps you configure additional options to allow Pronto Insights to track your keywords better.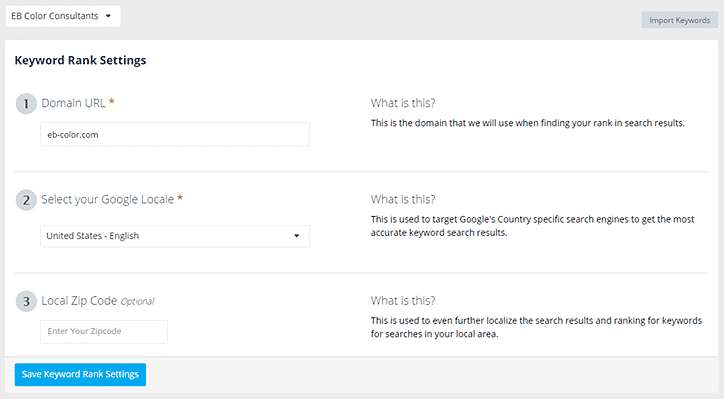 The options include:
Domain URL – The domain to be used when finding your rank in search results, usually just your website's domain.
Your Google Locale – This is used to target Google's country-specific search engines to get the most accurate keyword search results; set it to reflect your location.
Local Zip Code (Optional) – This is used to further localize the search results and ranking for keywords for searches in your local area; enter your business's zip code.
After making any setting changes, make sure to click "Save Keyword Rank Settings".