Here at Pronto, we work with small businesses around the world, and since we're a small business ourselves, I realized some of the challenges we've faced and the insights gained from overcoming these challenges might be helpful to share with you, our clients.
Human Resources (HR) can be especially difficult for growing businesses. Things seem so simple when you have just a handful of people huddled around a couple of desks. But as teams start to grow information needs to be organized, company policies need to be enforced and the responsibilities of your HR team quickly expand.
Today, I want to focus on our HR Information System (HRIS) and how we took it from a disheveled spreadsheet to an organized platform that all team members can access.
How we used to manage data

HR data sets can be incredibly complicated and tough to manage. Simply put: If you don't have the right system, your life as an HR specialist will be painful. When we started Pronto we relied on Excel for tracking our HR related data. While I appreciate the power of Excel to manage financial data, it can quickly become unwieldy when managing other data, especially data related to HR. Excel has been designed to manage numbers, not text data.
Of course, it is a perfectly fine tool when you are a very small company. In truth, you don't need to use software systems like SAP to manage your data. However, once you get to 20-30 employees, things become more complicated, Excel will no longer be useful.
And that's exactly what happened here at Pronto. We grew from 25 employees three years ago to almost 70 today. During this period, we found that Excel simply couldn't handle our HR data and support needs. So, we began looking for a new platform, one designed specifically for HR – BambooHR.
Why BambooHR
We didn't actually switch to BambooHR right away. In fact, we went with TribeHR. Tribe is a great tool that we used for over a year, but as we grew, we found that it didn't fit exactly with our needs.
So, after a fair amount of research, we decided to move over to BambooHR. The transition was pretty smooth with only some minor hiccups. After only two days, we were up and running with BambooHR!
The most challenging part of any transition is organizing the data in a way that the new system can import it easily. In most cases, this means spreadsheets. If you already have well organized spreadsheets, transitioning to a new system is easy! Luckily, we had organized spreadsheets, so this sped up the transition process.
Our best piece of advice for companies looking to migrate HR systems is to talk with the vendor and get them to suggest exactly how your data should be organized so as to make the migration as smooth as possible. Then, go about and actually organize it. This will take time, but it makes the migration both easier, and shorter.
Do we like BambooHR?
What we like most about BambooHR is that it doesn't actually intend to solve all of our HR problems, instead focusing just on core HRIS features. While in theory, it's good to have an all-in-one software solution (HRIS, Payroll, Reviews Management, Recruiting, etc.), we find that we get better value by having a specific SaaS for each different area of HR management.
So we're using BambooHR for the core HRIS, Small Improvements for Review Management, and SmartRecruiters for Recruiting. What about Payroll? Well, we're still using Excel as we've not found the right tool yet. Our biggest challenge with Payroll systems is that we need to find a tool that is tailored to Thailand laws and tax regulations, while still being easy to use.
We've found that collecting and managing information from employees can be challenging, and BambooHR has helped us a lot with this. All personal, job information and history are recorded and stored on the system, and employees can update and manage some of their records themselves, which definitely saves our HR department time. BambooHR also allows us to create custom fields, which is not only convenient, but a must-have feature for our business.
Another key feature of this platform is time off management. Time off requests are now submitted and approved online, and appear on the company calendar that is shared with all employees.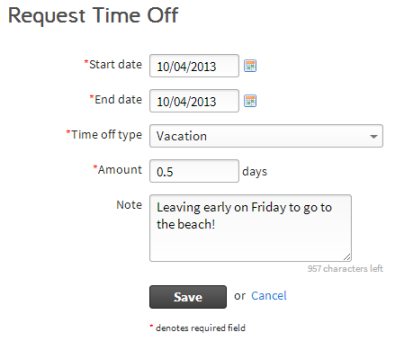 If you are like us, and use multiple HR systems, BambooHR integrates well with other great SaaS platforms like Small Improvements.
While the features are great, we just love their friendly support! The excellent staff are always quick to respond and are listening to our special requirements, regularly releasing new features and updates. Overall, BambooHR is a great tool for HR teams that want to get rid of the nightmare known as spreadsheets!
What HR challenges has your business faced and how did you overcome them? Let us know.