The rapid rise of the tablet, smartphone and social media has proven to be incredibly disruptive for all involved. Gone are the days of relying on word of mouth to find that awesome new restaurant, or flipping through the Yellow Pages for a computer service company. Now, you have all of this information at your fingertips. Looking for the nearest brew pub? Ask Google, or look at Foursquare to see where your friends have gone and the reviews they have left.
Word of mouth is now on a global scale, often spread not through words but through social mobile and local search. These three, often referred to as SoLoMo (Social, Local and Mobile) have converged to become an important requirement for any company that wants to have a successful Internet presence.
What is SoLoMo?
According to Technopedia, "SoLoMo, short for social-local-mobile, refers to a more mobile-centric version of the addition of local entries to search engine results. SoLoMo emerged as a result of the growing popularity of smartphones, and provides greater local precision to search engine results than what's available via a PC."
This concept hinges on the idea that smart device owners will often use their device to conduct a local search (more on that below) when they are looking for a product, service, location, etc. One of the best examples of SoLoMo is mobile check-in service FourSquare.
You can search for local businesses and restaurants from your mobile device and see what friends have recommended, and other popular places close to you. When you check-in to a business, your friends and people in the local area can see this. Lots of people checking into one place will often create more customer interest and customers.
Define: Local search
If you've ever searched for a restaurant or business in your local area, you've conducted a local search. Local search fits into SoLoMo through users that are searching for businesses on their mobile device. The search engines are using this search query, along with your current location (from your device's GPS and Geolocation hardware) to provide results that are close to your location.
For example, you are visiting our office here in Bangkok and want to go out for lunch, but don't know the area. What would you do? Well, if you had an Android device you could bring up Google and search for 'nearest restaurant'. You will get results similar to this: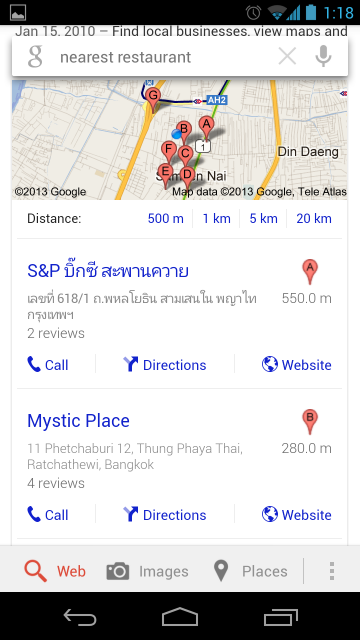 If you look at the result above you will notice the blue dot, which is your current location, and the closest restaurants that have a presence on Google. You can also see that there is a restaurant just under 300 meters from your current location, and you can call them, get directions or visit their website. Notice also the reviews which you can view to see what people are saying.
This one search captures SoLoMo perfectly. We searched for a local restaurant on our device and were given options based on our location. The key here is that these results are the most relevant, and with the social aspect of user generated reviews, we can narrow down our options even more.
How are people searching?
There's little doubt as to the power SoLoMo currently has for marketing. It's also safe to say that this trend will continue to be increasingly popular as we adopt an increasingly higher number of mobile devices.
A study conducted by comScore at the end of 2011 found that 42% of mobile phone owners in the US have a smartphone. According to their latest numbers, published in March 2013, that number is now 55%. What's more is the total number of US based local searches from a mobile device grew from 90.1 million in March 2012 to 113.1 million in December 2012. That's simply stunning growth. Imagine what the number will be in three years time?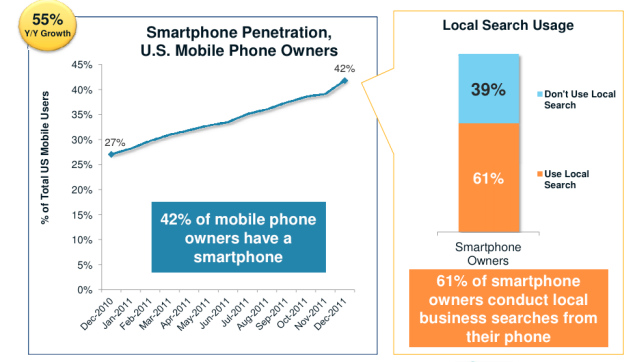 Image source: Local Search Usage 2012.
With this rise of the smart device, one can't help but wonder exactly how people are searching. The Local Search Usage Report 2013 from comScore highlighted that 61% of phone owners conducted local searches on their device, while around 48% used their tablet for local search. Social media sites on the other hand averaged a local search rate of about 13%, with 58% of users mentioning that if they are reminded, they will conduct a local search.
The report also highlighted that people are starting to use tablets, phones and social media in conjunction with one another. It appears that users are conducting local searches on their mobile devices because they want access to information on the go.
Where do people search?
So, we know that people are conducting local searches on their mobile devices, and will do so in increasingly higher numbers, but what are they using to search?
According to the report, most mobile users will search using apps and social media.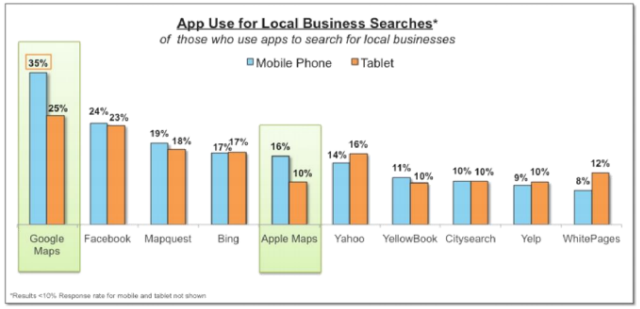 Image source: Local Search Usage 2013.
Overall, there has been an 87% increase in the number of local searches conducted using apps in the past two years. The most popular app that both mobile and tablet owners are using is actually Google Maps, with 35% of mobile phone app searches being conducted using the app. 25% of tablet app searches were conducted on Google Maps. The other popular map apps like Mapquest and Apple Maps saw lower percentages. Put the map apps together and you can see that the majority of mobile owners are using them for local search.
Facebook is the second most popular app with 24% of phone users and 23% of tablet users conducting local search through the app. Across all social media sites, the number of local searches grew around 67% year-on-year between 2010 and 2011. Not surprisingly, 92% of these searches were conducted using Facebook.
Other important search tools include hybrid social media and location based apps like FourSquare. These apps combine information like reviews, location, etc. freely available on the Internet with a social layer. These apps will continue to be popular well into the future.
What are they saying?
What SoLoMo has really ushered in is a drastic increase in the engagement of social aspects of local businesses. In other words, consumer reviews play a big part in converting prospects into clients.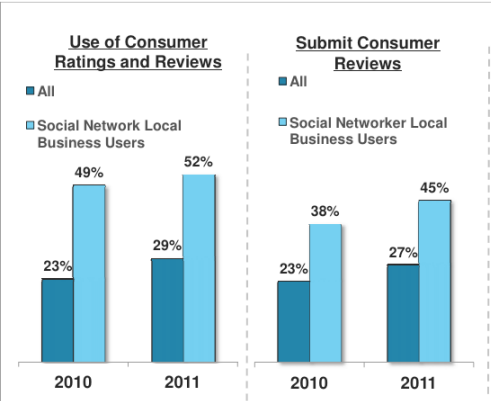 Image source: Local Search Usage 2012.
In 2011, 52% of local search and social network users used customer submitted ratings and reviews, compared with 29% from all other sources. Meanwhile, 45% of local and social network users submitted reviews, compared to only 27% from all other sources.
According to the report, 86% of tablet owners and 72% of smartphone owners went on to make a purchase from a business after conducting a local search. Of these purchases, 38% of tablet search conversions, and 32% of smartphone conversions, spent more than USD$100 per purchase.
What can you do to capitalize on this trend?
Because SoLoMo encompasses so many services, and many apps rely on data from multiple sources to function, you need to ensure that your company has a presence on nearly everything. For example, Apple Maps pulls a lot of data from review site Yelp, so having your business represented on this site will go a long way in ensuring your business appears in local search results. Google on the other hand uses Zagat, so you will need to be there as well.
It would also be a good idea to have a presence on the main social media sites like Facebook, Twitter and Google+. Google+ is particularly important because of the fact that your business's whole Google presence is managed through here, not to mention that Google looks more favourably at businesses with a profile; a business with a Google+ profile will be more likely to show up on a local search conducted on Google.
It's not enough to just have a presence, you should also ensure that the information on these profiles (address, phone, email, hours, etc.), and apps is accurate and up-to-date. After all, most mobile phone searchers are searching while they are on the go, and will likely visit the business within a short timeframe. If they can't find you, or your information is out of date, they will more than likely give you a bad review, which could drive business away.
SoLoMo is here to stay, and taking steps to optimize your online presence for this will go a long way in driving traffic to your business. While you likely won't see, and shouldn't expect massive increases in business, you will see some. If you would like to learn more about this topic, please contact us today to see how we can help.