Here at Pronto, rarely a week goes by without one of our IT Consultant resellers reaching out to ask us to help out with one of their clients' site who "blew up".
Check out the message below: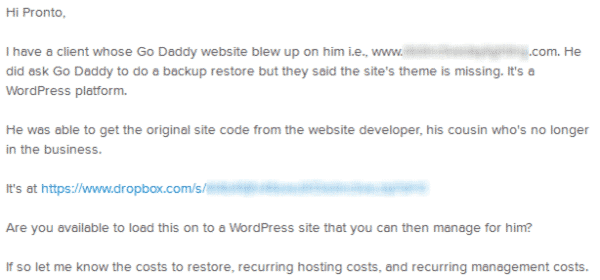 You'd think, that in this day and age, "Hey, no big deal, that's what automated backups are for and my hosting provider has me covered"
Well, think again. It's not always as simple as that, even if you're with a major registrar such as GoDaddy. Sometimes it's just too late and not possible for them to restore your company's site. It's not that they don't care about your business, it's just that it's not what their service is built to do.
So what happened? Well the site's theme is missing… Yeah, remember buying your website's theme a while ago? Did you consider, if this theme was being professionally maintained over time to stay up to date with new WordPress versions?
And yes, updating your self-hosted version does matter in order to ensure your site remains secure and for it to work with other third party plugins you may have installed. Oh, and you need to update those plugins too by the way.
After asking your registrar, you may think about reaching out to the web developer, who originally helped you customize the site. Here's another case we see happening too often:
"I was able to get the original site code from the website developer, my cousin, but he's no longer in the business."
Again, this is where you had to decide wisely: Is the person building my site in it for the long run, the same way my business is?
At this point you can start seeing a trend building up. Designing and managing a professional website is not something everyone does. And on top of it, it requires long-term commitment to keep up with changing web technologies and design practices. It's ongoing work and you need to know what you're doing to do it well.
It's natural to think that an IT consultant will also be a web expert, but in truth, they are two very different fields of work with different skillsets and business models. The good news is that we're here to help both businesses and their IT providers manage hassle-free websites.
This is why over 250 IT managed service providers resell Pronto's professional WordPress Maintenance services to their clients.
If you're an IT provider eager to provide a robust website solution to your clients, we have a reseller program that allows you to do just that while continuing to manage your existing client relationship.
If you're a business thinking to redesign your site, but want to focus on growing your business without wasting time maintaining and updating your site, you can work directly with us or through your IT provider.
Regardless of the option you choose, the next time you consider redesigning your site, just remember to answer a few of these basic questions:
Who will be maintaining and backing up my open source CMS?
Will the theme I am buying be professionally maintained over time?
Will the third party plugins / add-ons I am using remain compatible with future WordPress, Joomla, Drupal, or other CMS versions?
To learn more about the various website design and development options out there, you can download our pricing comparison chart.
P.S. If you're website did blow up and you can't remember what it looked like, check WaybackMachine to see if they have an archive of it.