You're just one keyword away. Or maybe a slight tweak in your metadata, your site structure, or H1 tags. And once you discover Google's secret combo, then it's game over.
You win the SEO lottery.
And suddenly the floodgates open. Traffic explodes and millions of visitors flock to your site, profits skyrocket, and you're off lounging on the sands of some exotic beach with a cocktail in hand and clear, blue waters as far as the eye can see.
Have you fallen for this trap?
Yes, I say trap because tinkering with keywords and similar SEO tactics will only get your website so high in Google's rankings.
While there are good intentions behind obsessing over tags, descriptions, and structures, getting these right will not win you the promise of traffic, conversions, and online success. There's just more to SEO than this. And I'm going to show you exactly what that is.
But first, let me clarify a common misconception.
There are two types of SEO, and on-site is one of them
You heard that right. SEO comes in two flavors: on-site and off-site.
What many business owners think of SEO is actually on-site SEO. This is the practice of optimizing elements on your website with the intention to rank higher and increase traffic. The keyword here is "on."
While on-site SEO involves the things you do on your website to help it rank, off-site SEO is all about what you do, well, off your website.
On-site SEO includes optimizing keywords, meta descriptions, alt-text for images, site speed and structure, design, user-friendliness, and over a dozen other elements. All of these can be adjusted within minutes by going into your site's backend and making changes.
Off-site SEO, on the other hand, is achieved via activities off your website: mainly building relationships and trust with other websites, and getting them to link to yours. This technique, known as backlinking, can be done in multiple ways. You can get your URL posted in directories, press releases, guest posts for another website, and a variety of other places. More on this later.
For now, just know that on-site SEO is what you do ON your website.
Why on-site SEO won't launch you to page 1
While on-site SEO is important for rank, let's be clear on something — everyone does it. In other words, on-site SEO is a baseline expectation. You will not jump from page 3 to page 1just by tinkering with keywords or optimizing your site design. On-site SEO's return on investment will only get you so far.
All this said, there's no reason to be ashamed for not knowing this. SEO is a complicated topic and Google is constantly changing. In fact, the Search Engine Giant alters its algorithm 500–600 times per year, with generally 12+ of those updates being major ones. Unless you're an SEO expert, you likely don't have time to keep up with all this. You do have a business to focus on, right?
That's why we always recommend business owners to partner with an SEO expert, whether that is us or another company. Doing so will save you time, headaches, and keep your website current on best practices.
But if you do want to go it alone, you may wonder, "What will really make a difference in my SEO?"
Three SEO tactics to rise to page 1
To win with SEO, we recommend a holistic approach — take a broader focus and use a variety of tactics. Below are three different SEO techniques you can use, and the results our clients and we have gained from them.
1. On-site SEO: Yes, this is where it all begins
Though this article's focus is to prove there's more to SEO than keyword tweaks and similar changes, on-site SEO still deserves a spot on this list. Why? Because it's an important element of your holistic SEO approach. That said, we'll let our client results speak for themselves: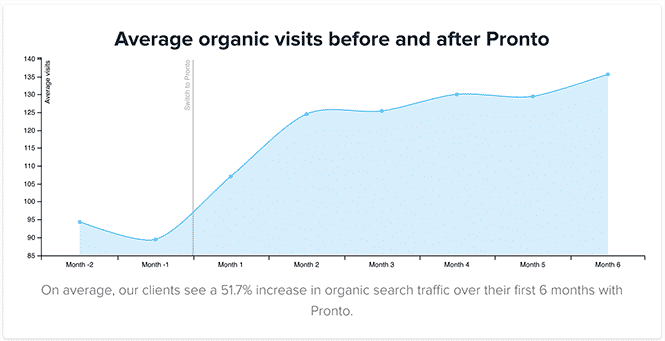 Above is a graph that shows how our clients' organic traffic (without paid advertising) increases within the first six months of them joining Pronto. On average, traffic increases by a minimum of 50%. The reason for these astounding results is that every Pronto website is optimized for on-site SEO. And this pays off big time.
But remember, this is likely not enough to get you to page 1 of Google. That's where the next two practices come in.
2. Blogging: It's not dead, and here's why
I've heard the phrase hundreds of times: blogging doesn't work. The truth is, when blogging fails, it's because the content is poor or is not published regularly. Realistically, it can take six months to more than a year of consistent blogging before you see results. And buying low-quality articles from Fiverr or Upwork for $20 a pop will do little for your rankings.
Now, from a strictly SEO standpoint, how can blogging help? You likely already know that Google's web crawlers are constantly searching the internet for fresh content. And when one of these spiders comes across a regularly updated blog on your website, it signals to Google that your site is healthy and active. In other words, your site deserves to be ranked higher.
Second, blogging provides another entry point into your website. When you write a blog dedicated to a single keyword phrase, then you can start appearing in searches for that keyword topic. The more topics you write about, the more searches you'll appear in, and the more opportunities you'll have to be found online.
At Pronto, we love blogging. And not just for our clients. The results we've seen from our own blog have garnered us hundreds of clients over the years. Again, let's show you some results of our own blogging efforts.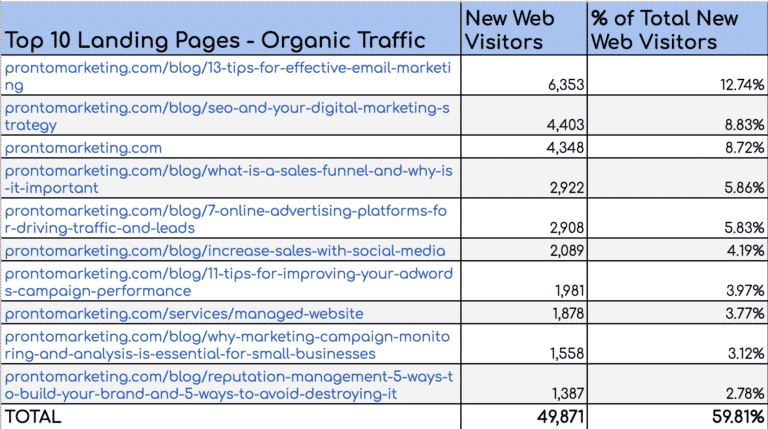 Above are the most visited pages on our website between August 2018 and January 2019. These 10 pages account for 60% of all Pronto web traffic during this six-month period. And if you didn't notice, 8 out of the 10 pages are blogs.
To break it down for you, the above eight blogs brought in a total of 23,601 new visitors within six months. That is a massive amount of traffic, especially when you consider that gaining one visitor from Google Ads can cost between $1 and $40+. In other words, the cost of these visitors in ads would be the equivalent of $23,601 to $944,040+.
When you look at numbers like this, we think you'll soon see why we believe blogging still offers some of the best value for your marketing dollars.
3. Off-site SEO: The key to consistent ROI
Objectivity is difficult to come by. We all have our own preferences and biases, whether we're conscious of them or not. When it comes to search engines, Google is keenly aware of this. They want their search to return the most valuable, relevant links, from an objective viewpoint. How do they deliver the best results in the most objective way possible? Backlinks through off-site SEO help.
As mentioned earlier in this article, backlinking occurs when a website links to yours. For example, like this: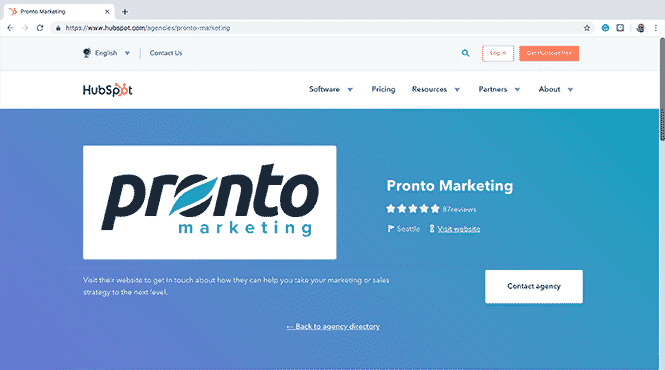 See that link in the bottom right-hand corner that says Visit website?
That is a backlink, also referred to as an inbound link because it directs visitors to our website (from HubSpot's) when they click on it. The more trustworthy the website that links, the more powerful SEO boost you receive. Think of it like this.
When you wrote a report in high school or college, did you cite Encyclopedia Britannica or the National Inquirer? Probably the former because it's a very credible source. Google thinks the same way. Websites with the most credible inbound links are rewarded with a higher ranking.
What kind of results have our clients gained with backlinking (aka our Advanced SEO program)? Let's take a look: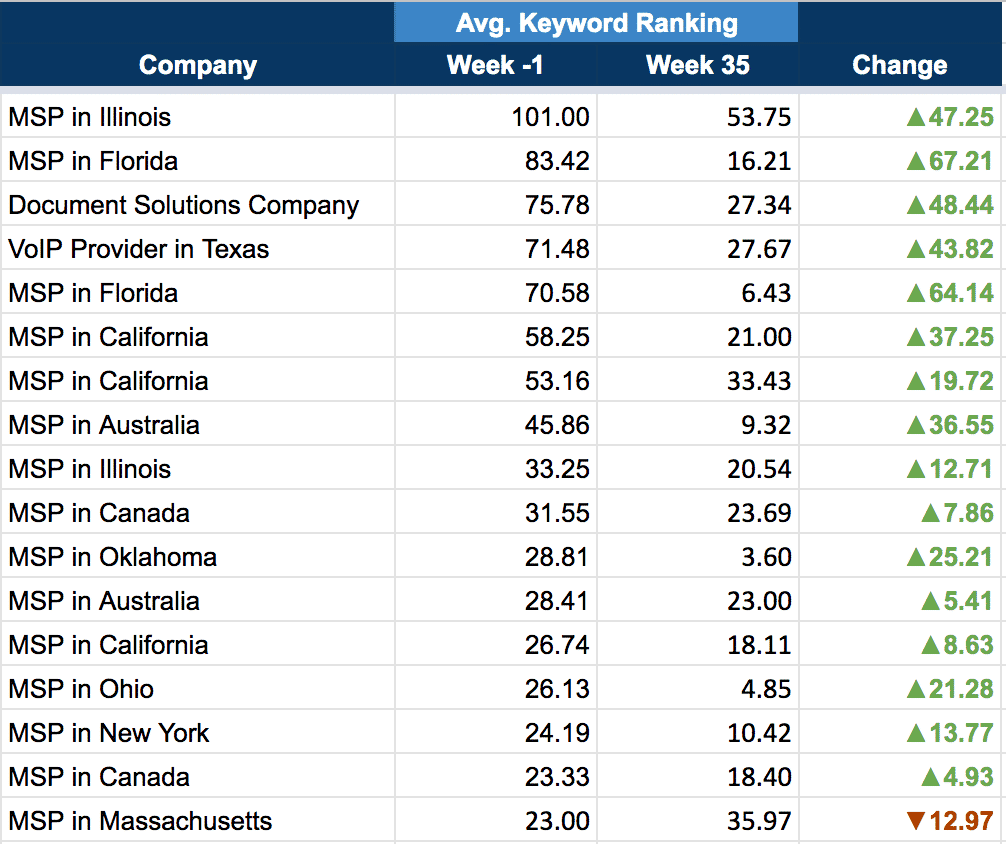 As you can see, many of the results are quite dramatic. All the above clients improved in ranking and most rose to Google's first page or close to it. This is the power of off-site SEO and backlinking, and why it may be the best online business investment you ever make.
Your days of keyword tinkering are now behind you
And imagine all the time you'll save.
No more wasted hours adjusting your metadata. No more late nights searching for the perfect keyword/content balance. No more lost weekends adjusting your site structure.
What will you do with this gift of time?
Spend it with your family? Find that exotic beach and cocktail? Or maybe just invest those hours back into a more important area of your business. The choice is yours.
Of course, if you're looking for an experienced web provider to handle all your on-site SEO, website design, copywriting, and more, we got you covered with our website management services. Included in this program is complete optimization and maintenance of your site to ensure you always have the best ranking possible (and yes, you are likely to get that 50% boost in organic traffic we mentioned earlier). Start today, and you can start focusing on the more important things in life and your business tomorrow.