Google has been the online trend setter for the last decade. Years ago, their algorithm defined SEO as being based on keywords and incoming links. However, updates to the algorithm like Panda and Penguin (more on these later), have shifted the value away from individual keywords, low-quality inbound links and other SEO tricks, and placed it back where it should be: the content itself.
The end of SEO tricks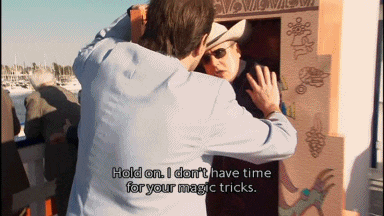 To understand how SEO was taken to its extreme, you need to think of the so-called 'thin' websites. These sites were built entirely on a senseless collection of content and links. While it may not make much sense to a regular user that stumbles upon one of these sites, the reason these sites were created was to gain better search rankings. Hosting lots of links, they would also improve the other websites' rankings, which led to these 'thin' sites to eventually earn the scorn of Google.
When it comes down to it, Google wants to provide its users with useful answers to their queries. These low-quality, spammy sites were making more difficult for them to achieve that goal. So for years, Google has fought this type of webspam through various updates to their search algorithm, and in the past couple of years, they've really stepped their game up with the Panda update and the Penguin update.
Panda was a huge crackdown on keyword spam, benefiting websites that have sensible content, well-reasoned blog posts, and use keywords in ways that are semantically appropriate within typical sentence structure. If Panda suspects a website of keyword spam, it can affect the ranking ability of a single page or even an entire domain.
Released in April 2012, Google Penguin punishes websites with excessive links or a large number of links from irrelevant or low-quality websites. Since it's founding, linking between websites has been an integral part of Google's ability to ranking pages based on popularity and authority. With this algorithm update, Google is attempting to rein in spammy link building techniques that try to manipulate rankings.
Since their initial releases, both Panda and Penguin have seen multiple updates that look at additional data and tweak how that data is being interpreted. Earlier this year, Google announced that Panda would no longer be receiving data updates and instead would be fully integrated into the standard algorithmic ranking process going forward.
EMDs in decline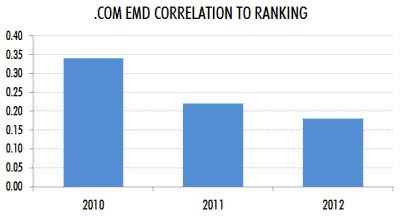 Exact Matching Domains (EMDs) are domain names that perfect match a popular keyword phrase such as cheapcarinsurance.com. Back in the day, search engines used a website's domain name to help them determine what that site was about. A website hosted at cheapcarinsurance.com must have relevant information for people searching for "cheap car insurance," right? Right?!
Well, that might have been true in the early 90s, but as people started to figure out that there was a ranking correlation between certain keywords and domains that matched those keywords, spammers started buying up EMDs just to help with their rankings.
Panda, Penguin and a separate algorithm update that specifically targeted EMDs have greatly reduced the impact that a domain name can have on a website's ability to rank. However, there are plenty of high quality EMDs out there and Google understands this. These changes don't mean that cheapcarinsurance.com can't rank for "cheap car insurance" anymore. They just mean that it won't get as much of a boost from its domain name anymore.
If you're interested, Moz has a great article that goes into much more detail about the declining influence EMDs have on ranking.
Build a brand, not a gimmick
So does traditional SEO still work? Excellent question. The short answer is yes. The long answer is yes, but it's much different than it used to be. Gimmicky tricks that used to help with ranking don't have as much influence anymore.
Rather than trying to find the perfect EMD or focusing on how many keywords you're going to cram onto a page, take some time to think about how to build a brand that people can trust or what kind of content your visitors might find valuable.
It's hard to imagine how businesses reached their customers before the internet, but despite not having search engines to bring in new clients, business still managed to survive by building trust with their customer base – by becoming a company that people knew provided value and that their customers would feel comfortable referring to friend.
There was a time in the 90s and early 2000s where SEO gimmicks could actually drive revenue, but those times are coming to a close. If the success of your business is still dependent on manipulating search engines, that success won't be around much longer. Building trust and authority will future-proof your online presence from any search algorithm changes down the road.
Now, of course, building a trusted brand is easier said than done – especially for a small business, but it's absolutely within your reach. You might not have the money to compete with huge corporations, but you're in a position to serve your local niche better than any nationwide chain.
Let your personality shine through your website. Become an active member of your local community. Be honest and transparent. Provide customer service so amazing that your clients can't help but rave about it to their friends.
Need some inspiration for what to do next? Here's the story of how the owner of a pool installation company turned his small business into a content marketing machine. Or here's some information on how we've increased traffic to our website through Real Company Shit.