If you host regular business events or classes, it can be difficult to keep everything organized. Updating schedules and tracking ticket sales can quickly become overwhelming.
Fortunately, using the right event calendar plugin can help make things easier. Here are our top picks to make event registration and information readily available on your WordPress website:
The Events Calendar: this is packed with easy-to-use features such as a skeleton stylesheet, template tags, and a library of free extensions.
FooEvents: this tool integrates seamlessly with WooCommerce and helps you create professional-looking tickets for any type of event.
Modern Events Calendar: you can use this plugin to design a calendar with a sleek, modern appearance and create recurring events.
Events Manager: it enables you to manage bookings, multi-day event registration, and create coupon codes, booking forms, and multiple payment options with the WooCommerce add-on.
Amelia: a handy plugin for businesses that rely on consistent appointments, as it enables you to embed booking forms into your website.
In this post, we'll discuss why you should consider using an events calendar plugin on your website. Then, we'll show you five of the best WordPress plugins for managing events. Let's get started!
Why You Should Consider Using an Event Calendar Plugin
A WordPress event calendar plugin is a tool that enables you to quickly create a functional calendar on your website. With the right option, you'll be able to inform your audience about upcoming events and potentially increase attendance.
Here are some additional benefits to using an event calendar plugin:
Display all of your events on your website
Manage appointments and bookings
Allow visitors to RSVP for certain events
Boost web traffic and visibility
Some event calendar plugins have a ticketing feature that enables visitors to book appointments. This provides a more convenient way to manage your bookings.
For example, Sewtopia hosts collaborative sewing events. Users can view registration details and buy tickets through the website: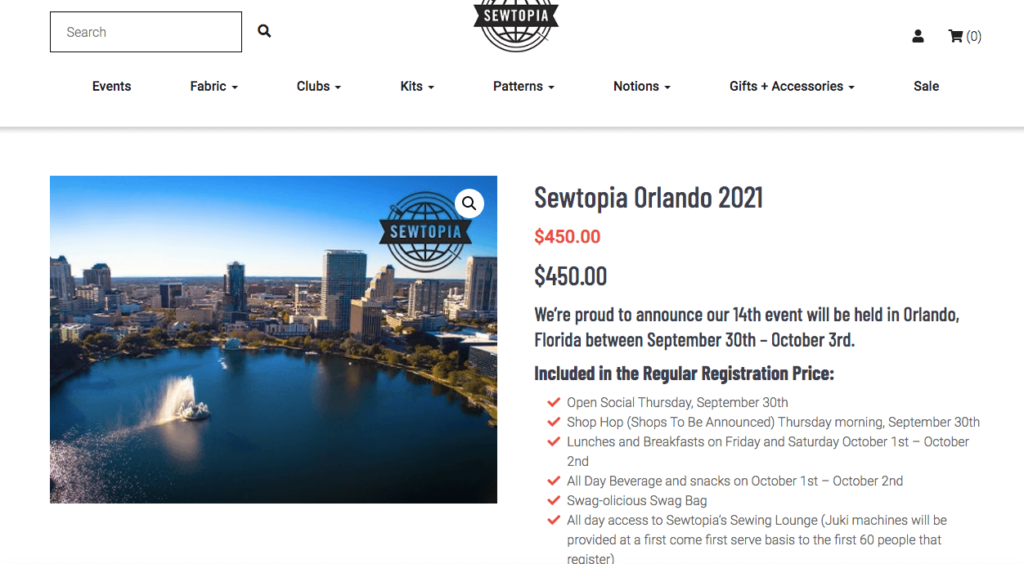 Although you could use a third-party platform such as Eventbrite to organize your events, it's often smarter to use a plugin. By displaying registration information directly on your website, you can help boost your traffic. A plugin can also give you full control over your events.
However, it's possible to use both an events plugin and Eventbrite. This can be useful in keeping your website clean and minimal. For instance, you could publish a basic page about your events and direct users to Eventbrite for additional information.
The website Nonprofit New York is a good example of this. On its event page, you can see basic details about when and where certain training and webinars will take place.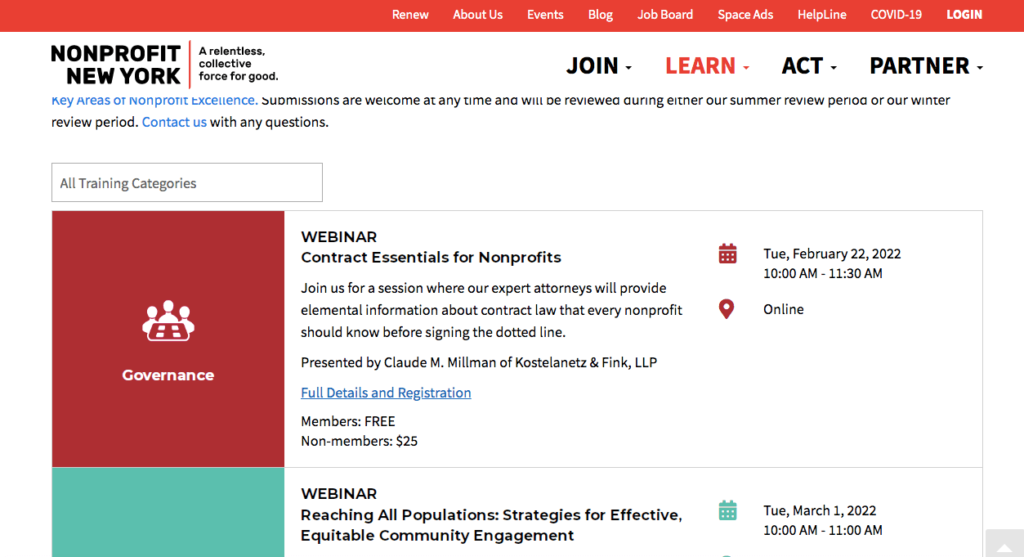 However, when visitors click on Full Details and Registration, they'll be directed to an Eventbrite page. This provides more registration information and enables users to purchase tickets: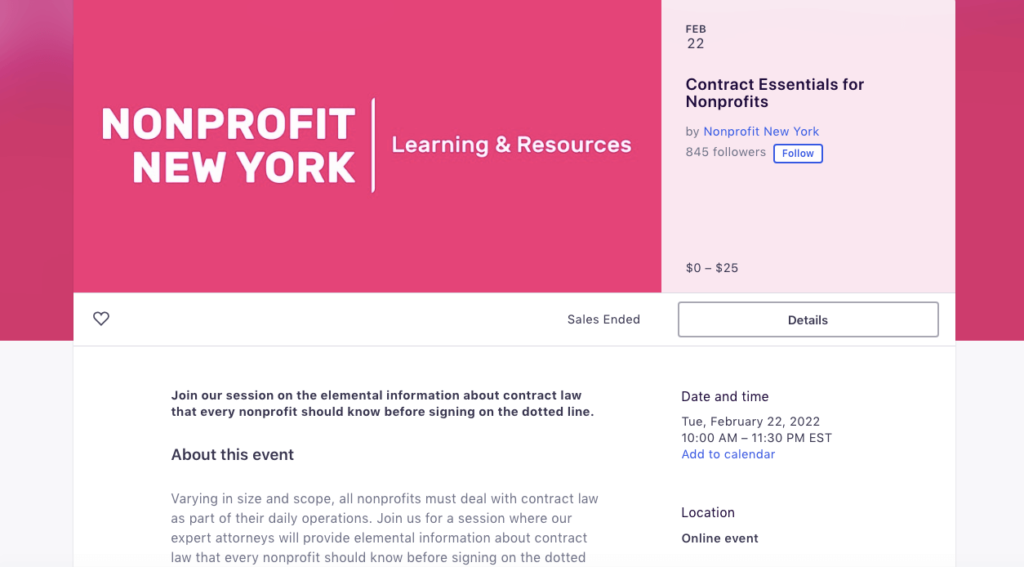 An event calendar plugin offers a wide range of customizable features. Whatever your goal, you can find an option that meets your needs.
Top 5 WordPress Event Calendar Plugins
As we have seen, an event calendar plugin can be very beneficial for your business. Let's look at the best options for your WordPress website.
1. The Events Calendar
The Events Calendar is one of the most popular WordPress events plugins. Whether you want to customize a calendar for your small business, nonprofit, or personal website, you can benefit from its responsive, easy-to-use features:
Since the plugin is compatible with Google Calendar and iCal, you can export important dates and keep them organized in one place. Moreover, you can embed calendar shortcodes and blocks anywhere on your website.
Features:
Pricing: The core version is one of the best free event calendar plugins due to its responsive, customizable, and functional features. Meanwhile, The Events Calendar Pro starts at $99 for one site.
2. FooEvents
Using FooEvents, you can display a custom events calendar with simple shortcodes or widgets. This plugin offers advanced flexibility, enabling you to create an event on any post, page, or custom post type.

Plus, it integrates seamlessly with the FooEvents for WooCommerce plugin. There are also several extensions available, including FooEvents Bookings and FooEvents PDF Tickets.
Features:
Built-in calendar themes
Multi-calendar display on a single page
The option to add calendars with shortcodes or widgets
The ability to filter event categories with shortcode parameters
Pricing: The basic plugin is free. FooEvents product bundles start at $189.
3. Modern Events Calendar
As the name suggests, Modern Events Calendar offers sleek and modern calendar designs. You can choose from many skins and styles to create a calendar that matches your brand.

With the Modern Events Calendar plugin, you can add calendar shortcodes using the Elementor Editor. This makes it one of the best event calendar plugins for Elementor users.
Features:
Flexible calendar views
Video tutorials for beginners
Integration with PayPal, Google Calendar, Elementor, and more
Multiple color skins
Many add-ons, including WooCommerce Integration and Advanced Reports
Pricing: Modern Events Calendar Lite is free. The Pro version starts at $75 for one license.
4. Events Manager
The Events Manager plugin enables you to create single or multi-day events with custom start and end times. Even with the free version, you can offer multiple ticket types and payment methods.

Events Manager is one of the best event plugins for online businesses. With its WooCommerce add-on, visitors can book and pay for tickets as if they were products. You can access these extra features with Events Manager Pro.
Features:
Front-end management and submission
Custom event fields, categories, and tags
Recurring events
Advanced FullCalendar
Multiple ticket pricing options
Pricing: The basic plugin is free. Meanwhile, Events Manager Pro starts at $75 for one license and includes all premium add-ons.
5. Amelia
Amelia is a plugin that specializes in bookings. If you run a business that relies on regular appointments, this plugin could be the right one for you:

Amelia makes it easy for your clients to book appointments and events through your website. It also enables you to schedule recurring appointments and send customers SMS notifications to confirm bookings.
Features:
The ability to embed appointment and event booking forms
Back-end calendar admin view
The option to set minimum time required before booking, canceling, or rescheduling
Available time slots to help you avoid double-booking
Integrates with Elementor, Divi, and Gutenberg
Pricing: You can get started for free with Amelia Lite. Meanwhile, premium plans start at $79 per year.
Conclusion
When your business relies on events and appointments, it's important to use helpful organizational tools. Although you could consider third-party event platforms, it's often easier to manage events directly on your website.
With a WordPress event calendar plugin, you can design a user-friendly calendar, promote future events, and accept registrations and bookings.
Do you need help maintaining and choosing the right plugins for your website? At Pronto, we can get your WordPress site into gear.