Search engine optimization (SEO) is one of the more complicated aspects of online marketing. When you dig into the details, there are indeed many distinct factors that search engines use to determine which websites should rank for which keywords, but ultimately everything boils down to two main categories:
On-site Optimization
Off-site Optimization
On-site optimization has a couple roles to play in your site's ranking. On-site optimization informs search engines which topics your website is relevant for, and more importantly, it provides helpful information to your website visitors.
Off-site optimization includes a variety of factors but primarily involves inbound links (sometimes referred to as backlinks), which provide an outside source of data about your website.
In short, when another website links to a page on your website, search engines view that link as a vote of confidence regarding the quality and authority of your website and its content. The more links you receive from high-quality sources, the more likely you are to rank for your target keywords.
Because Pronto provides on-site optimization for every website we manage, this article focuses on the link building services we provide through our SEOpro program.
The Results
Let's jump right in and take a look at how this program has affected the performance of websites enrolled in it.
We've previously covered results from specific clients in the Advanced SEO program, so this article will dig into some aggregate data.
The chart below shows the average keyword ranking of all the primary target keywords across 23 clients enrolled in the program.
Primary target keywords include a variety of phrases that vary depending on the industry of the business. For a managed IT services provider, this would include phrases like IT Support [CITY] or IT Consulting [CITY].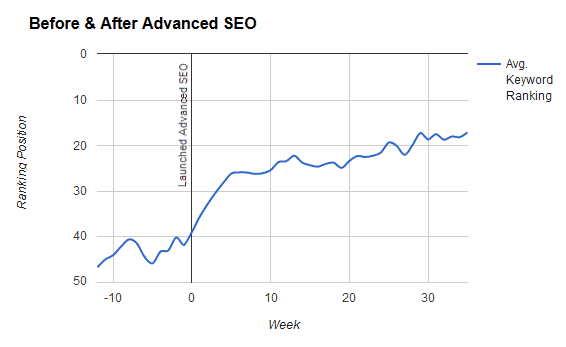 On average, clients in the program saw their keyword rankings improve by 25 positions over a period of nine months.
That's some fantastic growth! But you might be asking why their average keyword ranking jumps so quickly in the first few weeks and slowly tapers off from there. There are a couple reasons behind this.
First is that many of our clients come to us with very few inbound links and poor rankings for their target keywords. In these cases, a few quality inbound links have a quick and noticeable impact on their rankings.
Second, it becomes increasingly difficult to improve rankings as you get closer to the Top 10. So going from 40 to 25 is significantly easier than going from 25 to 10.
For further clarification, let's look at these businesses and their results.
Increasing Competition at the Top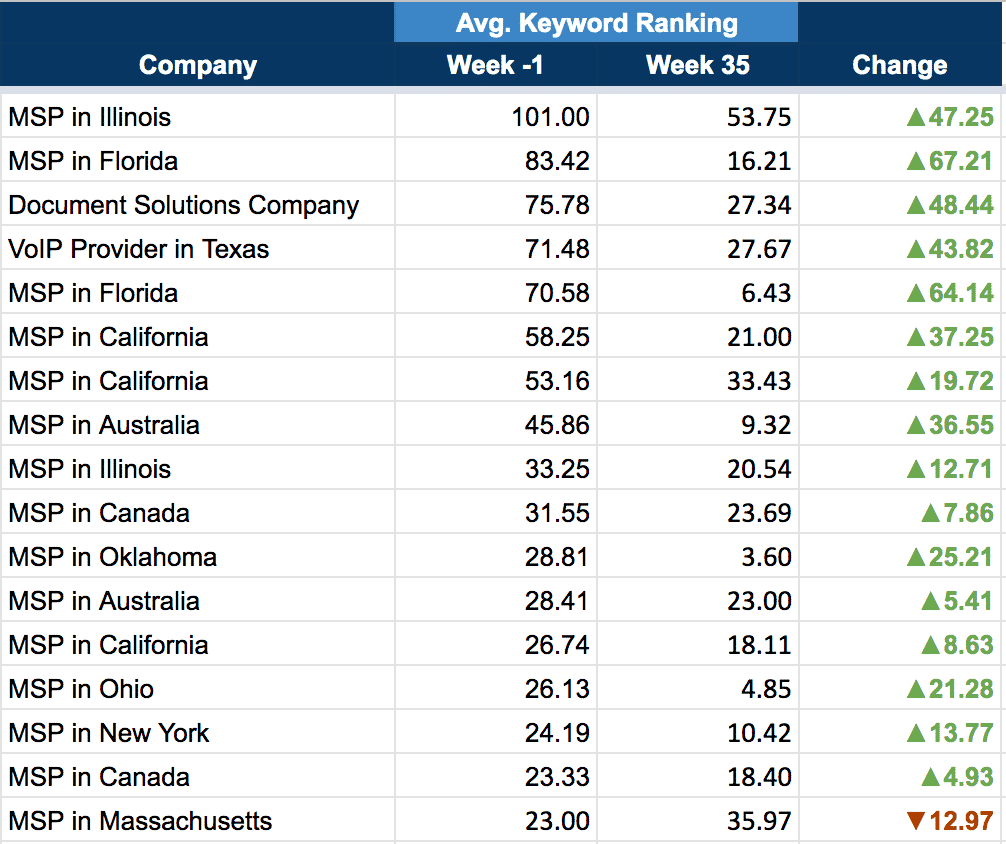 There are a wide range of results here and these variations depend on a lot of different factors, including:
The size of the local market
The strength of their competitors' websites
The site's existing inbound links
But one common trend is that companies that started with a lower average ranking were more likely to see bigger improvements in ranking. Again, this boils down to the increased level of competition as you get closer to the first page of search results.
It might also be helpful to look at an example of a specific keyword. The chart below shows the ranking for an individual keyword in one of the largest cities in the US.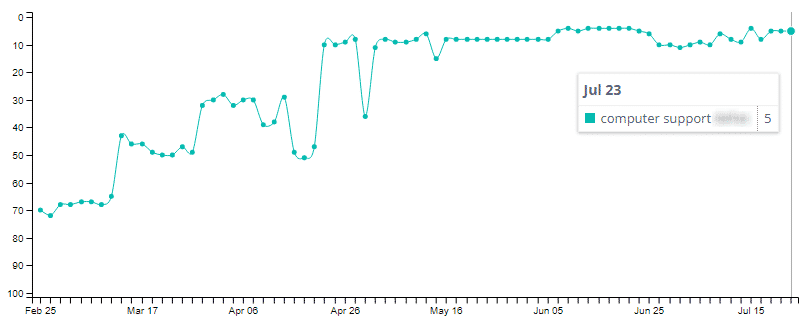 In this case, one of our client's sites was initially ranking in the 60s for this keyword. After starting the Advanced SEO program, they quickly jumped up to the 40s, then the 30s, and eventually the teens. From there, it's been a slow push to get higher in the Top 10 — jumping up to the Top 5, then falling back into the teens, and then climbing its way back up again.
These fluctuations aren't uncommon when you get closer to the Top 10 ranking positions. After all, there are only 10 positions to fill and there are dozens — if not hundreds — of businesses vying for those spots.
Why investing in SEO is so important
Your website isn't going to magically start improving its ranking on its own. This constant escalation of keyword competition is why it's so important to invest in SEO. Whether your site is currently ranking in the 50+ range, or whether you're already in the Top 10, the only way to get ahead of your competitors is by putting time and resources into improving the on-site and off-site optimization of your website.
In short, your competitors are probably already investing in SEO. If you aren't as well, that will put you at a serious disadvantage in one of the most important marketing channels.
Through the SEOpro program, we offer a variety of packages to help you achieve improved keyword rankings and increase traffic from search engines. We accomplish this by building quality links to your website and taking a hands-on approach to your SEO strategy.
Don't hesitate to contact us if you'd like to learn more.