Have you heard the good news? We recently released an add-on service that allows you to not only track how many calls are coming through your website, but also how those people discovered your site. Today, I want to cover some of the features of Pronto Call Tracker and talk about how it can benefit your business.
How it works
Our call tracking platform works by dynamically replacing all the phone numbers on your website with a tracking phone number specific to the traffic source (such as organic search or Facebook or Google AdWords) that the visitor arrived through.
When visitors dial one of these tracking numbers, the call will be forwarded to your primary office line (or any other number of your choosing) and details about the call get recorded in our reporting system for you to review later.
Why you need it
In today's world of sales and marketing, data is everything. Companies go to great lengths to gather more information about their customers and gain insights about how to improve their bottom line.
Amazing tools have been created to organize all this, but they can run into problems when the online world meets the offline world. A visitor on your website can easily be tracked through analytics tools, but as soon as they pick up the phone, all that data about the channel they discovered you through disappears.
Call Tracker helps bridge that data gap by giving you a ton of analytical data about the calls coming through your website.
Features!
Source-level tracking – Track phone calls from any source that drives traffic to your website (organic search, social networks, online advertising, referred traffic from other websites, etc.).
Keyword-level tracking – Track which specific keywords (for both organic and paid search) lead to calls from your website. Great for AdWords campaigns.
Offline tracking – If you're running an offline marketing campaign, we can set up a tracking number to be used in print media.
Instant email notifications – You'll receive an email notification for each call you receive with detailed information about the caller.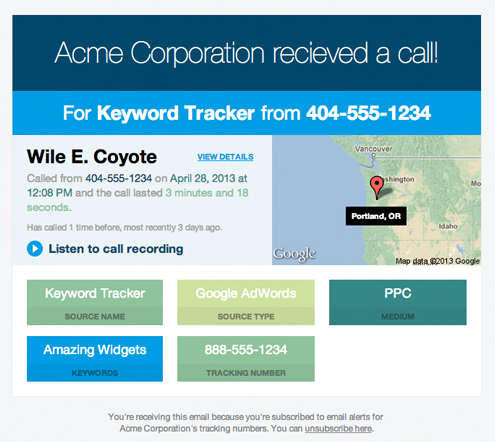 Reporting – You'll have full access to our reporting system which gives you loads of information about each caller like their name, location, how they arrived at your site and their call history.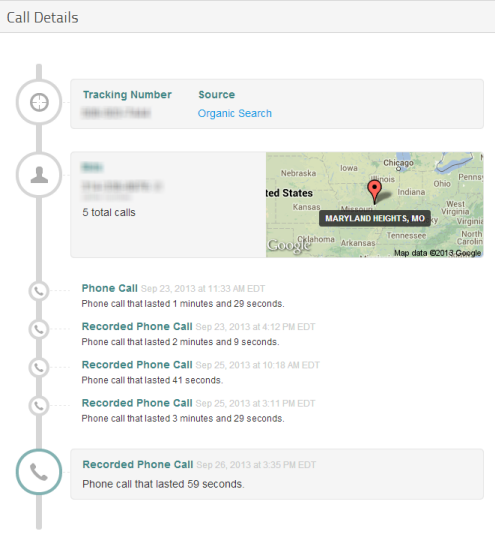 You'll also be able to take a look at big picture data so you can spot trends across times, dates and sources.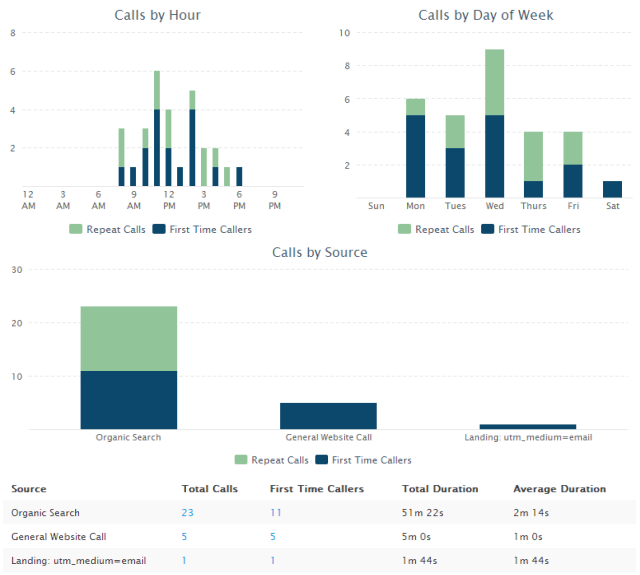 Call recording – All calls that go through the Call Tracker platform can be recorded for you to review later. Perfect for assessing the quality of leads or providing feedback to your sales team.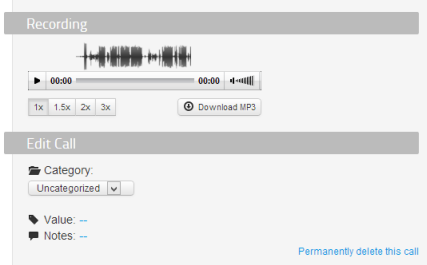 Whisper message – This is an optional short message (such as "Call from organic search") that plays before the call is connect. If you're running multiple campaigns, whisper messages can give you real-time insight into how the caller discovered your site so you can adjust your sales pitch accordingly.
Google Analytics integration – Bringing all of this tracking full circle is easy integration with Google Analytics. We'll setup your account so phone calls are tracked a pageviews in your analytics account letting you view your call data along with the rest of your website data.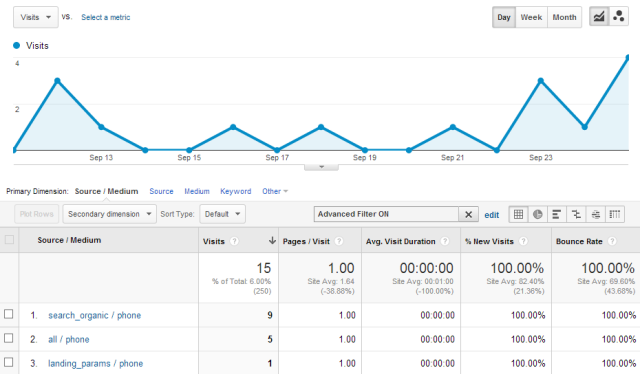 Pricing
For $30/month, we'll set up tracking for call from organic search and general traffic that arrive at your site through all other sources. Tracking additional sources costs an additional $5/month.
Keyword-level tracking requires preparing a pool of phone numbers large enough to handle the maximum number of concurrent visitors on your site, so if you'd like to enable this feature, let us know and we'll let you know how much it will cost for your website.