Picture the following scenario: You're playing sports with your family or friends at the park on a Sunday afternoon. While you're running, you land your right foot in a ditch on the ground and twist your ankle. You can't walk anymore. The pain is excruciating. It's clear that you urgently need a doctor. You go to the hospital, and the ER receptionist gives you two options: you can either meet with a general practitioner or with a podiatrist (foot doctor). Which one would you choose?
If you're like most people, you'll want to be seen by a specialist, and you'll decide to go straight to a podiatrist for a visit. After all, general practitioners specialize in treating diseases that come up suddenly. They only provide an early diagnosis, preventive care, and patient education. Specialists, like podiatrists, on the other hand, focus on one area only and provide in-depth care to patients.
Now, think about yourself and your business. What do you consider yourself? A general practitioner or a specialist like a brain surgeon or a podiatrist?
There is nothing wrong with being a general practitioner. Just know that if you decide to be a general practitioner, you won't be able to command higher prices. Because your skills as a general practitioner are more widely available (supply), there's generally going to be less demand for them, hence the lower prices you'll be able to charge your patients.
Now, suppose instead you were to identify yourself with a specialist. In that case, you'd be able to more easily pinpoint the most common pains your patients (target audience) have. And, as a byproduct of your specialization, you'd also be able to charge more money than a general practitioner could. Why?
Simply put, you'd be able to provide a quicker and more reliable diagnosis. As an undisputed expert in your field, you'd know in great detail how to fix whatever problem your patient (target audience) came to you to solve. All this allows you, as a specialist, to command higher prices due to the high level of specialization and expertise you have in solving very specific issues.
The more specialized skills you have, the harder it is to acquire them and to come by them in the marketplace. A higher barrier to entry to acquire and offer specialized skills as a service is the reason why specialized skilled workers can charge higher prices than generic workers.
But, whether you are a generalist or a specialist in your field, the most effective marketing campaigns will be based on your business' target audience. How do you get that done? Let's take a look.
What is a target audience?
To borrow the doctor analogy above, consider your target audience as the only group of people who qualifies to be your patient based on their specific pain. Only you, as the specialist, have the right expertise to cure their particular pain effectively.
Podiatrists = people with legs, feet, or toes pain
Brain surgeons = people with brain cancer
Gastroenterologists = people with digestive system issues
Knowing who your prospective patients are can help you tailor your marketing efforts to a specific group of people more likely to buy from you. As a podiatrist, for example, your website and the rest of your marketing material will specifically include examples of knee fracture treatments you've performed or heel pain remedies patients should follow. You don't talk about seasonal flu, migraines, or blood tests. You're specific and intentional about what you communicate and it should only pertain to your area of specialization.
This has the added benefit of saving you time and money while also helping you to build better relationships with your target customers.
So a target audience is a group of people defined by specific demographics, behaviors, and interests to which you are looking to market your product or service.
When choosing a target audience, you should identify as many of the following demographics and behavior as possible: age, gender, location, income, education, occupation, marital status, hobbies/interests, etc.
Once you've selected your target audience, you can then move on to creating your marketing message. This is the message you'll use on your website and other marketing collateral to reach your target audience and convince them that you're the right person to solve their problem.
Target audience vs. Target market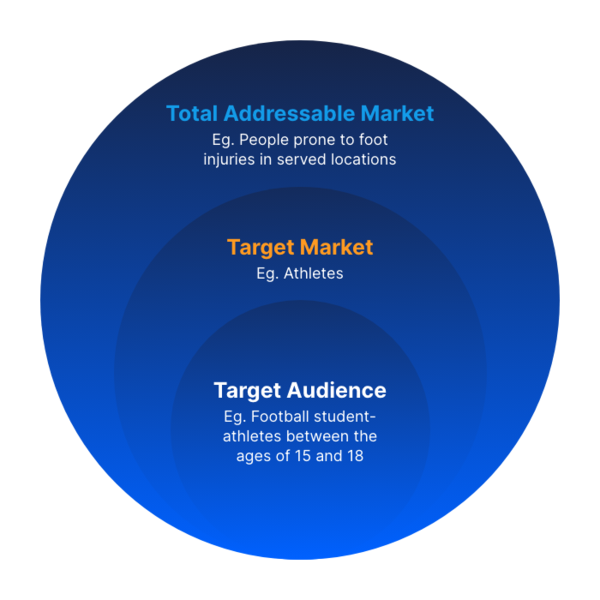 A target market is anyone who might be interested in your products or services. Your target audience is the group of people — one of the groups described above, for example — to whom you direct a specific marketing asset or ad.
4 Questions to answer to identify your target audience
1. Who are the people who already identify with your brand? Take a close look at your past clients and projects. Which were more profitable, and which did you enjoy working with the most?
By taking the time to analyze your past work, you can make more informed decisions about who to work with and what type of work to pursue in the future. As a result, you'll be better positioned to grow your business sustainably and profitably.
Ideal Buyer to Target
Past or current customers…
with the highest success rate after using your products/services 
with the longest lifetime value
who share your core values, without which you wouldn't work well together
Buyers to Avoid
Past or current customers…
who canceled shortly after signing up or who requested a refund.
who aren't profitable
2. What are the burning desires or pain points they wish to solve or satisfy concerning your products or services? One of the most effective ways to create a successful marketing campaign is by understanding your target audience's specific pains and desires. What are they struggling with? What do they want more of in their lives?
By explicitly defining these pains and desires, you can more accurately target your message to match those feelings and have a greater chance to resonate with them and grab their attention. In other words, you'll be speaking their language and addressing their needs, which is exactly what they're looking for.
So if you want to create a marketing campaign that really hits the mark, start by taking the time to understand the specific pain points of your target audience. It's well worth the effort.
Examples
Productivity: Your target market is spending too much time on a specific task that your products/services can solve.
Monetary/Financial: Your target market considers their current solution too expensive.
Support: Your target market lacks the specialized knowledge to solve a specific issue they may be facing.
3. What is your competitive advantage? How are you different from other companies like yours? What is something you offer that others don't? What sets you apart in a meaningful way that would push someone to pick your company instead of a competitor? What do you pride yourself on?
Every business has competitors, and every business needs an advantage. What is yours? Is it customer service? Do you make it a point to really get to know your clients and their needs so that you can provide them with the best possible service? Do you believe that this personal touch sets you apart from other companies and is one of the reasons your clients keep coming back to you? Find your competitive advantage and emphasize it in your marketing message.
Ideal Concepts
Lowest Price: We're dedicated to giving you the cheapest price possible. If you find a lower price, we're willing to match it, no questions asked.
Convenience: We're focused on providing dependable and affordable services.
Customer intimacy: We focus on understanding our clients' unique situations and providing targeted solutions for them.
Bad Concept
"Our competitive advantage is customer service."
4. What does your target audience want to avoid at all costs? In order to be successful, you need to understand what your target audience wants. This involves understanding both what they want to achieve as well as what they want to avoid. By emphasizing the latter in your marketing message, you can connect with your audience on a deeper, more emotional level.
After all, everyone can relate to the feeling of frustration or discomfort. By speaking to these emotions, you can tap into a powerful motivator that can lead to increased sales and success.
Of course, this is not to say that you should ignore what your audience wants to accomplish. However, painting a picture of how the audience will feel if they don't purchase your product or service can be a highly effective way to increase conversions.
Examples
Poor quality of service/product
Impolite customer support representatives
Spending more time completing tasks
Use your data to find your target audience
1. Use Google Analytics: While it provides you with all the necessary information about your website performance, you can use Google Analytics to find and refine your target audience. For example, the audience overview report helps you know more about your audience. All you have to do is visit your Google Analytics dashboard. Find the navigation menu on the left side of the screen and click on the "Audience" button. The report will show you data such as your website visitors' age, gender, location, and interests. You can use this information to better target your marketing efforts. For instance, if you notice that most of your visitors are young females from a specific city, you can focus your advertising on that area.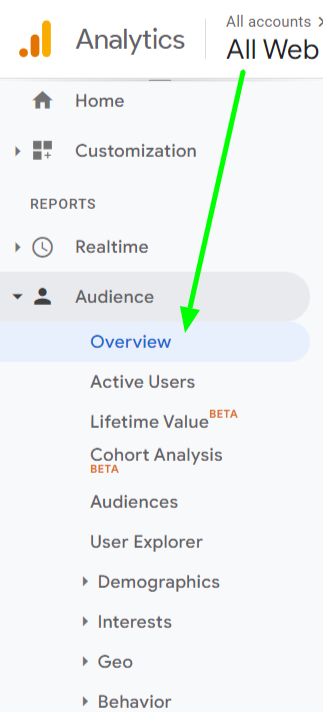 2. Use Facebook Insights: Having a Facebook page for your business is essential in the current landscape. It provides valuable insights into who your target audience is, but it also allows you to connect with them on a more personal level.
With Facebook's free Insights feature, you can track your page's progress and see detailed information about your audience. This includes things like their age, gender, location, and even interests. This data is incredibly valuable when it comes to creating targeted marketing campaigns.

By understanding your target audience, you can better cater to their needs and wants. As a result, you'll see a significant boost in your bottom line.
3. Use social media to study your target audience: As a business owner, it's essential to know what your target audience says about your industry online. Social media provides a unique opportunity to connect with potential and current customers in a way that was previously not possible.
By engaging with your followers regularly, you can get insights into their pain points, desires, and frustrations. This information can be incredibly valuable in terms of understanding what your target audience wants to learn about your products or services.
This data can be used to grow your reach further and build relationships with potential customers. By monitoring and responding to your social media activity, you can gain valuable insights that will help you better serve your target audience.
4 ways to get in front of your target audience
1. Google Search Ads: Google Search Ads and Google Local Services Ads are powerful tools that can help put your brand in front of your target market. With Search and Local Services Ads, you can target searchers at the time they are looking for products or services that you offer. This allows you to reach potential customers when they are actively searching for what you have to offer. In addition, Search Ads allow you to customize your message to speak to the needs and desires of your target market.
By tailoring your message to speak to their specific wants and needs, you will be able to reach and convert potential customers more effectively. When used properly, Google Search Ads can be a powerful tool for driving traffic and sales.
2. Google retargeting: Remarketing is a good way to help your company connect with people who previously interacted with your website. Creating remarketing lists is particularly effective for targeting an audience that has already expressed interest in your product or service.
By targeting these individuals, you can improve the chances of them doing business with you again. Additionally, remarketing allows you to show potential customers what your company has to offer without being too pushy or overwhelming. Oftentimes, a reminder is all it takes to get someone to revisit your website and consider your product or service. Thus, incorporating a remarketing strategy into your marketing plan can be an intelligent way to increase leads and conversions.
3. Google Maps: If your company operates in a local area, you should consider creating a Google Business (GMB) profile. GMB is a free platform that allows companies to manage their online presence and connect with potential customers. A recent study found that local companies receive 94% of calls from their GMB listing between Monday and Friday. This shows the importance of having a GMB profile for companies that rely on local customers.
Creating a GMB profile is simple and only takes a few minutes. Once you create your profile, you can start managing your online reputation and connecting with potential customers. If you have a local business, there's no reason not to take advantage of the benefits offered by this free tool.
4. Blog writing and SEO: Marketers and business owners like you know that attracting website visitors is essential for driving sales and growing a customer base. And while there are many ways to achieve this, blogging offers a unique advantage. Studies have shown that businesses with a blog attract 55% more website visitors than those without one. This is likely due to the fact that blogging allows you to demonstrate your expertise and authority on a given topic.
When you know your target audience, you can write content specifically addressed to them, their pain points, and desires. This helps generate interest and awareness of the benefits your products or services you offer. In short, blogging is an essential tactic for any business looking to attract more website visitors.
Conclusion
Before you can launch a successful marketing campaign, you need to understand your target audience. Who are they? What do they want? How can you reach them? Answering these questions is essential for crafting a message that resonates with your intended audience.
To get started, you'll need to gather as much information as you can about your potential customers. Try to identify their needs and pain points, and think about what might motivate them to take action.
Once you have a good understanding of your target audience, you can start developing a marketing strategy that is tailored to their specific needs. With the right approach, you'll be able to engage your audience and achieve your desired marketing and sales goals.