Last month we took a look at Graph Search – one of the biggest changes made to Facebook since its launch in 2004. Graph Search is all about making Facebook more social and providing users with a more personalized and accurate search results. What this feature has done is essentially change the way we search on the platform. Users can now enter queries as they would speak them, and Facebook will be able to figure out what the user is looking for and provide the results. If you are interested in reading more about how this new feature works, check out Part 1 of this article.
As we stated last month, "Graph Search will undoubtedly bring new traffic to your Page and hopefully new business too. So it is a good idea to be prepared to see an increase in your online presence so as to reap the results." And, that is what this month's article is all about: How can you optimize your profile and Page so that you can benefit from the changes Facebook has introduced.
Let's get ready for Graph Search
Here are four things you should do to ensure that your company's Facebook profile is Graph Search ready.
1. Check your basic information
Ok, so this may sound like common sense, but before you do anything you should take a look at your the Info or About page for your company. You want to make sure that your address, email, website and phone (if necessary) are correct. Beyond that, ensure that the spelling is correct and any links work, and point to the correct page. You want to also ensure that there are no incomplete text fields e.g., About, Description, etc. These are perfect places to put in a few keywords and possibly increase your ranking in the Graph Search results.
If your spelling or grammar isn't as good as it once was, try using an online spellchecker like the one on Internet Marketing Ninjas. It would also be a good idea to look at your Page as another user, the easiest way to do this is to log into your personal Facebook profile and search for your company. Take a look at the Page and ensure that your info is correct.
2. Use Facebook Places
Graph Search will keep many users in Facebook, we will likely see a decrease in the number of users who use Google to search for things, they will simply search for it on Facebook. If your company has a Facebook Page, but doesn't have a Places profile and you are a local business, it would be a good idea to claim your listing and start encouraging your clients to check in when they visit.
The reason this is important is because businesses that have more Facebook checkins will show higher in search results (on Facebook). In other words, more check-ins amounts to higher visibility, which is good!
3. Audit your privacy settings
When it comes to personal profiles on Facebook, you generally want to err on the side of caution and secure your profile. For businesses, you want to do the complete opposite, you want to be as visible and easy to find as possible.
To check the privacy settings for your business page, log into Facebook through a personal account that has admin access to the page, then select Edit Settings from the Edit Page menu.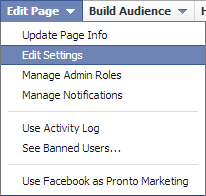 I'd suggest defaulting to the settings that allow for the most engagement with your business. You definitely want to allow people to post messages and add photos to your page. You can always make adjustments later or even block individual users if you find that people abuse these privileges.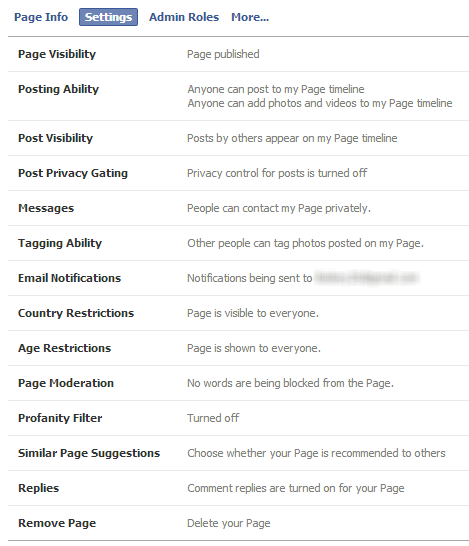 4. Check your Activity Log and Likes
Graph Search will make everything you have ever posted searchable. It would be a good idea to scan through your company's Timeline to ensure that all activity has been in line with your business ideals. In other words, look for anything (comments, posts, likes) that could potentially harm your reputation.
The easiest way to do this is to go to Facebook business page, click the Edit Page dropdown menu and then select Use Activity Log.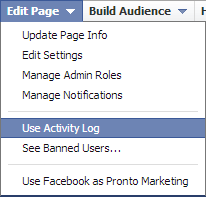 Under the All category, you will be able to see all of your activities on your Timeline. Scroll through the list, and if you find a post or some activity that you don't like, you can delete it by pressing on the pencil icon beside the post and select Hidden from Page, Delete or Report/Remove.
You should also look at your Likes, Photos and Comments. Because the new Graph Search can be used to find users based on their Photos, Comments and Likes, you should ensure that they reflect positively on your profile and business. If you find content you want to delete, you can click on the pencil and select Delete.
Conducting an audit of your Facebook Page will take a while, but it is a good way to help ensure you're ready for Graph Search.
Make a good thing better
Once your Page is optimized, it's time to put Graph Search to use. Here are four ways you can leverage this new feature to help improve the impact your business has.
1. Find existing customers
If you have a local business and Facebook Places, you can use Graph Search to search for people who have checked in at your business (enter: People who checked in at BUSINESS NAME). You can also search for people who have liked your Page. When you find users, why not send them a message thanking them for liking you, maybe asking them to review you.

2. Find people based on their Likes
You can find potential customers, or fans by searching for people who are interested in what your company does. For example if you are a coffee shop with an excellent mocha, you can enter, "People who like mocha in (your neighborhood)".
It may seem a little bit forward and off putting if you reach out to people who you find on Facebook, instead, try to enter other keyword searches and see how many people you find. Keep track of this, and then you can launch ad campaigns on Facebook that are targeted at these users, essentially increasing the reach of your brand.
3. Look for new talent
When you need to find talent, you should be looking where the talent is, and for most people that's Facebook. Try thinking about what embodies the culture of your company, and search for people who like, or are interested in similar things. You can also search for users who have experience in the role you are looking for e.g., People who are accountants in my area.
You can then try reaching out to them and establish a connection, and maybe even invite them to send in their resume.
4. Find and create better galleries
If you own a service based business e.g., a restaurant, a great way to entice Facebookers to come into your business is to have pictures of your products. If potential customers can see the products, they are more apt to be interested (if they like what they see of course).
The problem is, taking pictures can be a time consuming and costly process, especially if you hire a professional photographer. As you know, many of your customers likely take pictures of your products, some of whom do so with professional grade cameras. Why not use Graph Search to look for photos taken at your business.

You could then contact the users who took the photos asking them to share the photo with your Page. If you put them into a gallery, which is open to the public, many users who see it, and see the product first hand, will be more likely to come into your business.
Facebook's Graph Search will be a big change to many businesses, it is therefore important to be prepared for it. If you have questions or concerns about how your company can benefit from Graph Search, why not contact us today to see how we can help!
To see how Pronto can help your business build a comprehensive internet presence, contact us!