One of your biggest responsibilities as a business owner is generating enough leads to keep sales growing. And you're probably looking at your website as the most logical place to scale new leads. So where do you start?
Chances are you're not a born web strategist. You're hard at work delivering managed services for your clients. You're thinking, "What's something I can do with my web marketing that's worth my time and will deliver results?"
Well, at Pronto eBooks are a consistent winner for our MSP clients. Why? Because eBooks are valuable pieces of content and website visitors are willing to trade their contact information to access it.
Better yet, by offering your visitors expert know-how in the form of an ebook, you present yourself as an authority in your space. You gain trust, which is key when it comes to converting those leads to sales.
And lastly, your website probably has a "Contact Sales" or "Request a Quote" call-to-action right now. Although that's necessary, not every visitor is ready to jump into a sales conversation. By offering an ebook, you give your website visitors another way to engage with you but with slightly less commitment on their part. With these ebook leads, the door is opened for you to nurture and convert them into a highly qualified sales conversation. Without an ebook, you might not have had the opportunity with this visitor at all.
So, how do we know it works? Let's take a specific example of a common result we see from one of our clients who saw a positive impact from adding ebooks to their website.
Prior to launching ebooks, our client (which we'll call "MSP Tech," as they wished to remain anonymous), generated an average of 10 leads a month online. And generally a visitor to MSP Tech converted to a lead around 0.59% of the time.
After MSP Tech launched their first ebook, via Pronto's MSP Ready to Go eBook Program, they started generating an average of 15 leads per month. And generally a visitor to their site converted to a lead around 0.75% of the time.
A quick explanation from Tim about how ebooks can increase leads generation
Take a look at MSP Tech's trend on lead generation over time before and after ebooks.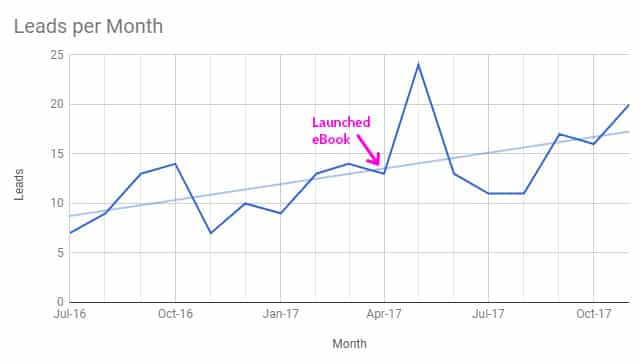 For the period before and after launching ebooks, that's an increase of 50% more leads generated per month and an uptick in visit-to-conversion rate of 27%. Not too bad!
What was also interesting was that traffic to the website increased as well, by 18%. Why was that?
Once you have an ebook on your site, it's easy to promote it to your customers and prospects through your company's social media accounts like Facebook, LinkedIn, and Twitter. It's also quite simple to draw attention to the ebook via a one-time blast to your email list, included in your latest newsletter, or added as a link in your email signature.
Long story short, ebooks give you a great opportunity to start a conversation with your audience and drive them to your website. And more website visits equate to more "shots on goal" when it comes to generating leads.
So, ebooks are great. The question is how do you create one?
Ebooks are typically practical how-to guides or timely analysis that your prospects can apply to their own challenges. Your options for creating one are:
Write and design it yourself. This is a great option if you have the time and skill set.
Hire freelance writers and designers. This option is good if you have experience with managing outsourced creatives.
Ask your agency to do it for you. This works well if you already have an agency and you can pile on an extra project.
Pronto's done-for you ebook program offers you one ebook every three months of the year. This regular, quarterly program means that you'll always have fresh content on your site and a new conversation starter to drive consistent new traffic and leads year-round. The program is an optional upgrade from our MSP Managed Website service. If you have questions about either offering, contact our marketing experts. We'd love to chat about your business.