At the risk of dating ourselves, we've been "doing" Google AdWords long before the first flannel-wearing millennials set up shop in cafes and made an entire freelance industry out of it. And from those decades of experience, we've noticed one universal constant in the AdWords field: When it comes to proper management of your account, the work is never done.
No matter how well optimized a campaign is, there is always room for one more nudge, one more adjustment to increase that click-through rate (CTR), to lower that cost per click (CPC), or improve that quality score.
Whether you're working on an established account or one that was just launched a month ago, there are a number of actions you can take that will always be worth your time — which in the following cases is less time than it takes a hipster to order a fair-trade soy cold brew latte.
Routinely update your negative keywords
An essential ingredient in any AdWords campaign is the regular addition of "negative" keywords, or keywords found on sites that you don't want your ads to display on. For example, you might not want your ads to show up on any site with the word "millennials" on it; all they buy is hand-woven trinkets from third-world countries and you don't want to market to them.
If you aren't reviewing your Search Terms report at least monthly, you're wasting money on low and zero-relevancy clicks. Now, reviewing and adding negatives can be a tedious process, but here's how you can speed it up: Look for search terms that don't have your most common root keyword in them.
For example, let's say you're selling "HR software." In your report, Ctrl + F, and enter "HR software". With every instance of that phrase highlighted, pay close attention to search terms without any keywords highlighted — especially the ones generating large impressions and/or click numbers.
These are the terms that are triggering a lot of traffic, but don't include your root keyword. This is the best place to find search terms closely related to your focus, but not totally relevant. Do this once a week to keep up to date on the best negative keywords.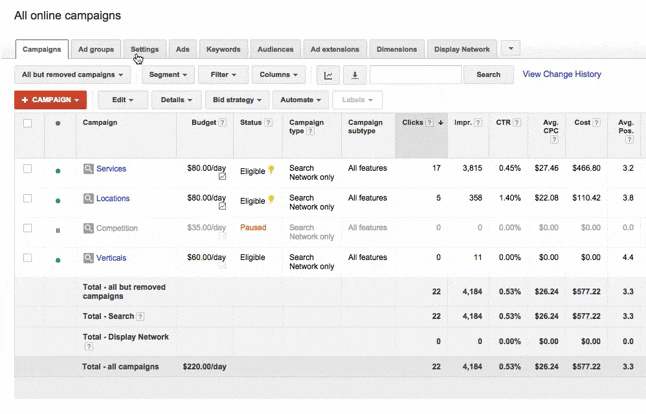 Detailed instructions on managing negative keywords can also be found here.
Save consolidated keyword/negative keyword lists
If you're running multiple campaigns and accounts that could benefit from using the same keywords, saving them locally in a list is the way to go. When applying this strategy to negative keywords, review your search term reports for negatives as discussed in the previous section, and copy and paste the results from all your campaigns into a single spreadsheet, updating it every week.
Whenever you create a new campaign or are working on a new account with a similar focus, you've already got a long list of negative keywords without starting the whole process over again.
Better yet, select the Shared Library on the left-hand side of your AdWords dashboard and click "Campaign negative keywords" to share a single list across all campaigns in that account.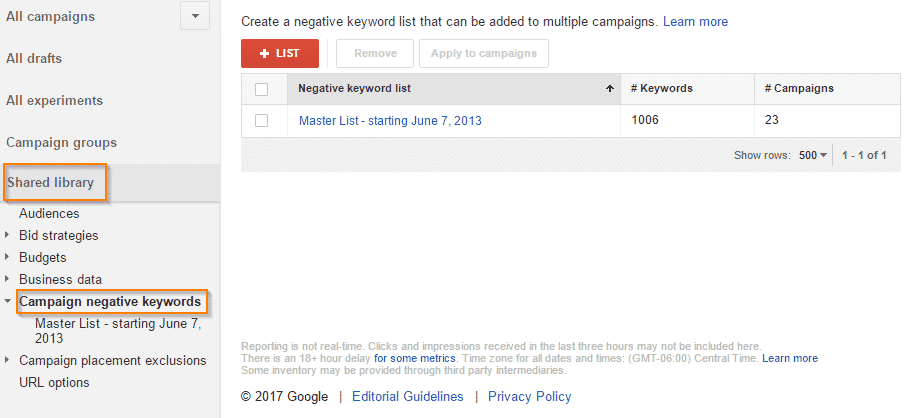 It's a workout — for your ads!
Whether it comes from you directly, or some hipster working in a cafe around the corner, your ad performance needs to be reviewed regularly. That requires at least two ads per ad group to run rough A/B tests effectively.
First, make sure your ad setting is "Rotate evenly: Show ads more evenly for at least 90 days, then optimize." After your ads have run for about 7-10 days — depending on search volume — clear winners should begin to emerge.
Look at impressions, clicks, CTRs, conversion rates and the cost per conversion. Based on those numbers, pause the ad that underperformed in the metrics most important to you.
With one ad clearly superior to the other, create a new ad to replace the "losing" one. Continue the A/B scheme by constantly updating one of your two ads to compare tweaked/optimized messaging, or totally original content, to your existing benchmarks.
If you can afford to run three ads, allow the top two to "fight it out" for another week. Or if the two remaining ads are evenly matched, create a new challenger. Test and Repeat.
Test out lower bids
Let's say you have several keywords that are relevant and performing adequately, but at a cost per lead that is bumping up against your limit. Experiment with reducing your bid for those keywords.
Select the under-performing keywords, click Edit, select Decrease max CPC bids by and enter 10%. Give this a bit of time to run and see if your results improve.
If not, consider pausing those keywords. But if it is successful, you have little to lose by reducing the CPC bid even further. Regardless of how this shakes out, you're guaranteed to wind up with more budget for your better performers.
You are using Ad Extensions right?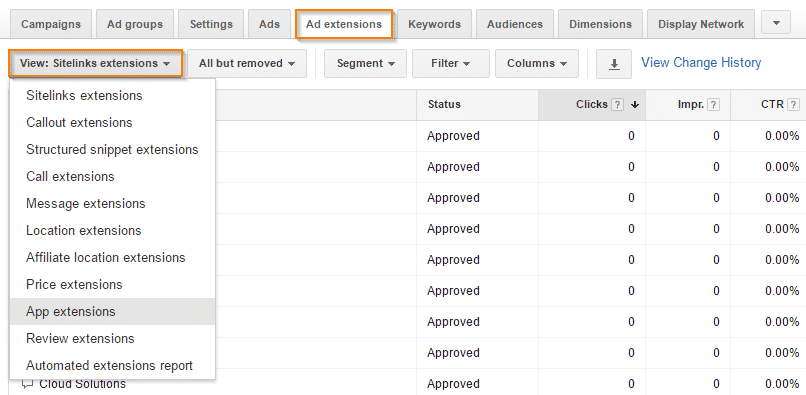 Google wants you to try every ad extension that applies to you, but no matter how few that is, you absolutely must use sitelinks and call outs. The former is a way to create more specific CTAs, and the latter is a way to display more text in your ads. Each week carve out some time to review the performance data for these.
Test new extensions to try to improve performance. For example, if calls are a priority in your campaign, double check you're using the call extension and tracking the number of click-to-calls and website calls.
Google is always adding new extensions. Keep an eye on the Extension menu, and if something fits, don't be afraid to take it for a test drive.
Anyone who's been working with AdWords for as long as we have knows there are countless other ways to improve your campaign. But for business owners without a lot of time to spare, or the budget to hire specialists, these are the best places to start.
Don't expect to revolutionize your campaigns overnight, though. To get actionable results, your AdWords efforts need round-the-clock attention from certified specialist — like Pronto!
---
Need some help?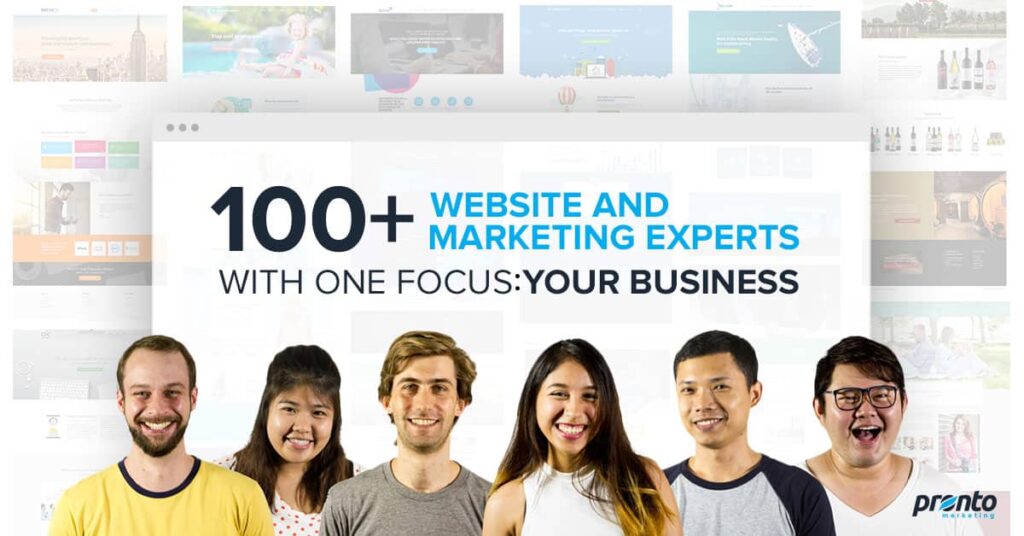 If you feel confused or overwhelmed, don't be. Pronto has you covered. With over 1500+ WordPress websites under our belt, we can help you with all your WordPress needs and more. From Adwords all the way to integrating platforms.
Schedule a call with one of our Pronto Experts and learn how we can secure your website so you can focus on your business.