Any e-retailer will tell you how tedious it is to manually place supply entries in spreadsheets. There is nothing quite so tedious as entering entire sales channels modifying quantities, placing entries and yet run out of stock unprepared.
Sadly, e-commerce operators are not the only victims of the manual processing plight; suppliers also experience their share of trouble. Whether it's taking orders from various sales channels to keeping warehouses inventories updated, they've got a lot on their plate.
Manual processing leaves a window for errors that can greatly affect business, which is why utilizing automation is essential a for e-retailers and suppliers looking for smoother operations. Order management systems (OMS) can make the ordering of goods and services a breeze. From tracking inventory and vendor information to automating stock deliveries based on customer or production demand, OMS brings out new and innovative solutions for businesses operating in multiple channels. It's a great move, as long as you chose the best provider.
What does Order management system (OMS) do?
Integrating shipping service enables on-time delivery of products
Time is of the essence, and retailers are finding it harder than ever to meet deadlines. With Amazon setting order delivery standards so high, it has become more of a compulsion than a need to deliver orders on time. Amazon Prime offers free two-day shipping for Amazon Prime customers and has even started offering same-day delivery. That said, small-scale retailers have to be more punctual about ensuring on-time delivery of products, which can be a horrendous task if they do not have an automated system.
If you integrate your shipping services into your sales workflow, you'll save time and energy generating shipping labels and choosing carriers. Most order management systems easily integrate with well known shipping partners like FedEx, USPS, UPS and several others. Be it your online store, your catalog or your warehouse, order management systems match the right inventory with accurate numbers and details of the product to your customer.
Your order management system can also track shipments and separate a unique tracking number for customers, enabling both you and the customers to track the order throughout the fulfillment process. This service also simultaneously updates the shipping information on all channels.
Another benefit of shipping integration is that it saves you from the tedious task of tracking labels and invoices. It automatically generates shipping labels along with customers' name and address. In bulk order instances, shipping integration can save you copious amounts of time.
Last but not least, order management systems show all the carrier rates in one place. Thus saving you from the time-consuming task of checking several different accounts to compare costs. Finding the best price is no simple task, especially when you are dealing with bulk orders.
Order management system integration aids in quick processing by cutting down on manual work and human error.
Syncing Inventory management with OMS allows for seamless business transactions
The ultimate goal of any business is to get customers to buy your product. However, if your back-end is not efficient, or your inventory isn't integrated with OMS, you are likely to miss out on potential clients.
Unsynced inventory creates problems because it's difficult to manage orders that are refunded due to discontinued or out-of-stock items. If this were to occur regularly, it would hurt your business in the long run. Syncing your inventory with an OMS solution ensures orders are always fulfilled according to their requirements.
Rusty Birds, a design startup with hand-crafted rustic metallic birds silhouettes that can be used to adorn homes and gardens, didn't take long to realize how crucial it was to automate their order management workflow. Dealing with end customers and wholesalers, the team learned a lot about how to provide a hassle-free shopping experience for dealing with e-retailers. Namely, the importance of maintaining a smooth back-end process. Rusty Birds decided to choose Orderhive, a robust order management software, and the output was just terrific.
OMS benefits extend to Brick-and-Click stores too. For instance, if a brick-and-click retailer sells an appliance in store which won't be available online anytime soon, OMS inventory features will enable the supplier to connect post-sale data. It will also update the retailer's website regarding when the product will be available online.
OMS enhances scalability and revenue margin of business
All businesses ultimately boil down to profit margins, generated revenue, customer satisfaction and retention rates. So, retailers dealing in multiple channels have to see what order management does for the fulfilment process.
Order management simplifies customer orders by enabling retailers to modify/alter products as they wish — making it simpler for retailers to remotely access inventory. This enables them to cut down shipping costs as well as speed up delivery time.
You can also monitor the cycle time to streamline order processing. Product flaws can also be tracked so that there are less returns and cancellations.
With a centralized OMS, you can make sure your customers purchase and receive the order exactly as they intended, while ensuring you significantly increase profit.
Allows retailers to focus more on core aspects like marketing & promotion
From marketing the business to serving the client while monitoring warehouses, retailers work with tight schedules and ever-growing demands from customers. Management and sales representatives in B2B marketing benefit from accurate sales insights.
One of the greatest aspects of OMS is that sales reps have detailed order histories at their fingertips that enable them to better understand customers and the kinds of products they're looking for. Also, having all sales data on hand helps them make informed decisions when providing offers, prices and promotions to clients. Automation will leave no chance for errors that can create future trouble. OMS is an ideal system for all the one-man armies out there that are dealing with various storefronts.
The more powerful the back-end operations, the more effective the output.
This article is contributed by Orderhive, an inventory and order management software company. Orderhive partners with Pronto Marketing to help online retailers with their integration and back-end needs.
---
Need Some Help?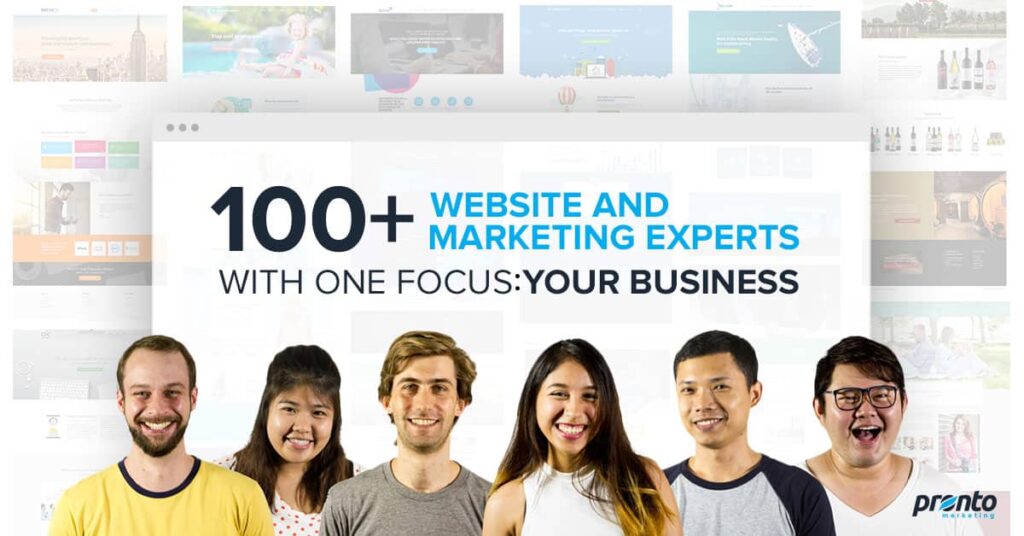 If you feel confused or overwhelmed, don't be. Pronto has you covered. With over 1500+ WordPress websites under our belt, we can help you with all your WordPress needs and more. From eCommerce all the way to Integrating platforms.
Schedule a call with one of our Pronto Experts and learn how we can secure your website so you can focus on your business.