You finished doing keyword research and have narrowed it down to a few keywords for your new web page or blog post. You aren't sure which keyword to pick. That's were the Google Trends tool comes into action.
It's important to learn how to use Google Trends to support your SEO strategy. But why is Google Trends so useful?
Let's find out! We'll play around with the tool after.
Why Google Trends
Keyword research is an essential part of Search Engine Optimization (SEO). It helps to identify the most valuable and highest potential keyword phrases to include on your website to increase organic traffic from Google. 
Google already has a Keyword Planner tool in Google Ads that allows you to see estimated search volume for individual terms.
Why do we need a second tool? Google Trends is different from Keyword Planner; it shows the relative popularity of a term for a specific period.
While Keyword Planner shows the actual estimated volume, Trends shows how the term compares to the overall volume of all searches in the Google index. This matters since it helps to identify seasonality and cultural shifts of a keyword phrase. 
Now let's take a closer look at 5 ways to utilize Google Trends for keyword research. 
How to Use Google Trends
1. Holiday and launch shifts
For example, the search for a holiday-related term like "Halloween candy," shows how big a change in volume occurs and when it starts each year:
Interest over time (past 12 months)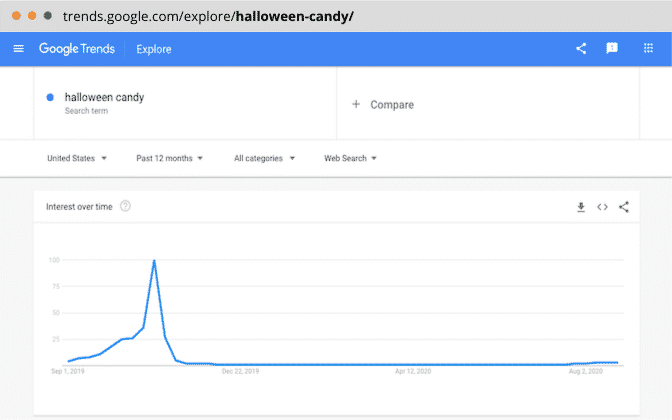 You can also track the impact of a new product or release, such as the late 2019 launch of Disney+: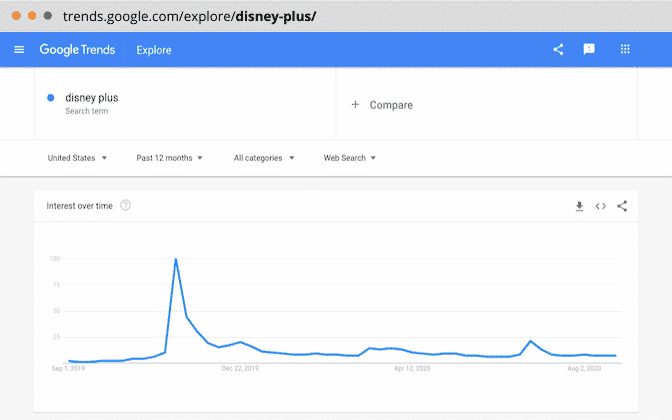 The charts can help identify the following:
What search terms will perform strongly for you over time

Which ones tend to spike at certain times of the year, quarter, and month

Whether the search volume data accurately corresponds to the performance within the target industry
2. Identifying trends based on search 
Every industry has trends for certain searches that can spike in popularity at key times of the year. Spikes in interest occur due to seasonal events. 
The chart for "back to school," for instance, shows a sharp increase between the end of June and the beginning of September in the United States, when school children are preparing to return to school in the fall. 
Interest over time (past 5 years)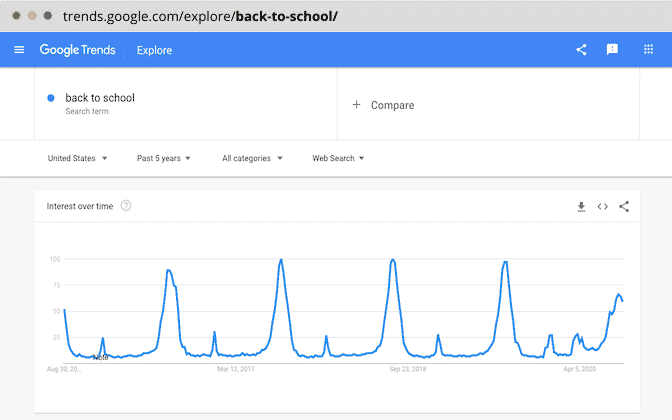 There's a second, smaller jump in late December and early January after winter break or for specific seasonal clothing types. The search chart for "pea coat" shows increased interest starting in October, lasting through March.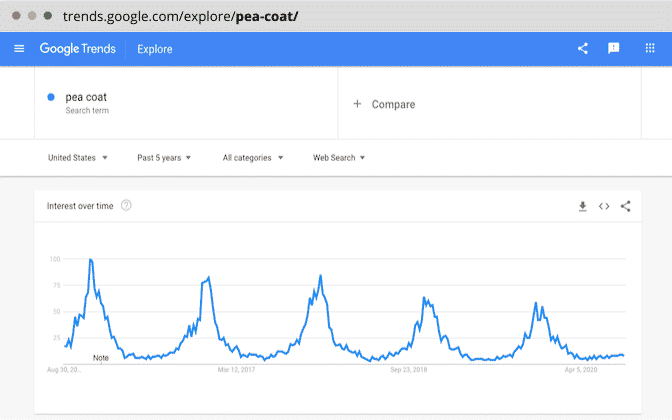 Many of these types of searches won't be surprising for you if you know your industry well, but they can help to better define the parameters of the increase in interest. 
Now how early do people start searching for school clothes or Christmas presents or swimsuits? Google Trends can help. 
Using the data, you can focus on optimizing relevant pages 2-3 months before the spikes on those graphs occur while launching content that matches up to the start of the increase. It will maximize the value you get from blog content and link building efforts for your website. 
3. Avoid false positives in Keyword Planner data
The best part about Google Trends is that it displays and helps dissect spikes in popularity that are fleeting. Google Keyword Planner will show total volume, irrespective of outside factors. 
Fads that only last a few weeks or months could show huge traffic volumes with relatively manageable keyword difficulty but might not better for your marketing efforts.  
The same applies to new product releases that have a short lifespan but are highly popular during that time and unexpected popular trends like these two:
Pokemon Go

(summer of 2017)

2018 FIFA World Cup

(high searches in the U.S. for international soccer teams)
Keep in mind that blindly following total search volume could only lead you toward a topic on the downswing.  
Discover 6 Reasons Why SEO is Important 
4. Use the "Related Queries" tool 
Google Trends offers a list of related queries that are commonly searched in addition to the term you've selected.
For example, when searching for "pea coat," the following terms are listed as Top related queries:
Related queries (Top)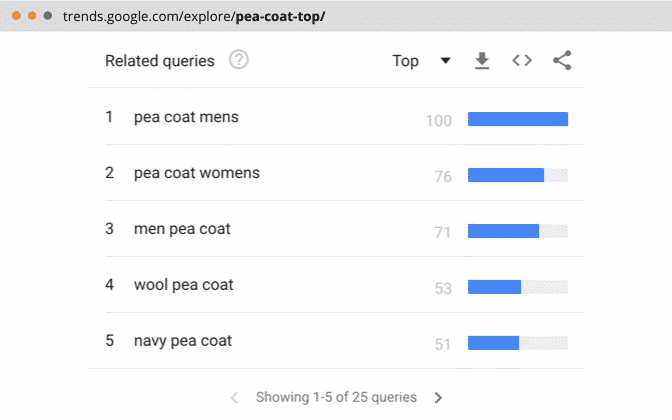 Plus, you can search for the Rising related queries that have increased in popularity by the highest percentage in the time you are searching:
Related queries (Rising)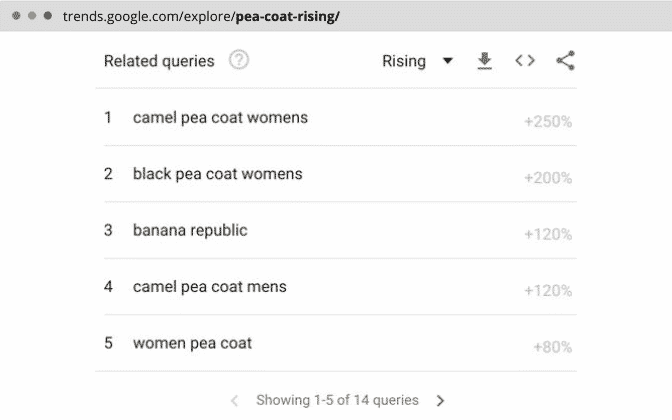 The Rising queries can be valuable in evaluating the context of searches. In this instance, it might indicate that having a page for "men's pea coats" is the best starting place, followed by women's and specific types and colors. 
5. Segment results by location
Finally, you can evaluate search volume based on subregions within your country. Sometimes these results aren't surprising. 
Searches for "pea coats," for illustration, tend to spike in high population in Eastern states within the U.S where the weather is cold, but not intensely like the midwest:
Interest by Subregion (pea coat)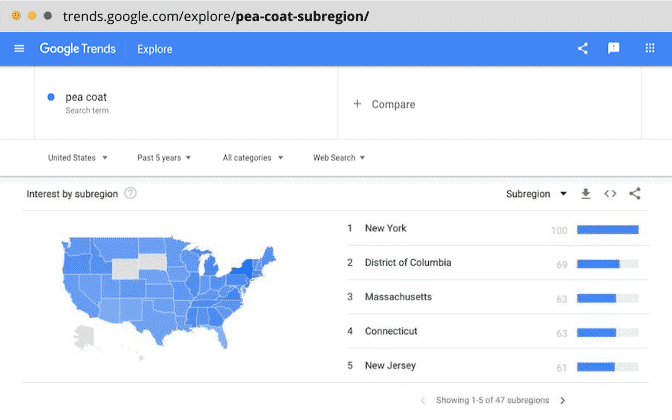 The tool can be the most helpful in identifying cities or breaking down counties and metropolitan areas within states based on these trends.
For both local SEO and paid search optimization, this can be significantly useful in identifying where you'll get the most bang for your buck. 
For example, a search for "snow boots" in the States provides some understandable results for the Subregion:
Interest by Subregion (snow boots)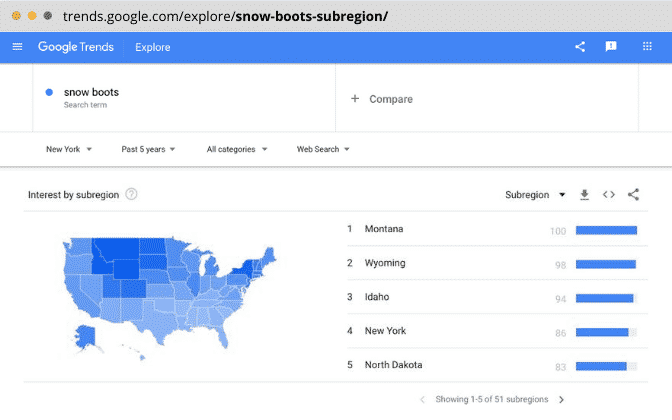 Mountain states that receive a large volume of snow over six months every year have the highest search popularity for the term, and New York has a high population and a decent amount of annual snowfall. 
Digging into New York, we can see that Watertown, at the Northern edge of Lake Ontario, has the highest rating for the term, followed by Syracuse just south and New York City. 
Interest by Metro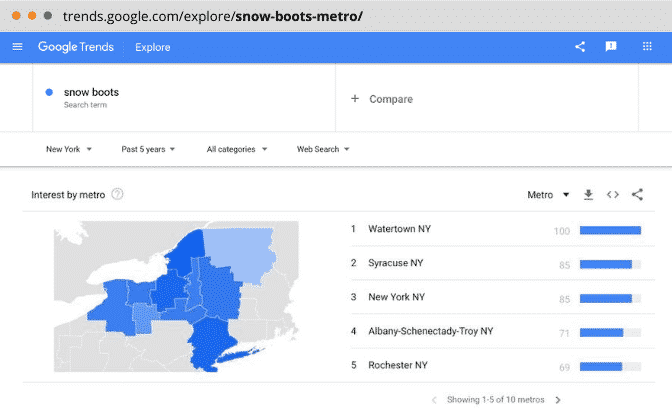 The Metro query can help target specific locations and applies not just to physical goods, but services and anything else you might be promoting on your website. 
When learning how to use Google Trends, the tool's local opportunities can push your efforts above and beyond what your competitors are doing. 
Check out What is the Best SEO Technique (And How to Take Advantage of It)
Leveraging Google Trends for website growth
While raw search volume for a keyword is important, make sure there are enough searches. Learning and understanding how to yse Google Trends for keyword research can impact your companies SEO efforts.
By selecting keywords and analyzing them on Google Trends, you can create the right content at the right time. Also, you can avoid keywords with falling trends and catch new ones on the way up.
If your companies SEO strategies haven't been working, let us be your helping hand. We'll start you off with a free SEO audit. What do you've to lose?