If you own a local business, such as a gym or law office, your success often relies on walk-in visitors. A website can be effective in reaching new customers, but you'll need to find a way to direct them to your brick-and-mortar business.
Fortunately, mapping plugins make it easy to promote your storefront on your WordPress website. Here are our top picks to help visitors navigate to your physical location:
WP Google Maps: An easy-to-use plugin for adding Google Maps to your website with custom map markers, themes, and blocks.
WP Store Locator: A powerful tool for managing an unlimited number of stores and providing detailed information about opening hours.
MapPress Maps for WordPress: A free WordPress plugin that integrates professional Google and Leaflet maps without needing an API key.
Maps Widget for Google Maps: A fast and easy way to feature maps in your website's header, footer, or sidebar.
Easy Google Maps: One of the simplest plugins for managing unlimited locations and building map markers with text, image, or video descriptions.
In this post, we'll discuss why you should consider using mapping plugins on your website. Then we'll review these five top WordPress mapping plugins, so you can choose the right option for your business. Let's get started!
Why You Should Consider Using a Mapping Plugin
A WordPress mapping plugin is an extension that enables you to display a geographical map on your website. Using this tool, your customers can easily find directions to your physical location.
Here are some potential benefits you can gain when you use a mapping plugin:
Expose your physical location to online users
Add an attractive visual element to your website
Allow visitors a way to interact with your website
Increase your physical foot traffic
The vast majority of consumers use a search engine to find local businesses. Therefore, even if you run a brick and mortar operation, you'll want your website to help you create a robust online presence.
When you activate a mapping plugin, you add a useful layer of content on your site. It allows customers to view your address and opening hours without leaving your website. This can translate to improved Click Through Rates (CTRs) and further benefit your local SEO.
You can also enhance and customize this feature to your liking. For example, Sage Dental has a web page dedicated to its locations. Here, customers can get directions, book an appointment, or contact specific storefronts.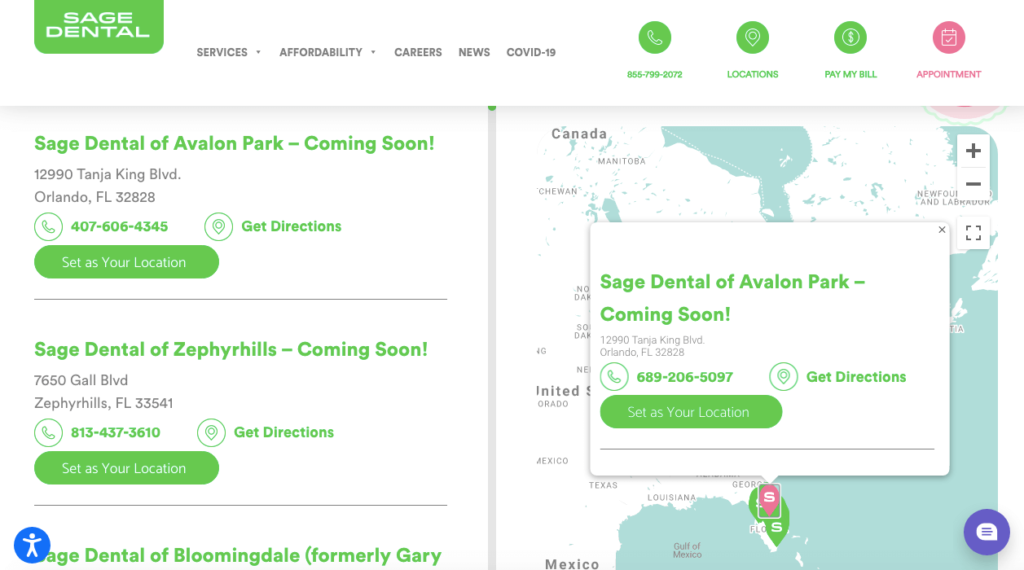 Although this dentistry service created an entire location page, you can also display this information in a header, footer, or sidebar. A map can also be effective when added to an event page or even a landing page. Alternatively, if you want to take a classic approach, you can add one to your 'contact us' or 'visit us' page.
You can embed a map in WordPress manually, but mapping plugins offer a simpler solution. With the right tool, you can create and add a custom map to your website in minutes. Furthermore, these plugins also offer a massive leap in functionality over a simple Google Maps script.
Top 5 WordPress Mapping Plugins
Now that you know how a mapping plugin can help you effectively promote your business, let's review our top choices. Keep in mind that you can safely opt for any of these tools, as they require very little in terms of website maintenance.
1. WP Google Maps
WP Google Maps is one of the most popular WordPress mapping plugins, because it comes with the latest Google Maps and OpenLayers API. With its drag-and-drop map markers and widget functionality, you can design a map in less than 30 seconds.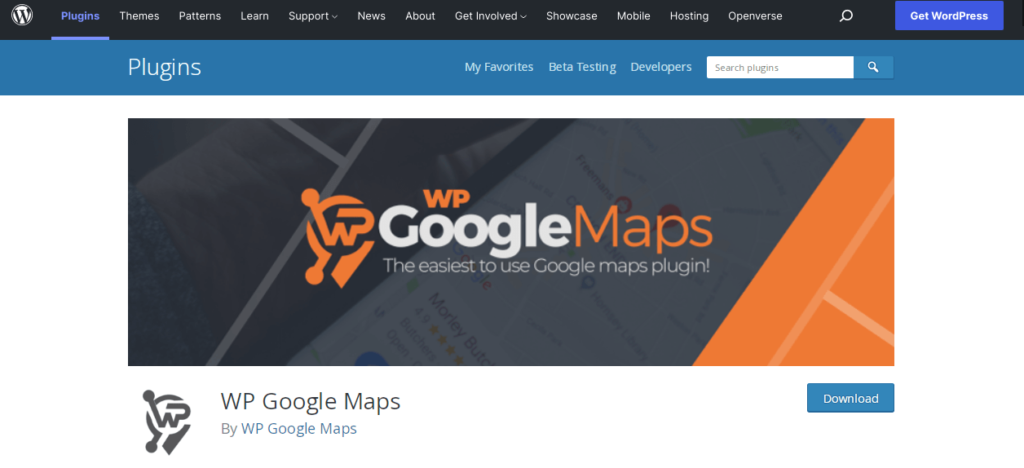 Key Features:
Store locator functionality
Nine different map themes
Custom width, height, and zoom levels
Map marker animations
No advertisements
If you want to see WP Google Maps in action, CLUB4 Fitness used this plugin to customize its location page.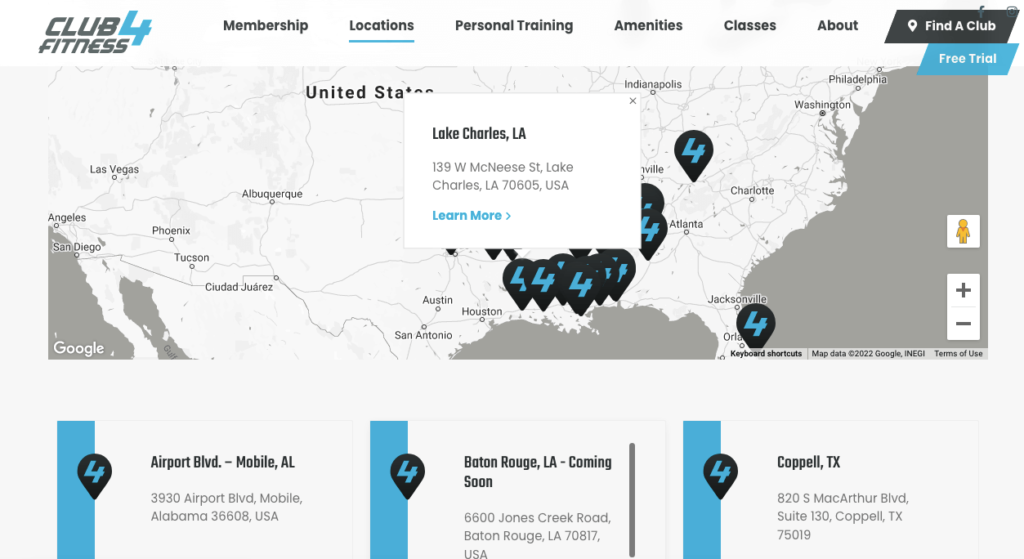 As you can see, WP Google Maps allows you to list nearby storefronts and their addresses. You can also adjust its color scheme to fit your brand.
Price: WP Google Maps offers a free WordPress plugin, but its Pro Add-on costs $39.99.
2. WP Store Locator
If you're looking for a solution designed to list stores, WP Store Locator might be the best map plugin for WordPress. This tool can display business information for a variety of store locations.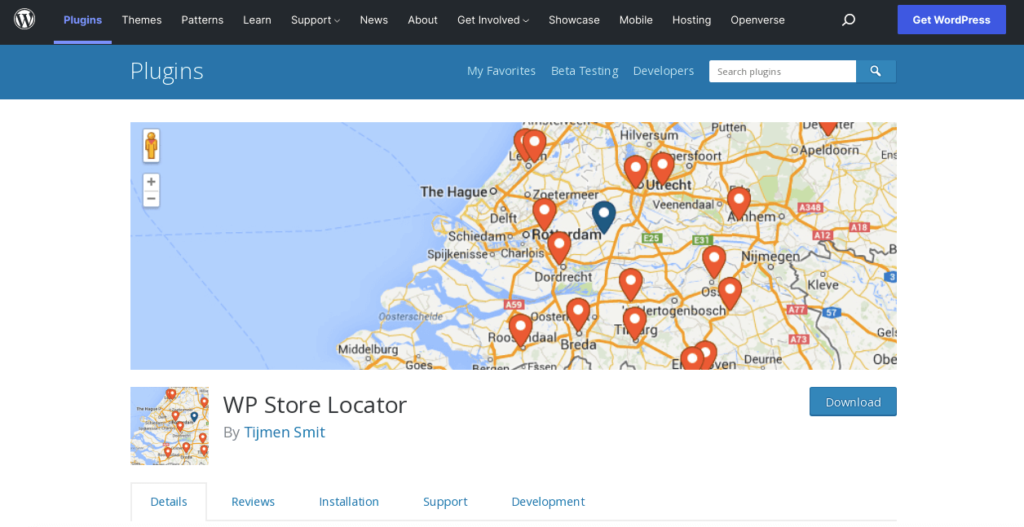 If you install WP Store Locator for your mapping needs, your online visitors can use filters to narrow their search results by category or radius. After finding the closest store, they can view driving directions.
Key Features:
Supports an unlimited number of stores
Customizable map styles
Movable map markers
Different language options
Developer-friendly code
Price: The basic WP Store Locator plugin is free, but extra add-ons start at $19 for a single license.
3. MapPress Maps for WordPress
With MapPress Maps for WordPress, you can create and edit maps without pasting in shortcodes. Whether you're using the Block Editor or the Classic Editor, you can fully customize your map while editing a post.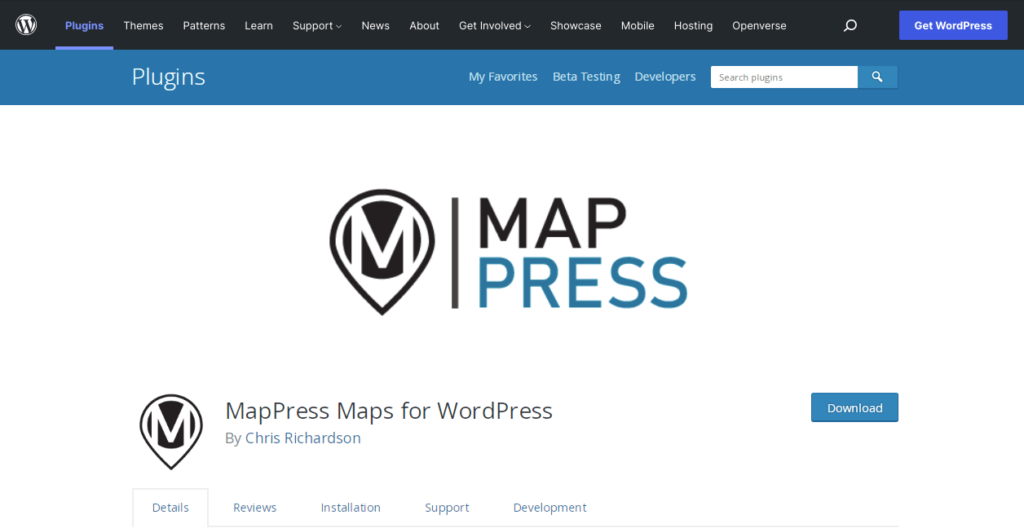 This MapPress plugin enables you to create a professional-looking map with responsive features. Although it has a fairly simple appearance, MapPress lets you include detailed information such as real-time traffic.
Key Features:
Unlimited maps and markers
Access to Google and Leaflet maps without an API key
Integrate maps into posts or pages
Google overlays that display traffic, bicycling, and transit information
Customizable map size
Price: The core MapPress plugin is free, but its Pro version starts at $49.95.
4. Maps Widget for Google Maps
Maps Widget for Google Maps advertises itself as a simple, easy-to-use map plugin that you can set up in minutes. As its name suggests, Maps Widget allows you to place a Google map in a widget.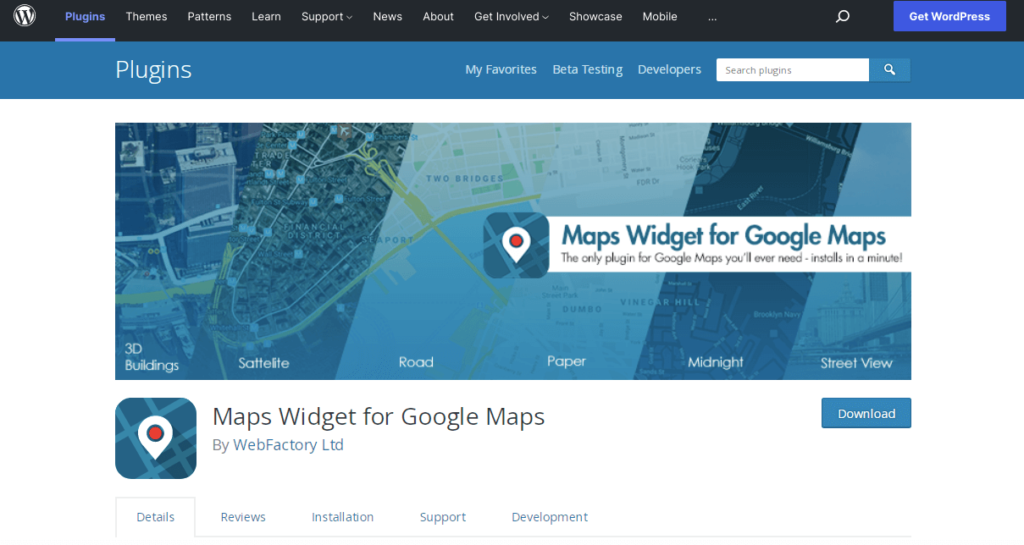 When you activate Maps Widget, it only uses one request to load your map. This simplicity can help ensure that your website maintains a fast loading speed, which in turn supports a positive user experience.
Key Features:
Adjustable map size
Many map color schemes
Customizable map pin icon
Quick installation
Price: The Maps Widget WordPress plugin is free, but it also offers pro versions that start at $29 per year.
5. Easy Google Maps
Easy Google Maps is a free WordPress mapping plugin that you can use to show visitors your business location. With customizable map markers, you can add pictures, videos, and text descriptions that align with your brand.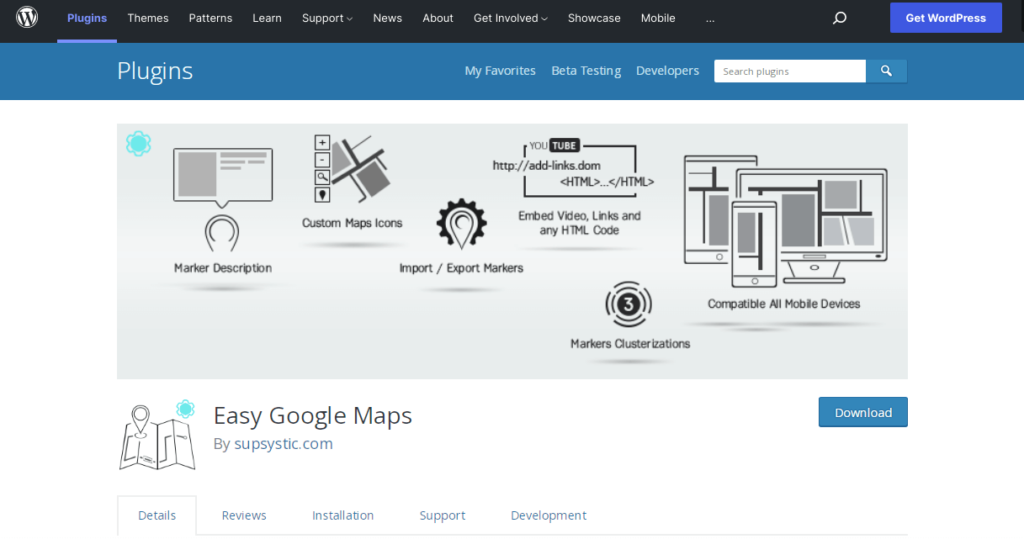 Unlike other mapping plugins, Easy Google Maps allows you to modify map markers, themes, and share buttons. With 100 percent customizable features, you can create a genuinely unique map for your business.
Key Features:
Unlimited locations and markers
Customizable media description
Social share buttons
Alternate route directions
Traffic, transit, and bicycling information
Price: Easy Google Maps is a free WordPress plugin. However, its pro plans start at $46 for a one-year license.
Conclusion
With a WordPress mapping plugin, you can start transforming your online visitors into physical foot traffic. If potential customers are confused about your business' location, you can use an informative and interactive map to give them detailed directions.
Do you need help maintaining and choosing the right plugins for your website? At Pronto, we can get your WordPress site into gear!