If you're like most small business owners, you're always looking for ways to improve your website and its search engine ranking.
Elementor is one of the most popular WordPress plugins around and makes the job of building websites much simpler . Regardless of which webpage builder you use, you can't afford to overlook search engine optimization. Without it your beautiful new website will languish unnoticed on page 50 of Google's search engine results.
Thankfully there are a number of steps you can take and plugins you can add that make the business of Elementor SEO manageable.
In this blog post, we'll show you how to optimize your Elementor website using some simple techniques. We'll also provide a few tips on how to make the most of Elementor's built-in SEO features. So if you're ready to take your website to the next level, keep reading!
What SEO Practices You Should Consider
There are two different types of SEO that you need to think about when trying to optimize your Elementor website for search engine optimization – technical SEO and on-page SEO.
Technical SEO
Technical SEO is all about tweaking the technical features of a website in order to increase its search engine ranking. These improvements can make a website easier to crawl, quicker to load and more comprehensible for search engines and are the foundation of technical optimization. 
On-Page SEO
On-page SEO is the practice of optimizing elements on a website in order to rank higher and drive more organic traffic from search engines. It refers to optimizing both the content and HTML source code of a page.
On-page SEO also helps users quickly and clearly understand what a page is about and whether it is relevant to their search.
Is Elementor SEO Friendly?
While Elementor wasn't specifically designed with SEO in mind, it is known for being SEO friendly. The Elementor editor provides you with a great platform to create pages optimized for search engine visibility. Its simple drag and drop interface allows you to quickly and easily add elements such as titles, headings, meta descriptions, images, and more that can be optimized for your desired keywords.
In addition to this, there are a few SEO plugins such as Yoast SEO, All In One SEO and RankMath (which we will look at later) that you can use to optimize your Elementor website.
How to Optimize Your Website for SEO
Technical SEO
There are a few steps you can take to improve your website's rankings just by making sure your Elementor website is optimized for search engines.
Outbound Links
Adding outbound links (like this one) to your website is a great way to improve your SEO. Outbound links help search engines identify and understand the context of your website which can help boost search rankings.
Outbound links also create credibility with readers and establish trust when you link to reputable sites. Be mindful of the quality and quantity of outbound links you include, as too many outbound links can damage your rankings.
Aim to link out to reputable sites that have content relevant to the topic of your Elementor website. With a well-planned Elementor SEO strategy, outbound links can help boost your elementor website's visibility.
Internal links
Using internal links (like this one) is an important SEO tactic. They provide a way to direct web traffic from one page of your website to another, and also help search engines understand the structure of your website. Internal linking can also help to improve user experience by allowing website visitors to quickly find what they are looking for.
To ensure that your internal linking is effective, it's important to link relevant content together and keep the links up-to-date. Linking to relevant content helps search engines understand the structure and theme of your website, as well as helping users find information quickly and easily.
It's also important to make sure that the links you use are working correctly and not broken, as this can cause problems for search engines and users. With Elementor, you can easily create internal links on your website and monitor them to make sure they are working correctly. This will help to ensure that your Elementor SEO efforts are as effective as possible.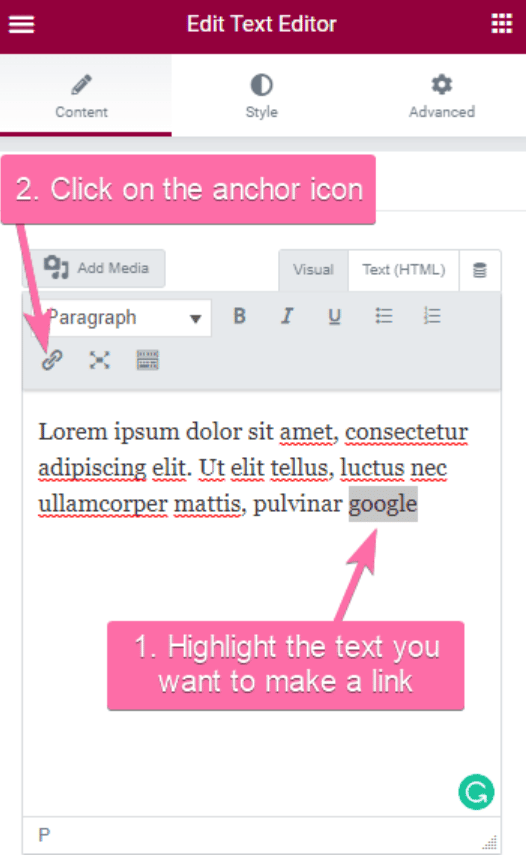 Site speed
Page speed is a vital element to consider. Having a fast loading website can help improve your rankings and user experience. There are several steps that you can take to increase your site speed, such as optimizing images, minifying HTML and CSS files, or enabling caching.
It's important to remember that even the smallest changes can make a big difference when it comes to Elementor SEO, so don't be afraid to experiment and see what works best for your website. With a few easy steps, you can have an Elementor site that performs well, and is more likely to be found by your customers.
Robots.txt
If you're using Elementor page builder to manage your website, then you're probably familiar with the robots.txt file. This element can be a powerful tool in ensuring that search engines are only crawling and indexing the pages you want them to.

By editing your robots.txt file, you can tell search engines which pages to ignore and also block crawlers from accessing certain parts of your website.
On-Page SEO
The SEO Title
The SEO title is what you see on search engine results pages. Also known as meta title, it is one of the primary factors that affect your rank on the search engine.
Your meta title must be meaningful and short at the same time. The SEO heading must be one that allows users to quickly grasp the topic you have covered in the article. This is important for the search engine as well. Google considers the meta title as a vital element to determine web page content.
SEO titles have limitations in terms of their length. You cannot show a long title on the SERP page. Therefore, you must keep the title short. Ideally, meta titles are within 60 characters.
Writing a short but effective SEO title is an art that gives you an edge over your competitors in the race to rank higher in the search results.
The Slug Line
The slug line is text that you can add to your URL. This helps search engines and humans understand your page's content. If you're using Yoast SEO or Rank Math, you can edit each page's permalink directly in the Elementor editor: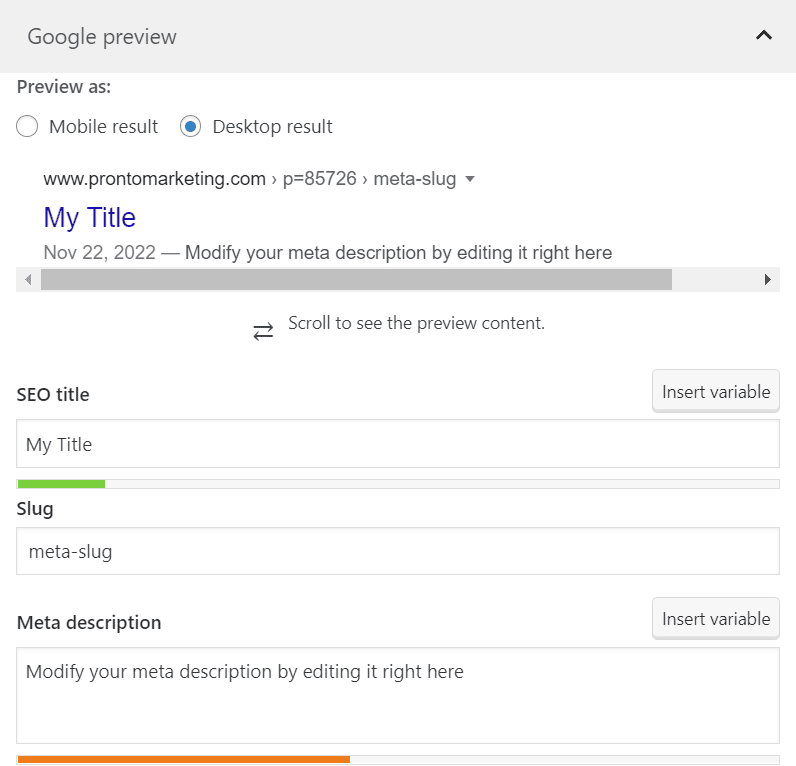 For the best results, try to keep your slug concise, and use hyphens between words, not underscores. Also it's better to avoid using capital letters, punctuation, or non-English characters in the slug.
Meta description
Your meta description is the brief preview of your web page that appears right under the SEO title. It's basically a summarization of what your article is about.
This is where you write something so compelling that searchers click on your result. Keep in mind that this section helps users determine whether or not your content is relevant to their needs, so be strategic with wording! You want to use relevant keywords while still sounding like a real person and avoid coming off as spammy.
The suggested length for a meta description is between 140-160 characters, but this might change in the future. It's best to play it safe by not writing less than 120 characters.
H1 Tags
The H1 HTML tag is the first header visible on a page and should be used for the title of that page or post. In HTML code, you can tell an H1 value by its  tags – <h1></h1>.
H1 text usually appears in a different format than regular body text to make it stand out more.
Every single page on your website should have one H1, appearing only once at the top of said page. Headings are essential; they give structure to your content and guide readers (as well as search engine crawlers) through what's important.
Alt Text
Alt text (also called alt tags or alt descriptions) are the written text that appears instead of an image on a website if the image doesn't load properly. This kind of problem happens more often than we'd like, so it's helpful to have this back-up plan.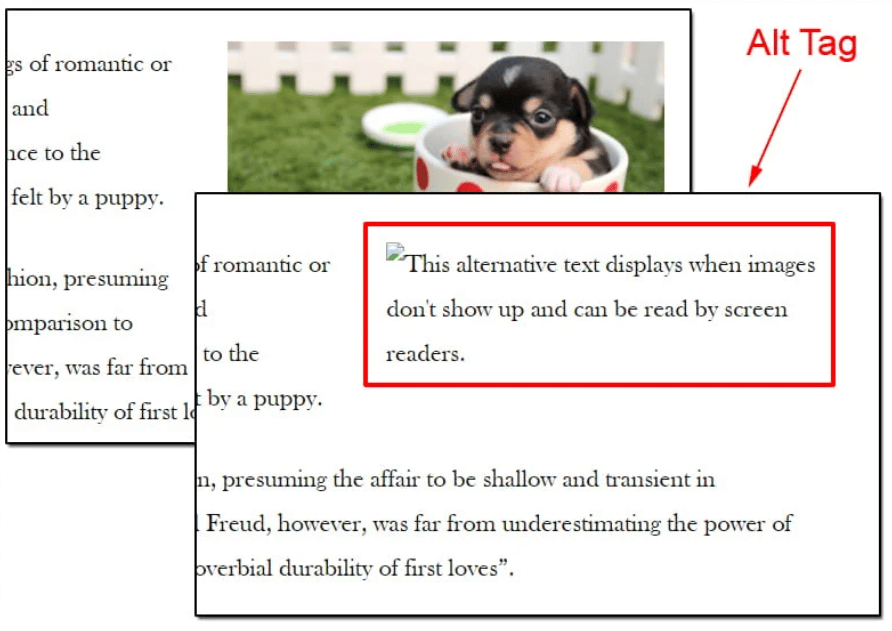 To add an alt text, right click on the image and a box will appear. From there, you can hit the edit button and a pop-up will show, prompting you to enter your alt text.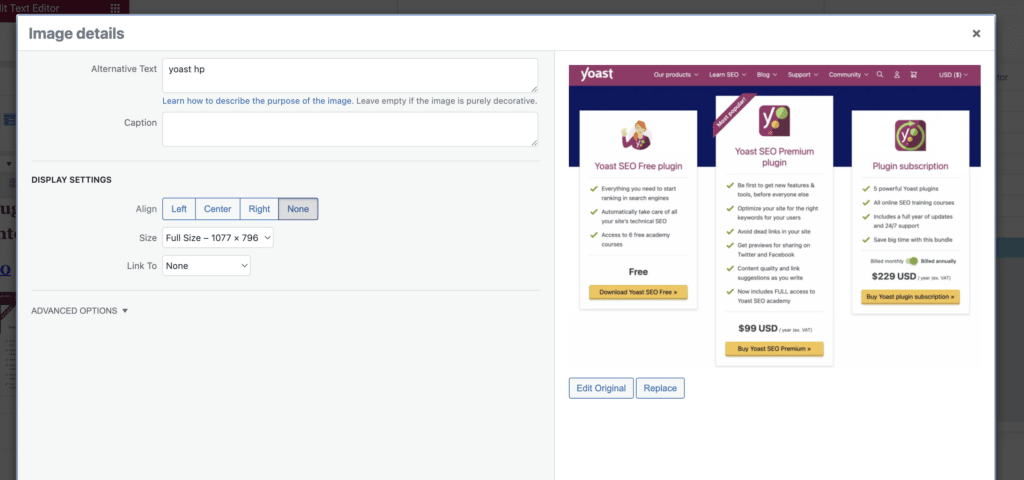 Not only does alt text help people who use screen-reading tools, but it also helps search engines rank your site better.
Keyword Optimization
Keyword optimization is an important element of SEO writing. A keyword can be a single word or multiple words that defines the topic of your content.
But how do they affect SEO rankings? When you use relevant terms frequently throughout your content, it helps the search engine crawler bot to detect what topics your content focuses on. So you need to optimize your content with relevant keywords.
The first step of keyword optimization is keyword research. Try to find the most relevant keywords with high search volume and low ranking difficulties. Then from the list of keywords, pick a focus keyword (or primary keyword) that best matches your content and has a higher possibility to rank.
The second step is to incorporate your chosen keywords throughout your content. Although there aren't any unbreakable rules about where and how often to use them, some common practices include using the focus keyword in the title, meta description, introduction, subheading, conclusion, and anywhere else it feels natural.
Content Optimization
The best articles are the ones that offer readers valuable information and help them solve a problem. If you want to be successful, it's recommended that you identify the specific problems your target market is facing. Then, produce content to help solve such problems; this will let you build an effective customer base quickly.
Competitor analysis might also be useful. You could use a tool like Link Explorer to find competitors who attract backlinks—which indicates they have a successful content marketing strategy.
Recommended SEO Plugins for Elementor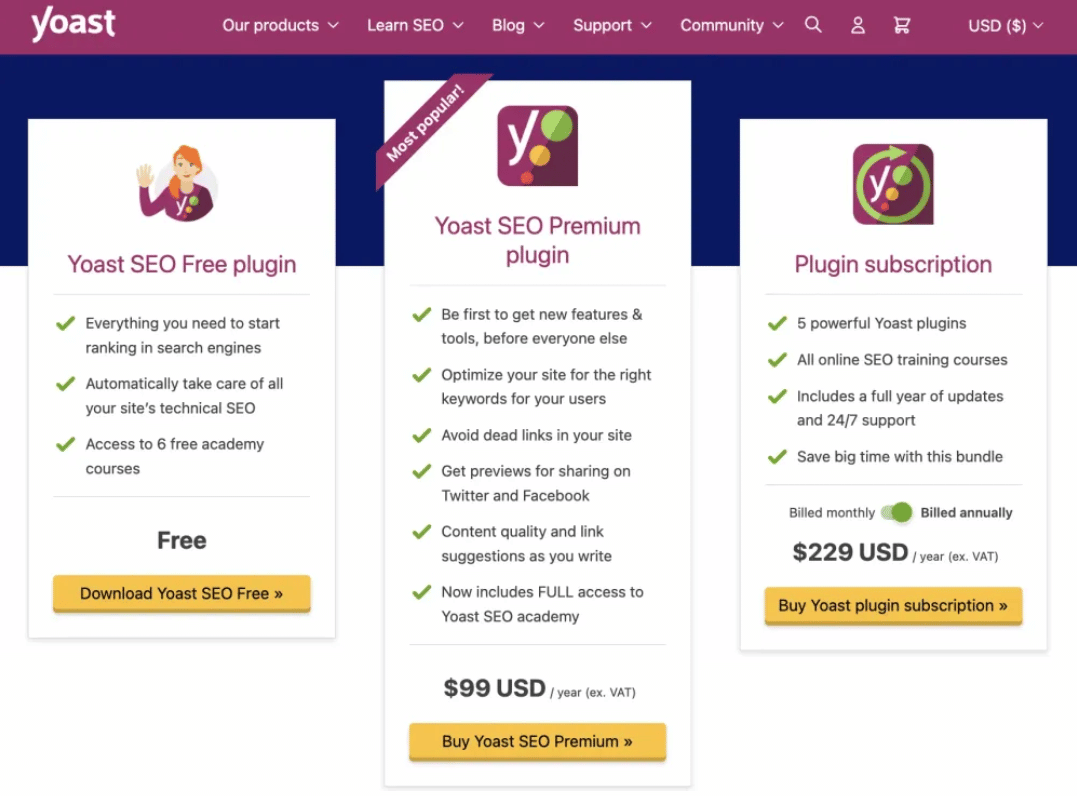 Yoast SEO is one of the best SEO plugins which has existed for a good ten years. According to WordPress.org, it is used by over five million sites and has received a 4.9-star rating on over 26,000 reviews.
It not only helps you optimize individual pieces of content for SEO but also offers helpful sitewide tools to manage your overall site's SEO efforts.
When you go to manage an individual piece of content, you'll get a new meta box where you can control that piece of content's SEO title/description and social graph tags (AKA how it looks when shared on Facebook or Twitter). You can also configure some other SEO basics, like whether or not to index this piece of content: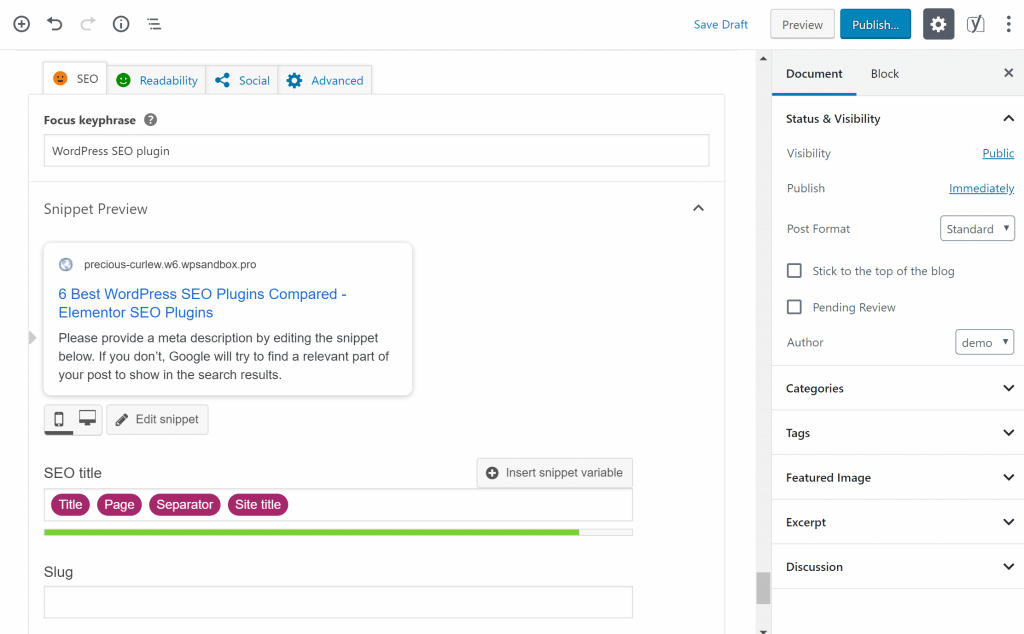 In addition to the Yoast SEO plugin optimizing your website for search engines, it will also analyze your content readability. Once finished, it provides suggestions on how to optimize not just for search engine ranking but also for real human beings that might want to read what you wrote: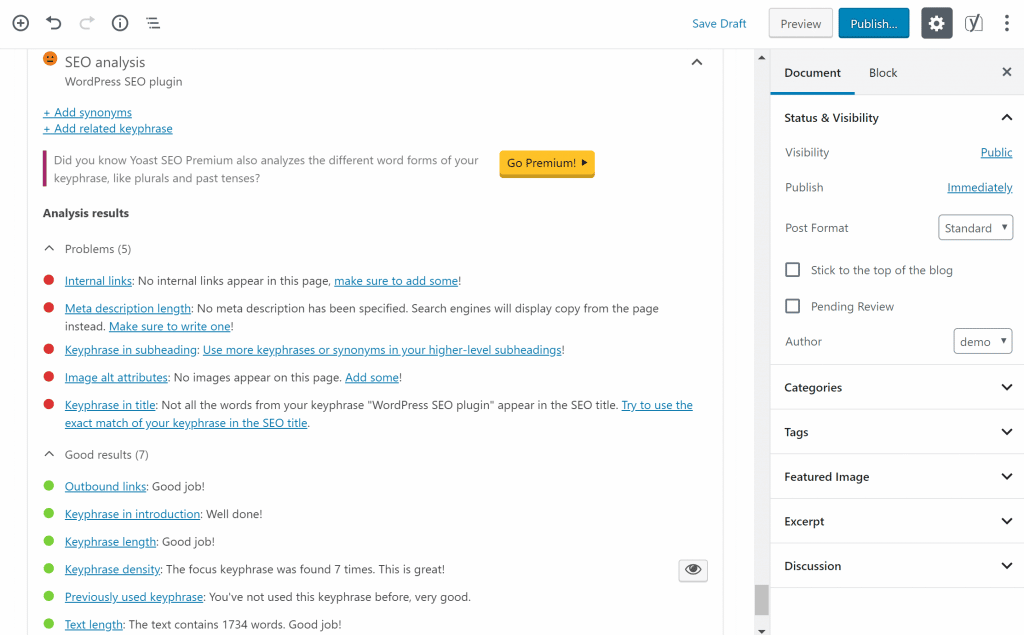 There are other plugins available that can help with SEO analysis, but Yoast's readability analysis is fairly unique. In addition to settings for individual posts, there are also a number of sitewide settings and tools:
Templates for titles and descriptions (although you always have the option to override these templates).
An internal link counter.
The "Cornerstone content" feature allows you to drive links to your most essential content.
Webmaster tools verification.
In-dashboard editing of .htaccess and robots.txt files..
Yoast SEO offers a free plugin option which should meet the needs of most websites. For those who want additional features, Yoast SEO also has a premium version that includes:
Internal link suggestions based on content in your post.
The ability to optimize for multiple focus keywords.
A redirect manager tool.
Schema markup support
Yoast SEO Premium starts at $89.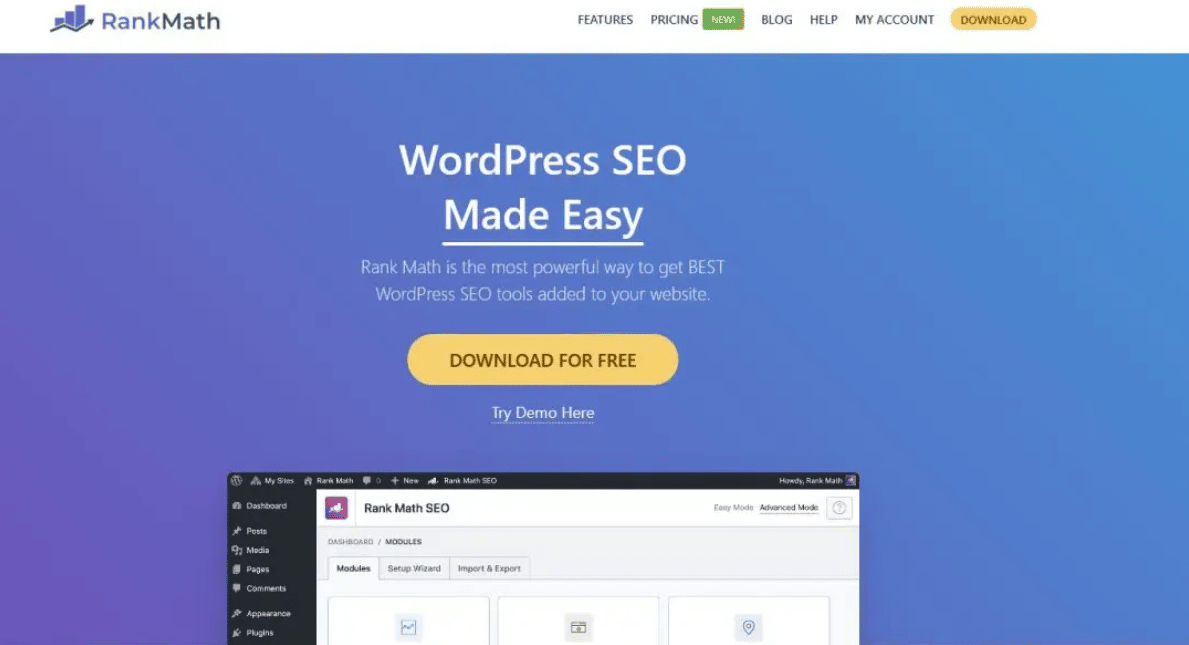 RankMath is a feature-rich WordPress SEO plugin from popular WordPress theme and plugin developer MyThemeShop. It has quickly grown in popularity, with over 60,000 active installations and a 4.9-star rating on over 400 votes.
Similar to Yoast SEO, Rank Math not only assists you with the technical elements of SEO, such as titles and meta descriptions, but it also provides analysis and research.
For every new piece of content, Rank Math presents a meta box where users can input titles and descriptions, as well their focus keyword for analysis. Afterwards, Rank Math will evaluate the post according to 40 different factors related to the focus keyword and give recommendations on how to improve (or tell you what you're doing right).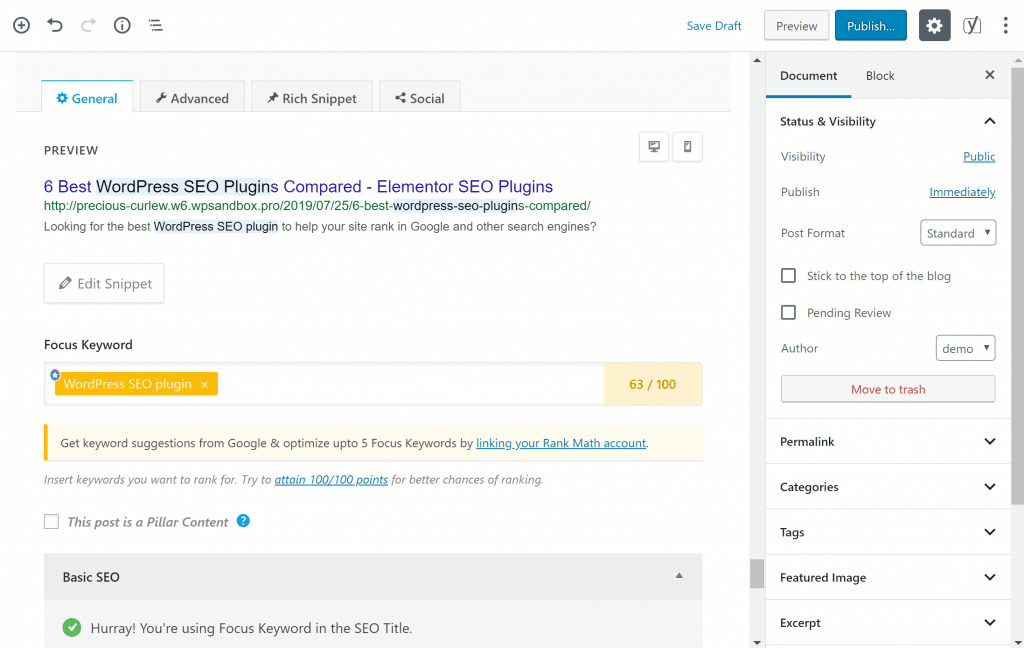 Besides titles and meta descriptions, Rank Math can also help you with social media graph tags so that you have more control over how your content appears on social media sites. Another helpful feature is its ability to automatically optimize images for SEO by adding alt and title attributes: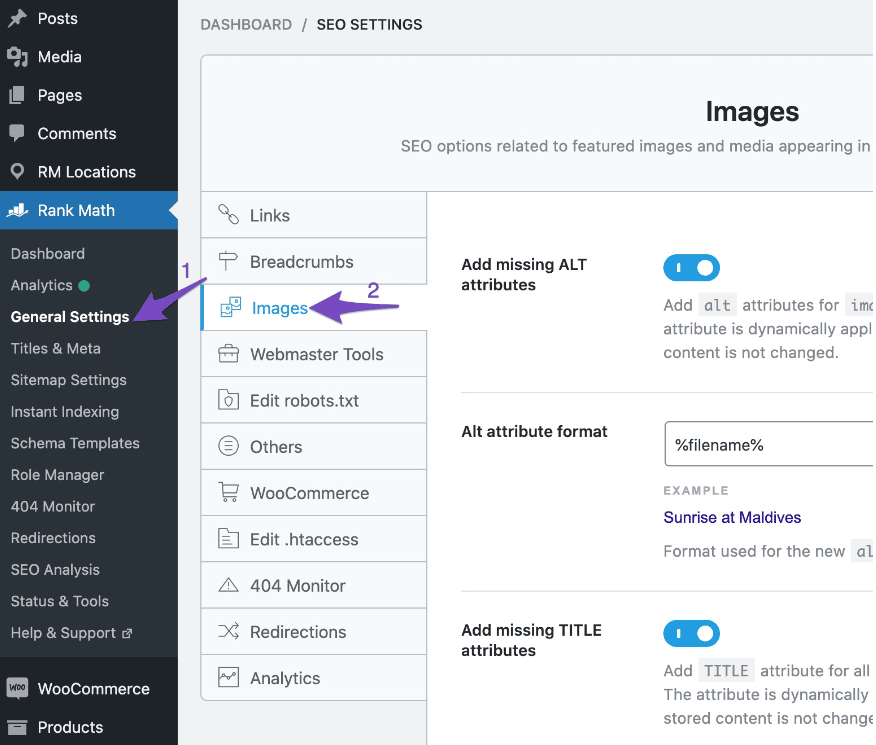 Not only does Rank Math aid you with SEO for single pieces of content, but it also provides support for:
XML sitemaps.
Google crawl errors.
Redirects (through an in-dashboard redirect management tool).
404 error monitoring.
Webmaster tools verification (for Google Search Console, Bing, Alexa, Yandex, and Pinterest).
/.htaccess file management from your dashboard
Rank Math is a free plugin that offers tons of features, like displaying Google Search Console info in your WordPress dashboard, keyword comparison via Google Trends, news and video sitemaps.
The developers are also working on more features to add in the future. Rank Math is currently the most generous free plugin when it comes to functionality.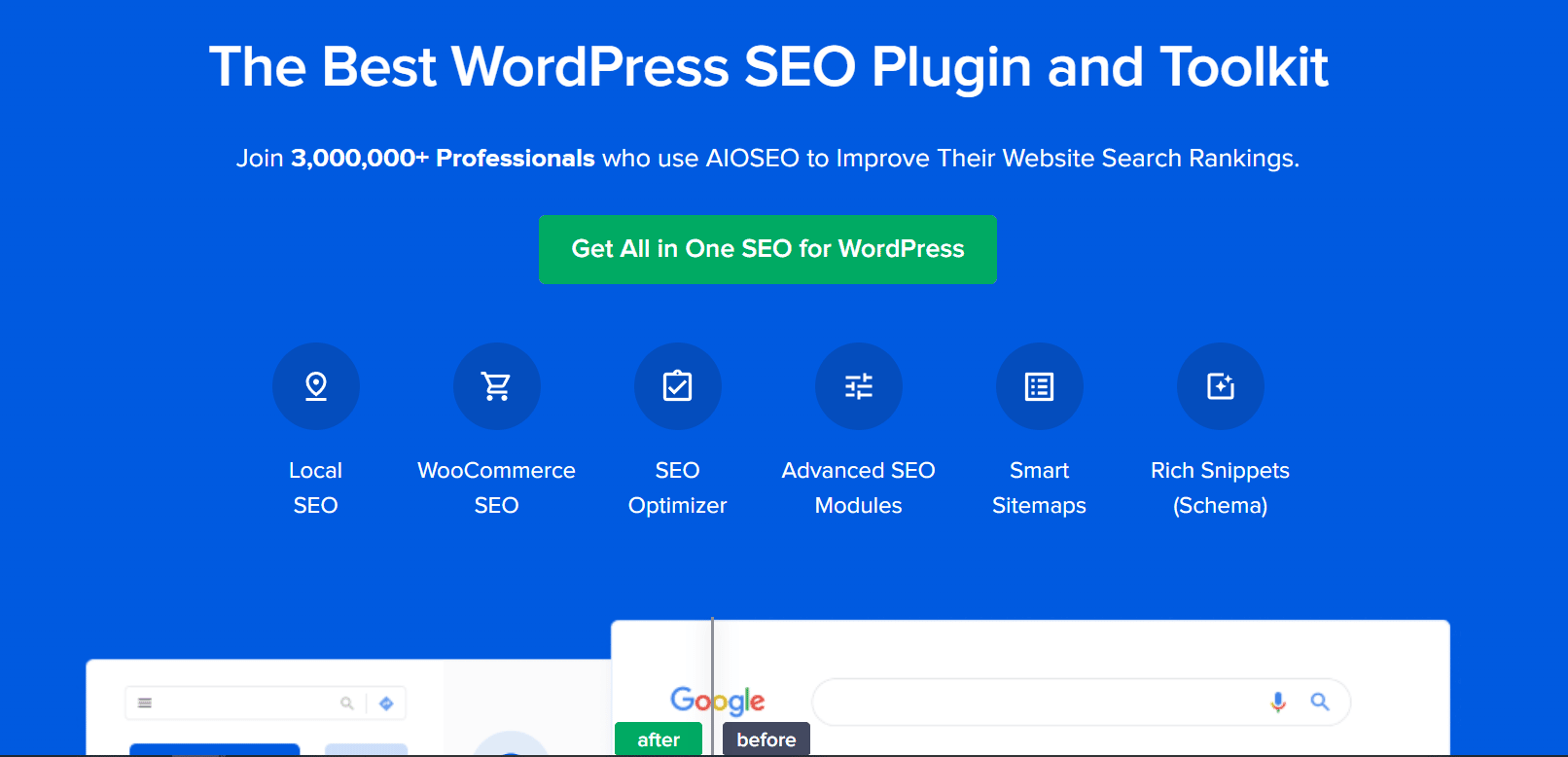 After Yoast SEO, All in One SEO Pack is the second most popular WordPress SEO plugin, with a 4.4-star rating and over 2+ million active installs.
While Yoast SEO and Rank Math both help you analyze your content for SEO, AIOSEO only helps you set up the technical aspects of it.
If you are new to SEO, this plugin might not be the best choice for you since it mainly provides suggestions on how to improve your content from an SEO standpoint. However, if you already have a good understanding of what constitutes good SEO and just need some help with the technical aspects (like optimizing titles and descriptions), then this plugin is a great option.
You'll get a more streamlined meta box for each piece of content, which lets you control SEO titles and descriptions, as well as social media information: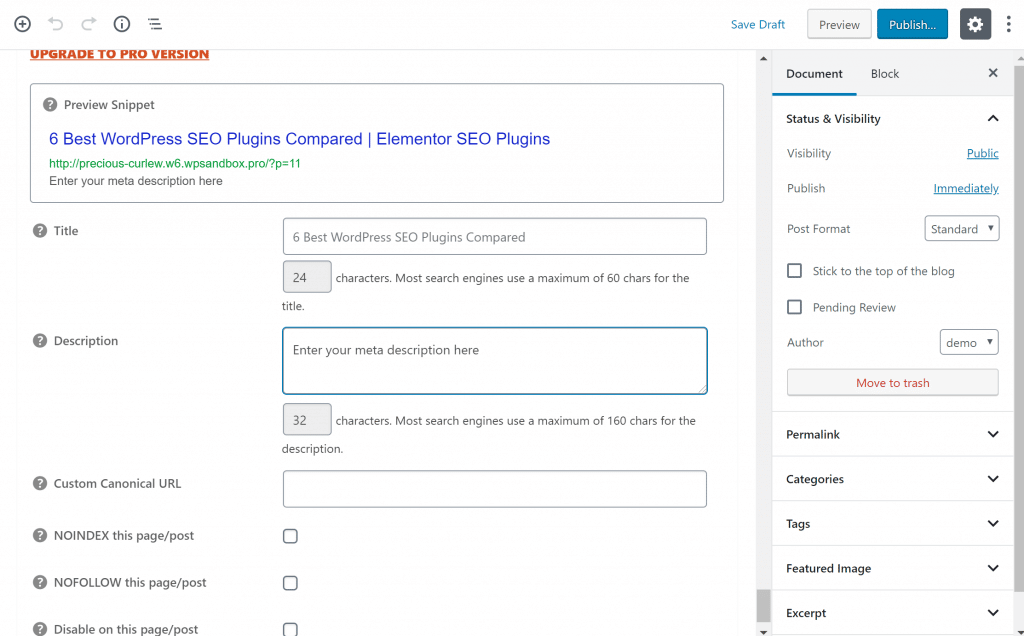 In addition, you get modular sitewide features like:
XML sitemaps.
In-dashboard file editing for robots.txt and .htaccess file.
Webmaster tools verification, as well as Google Analytics integration.
Google Sitelinks search box support.
This is all available in the free core version. There's also a premium version starting at $97 that adds support for features such as:
Video sitemaps.
Advanced WooCommerce support.
SEO for taxonomies.
Just as with Yoast SEO, most users should be okay with the free version.
Conclusion
Elementor is a fantastic tool to run your website, and it feels natural to use. However in SEO, it can be pretty awkward unless you have the right plugins to assist you. With plenty of great choices such as Yoast, RankMath and AIOSEO, you can get down to the business of optimizing your Elementor website pretty quickly.
If you would like a dedicated team of website design pros and SEO specialists to build or make over your website, schedule a conversation today.