AdWords is a great source of new leads for small businesses, but it can also be a complicated system that takes a great deal of effort to build success with.
Google makes it incredibly easy to get started with AdWords — just enter your credit card info, pick some keywords, insert them into an ad, and you're off! However, no successful campaign was ever created in just a few minutes.
We took a look at Google Adwords Campaign performance data across dozens of our clients that manage their own versus our clients who let us manage AdWords campaigns for them. The results were striking.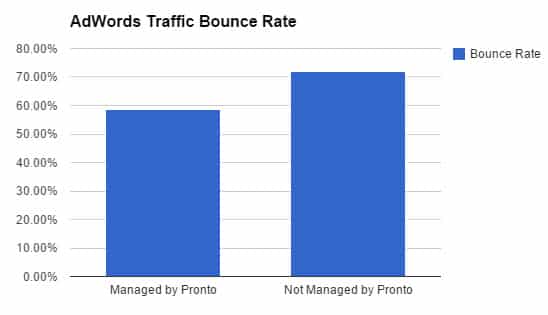 Bounce rate is the percentage of visitors who navigate away from your site after viewing only one page. The lower the bounce rate, the more engaged visitors are with the content. From the results we collected, clients who managed AdWords traffic on their own had around 15% higher bounce rate than clients that let Pronto manage their AdWords.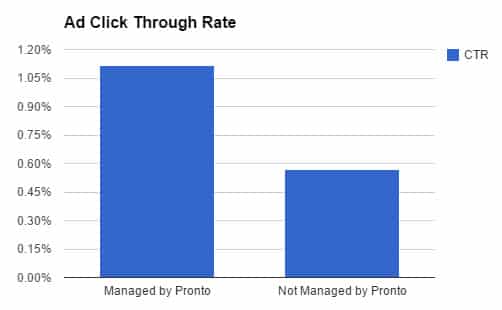 Click-through rate is the number of people who saw AND clicked on your ads. Higher click-through rates mean more convincing ads. As we can see from the performance data, clients with AdWords managed by Pronto received twice as much click-through rate when compared to their counterparts.
So, what's our secret? AdWords success comes down to two main things: thoughtful planning and ongoing adjustments based on hard data.
---
Start with planning your campaigns
#1: Research keywords
Tools, such as Google's free AdWords Keyword Planner, are the key to getting the nuts and bolts of your advertisement's content right.
Begin by brainstorming your own list of keywords you think are relevant to your industry. Make sure you select general keywords about what you do — like "IT Support" — as well as keywords that describe how you do it — like "Cloud Backup Solutions". Dump your list into the Keyword Planner and you'll get an expanded list of keywords along with data on how often people search for them and how many competitors are also targeting those keywords.
Next, carefully review the expanded list and eliminate irrelevant keywords. This is a basic overview of the keyword research process.
In reality, you should read this in-depth guide on keyword research by Backlinko before finalizing a campaign. For a beginner guide to choosing the right keywords, read AdWords 101: From choosing keywords to improving your click-through rate.
#2: Organize similar keywords into campaigns and ad groups
Don't just copy and paste your list of keywords into one AdWords bucket. You need to organize them into campaigns and ad groups.
For example, IT Consulting, IT Consulting Services, and IT Consulting Companies should all be in the same ad group, whereas Cloud Service Provider would be in another. Segmenting your keywords like this will make it much easier to analyze your data later.
#3: Create ad text specific to keywords within an ad group
Each ad group should have at least one ad text that specifically mentions the topic of that ad group. This will improve your ad Quality Score (a metric measured by Google) and will allow the searcher to easily connect your ad to their search phrase.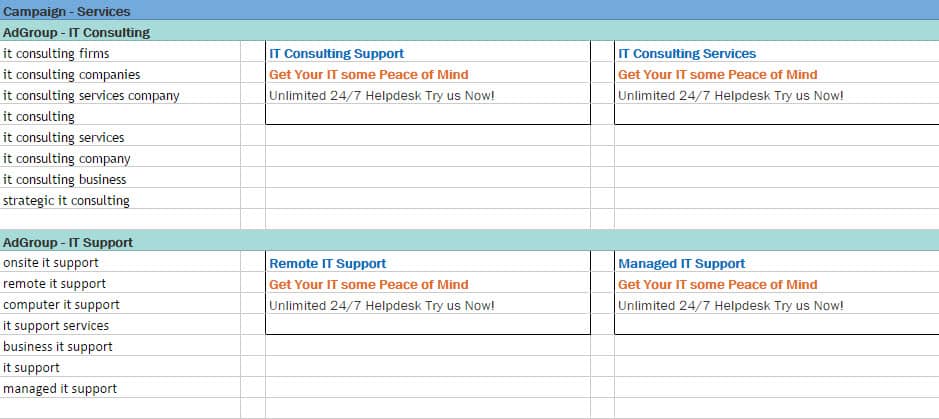 #4: Link ads to landing pages that cover the same topic as the keywords in an ad group
Sending the people who click on your ads to pages that cover a similar topic as the keywords within each group will help your Quality Score. This may sound like a no-brainer, but as your ads become more specific, it will be tempting to link ads to pages you already have (rather than go through the hassle of making new pages). The less related your ads are to your landing pages, the less likely visitors are to convert.
So for example, if someone searches for "IT Consulting Services," and they see an ad for "IT Consulting," that ad better not link to a page for "IT Support".
#5: Use Exact Match targeting
Exact Match targeting (as opposed to Broad Match or Phrase Match) means your ads will appear only when someone searches for the exact keyword you've targeted in your campaign.
This is especially helpful for small businesses that are new to AdWords because it gives them greater control over their ads and prevents them from wasting money on irrelevant phrases. Once you gather data about how your keywords perform, there might be instances where using a broader match setting will be useful.
#6: Use location targeting
If you provide services within a confined geographic area, make sure your campaigns are set to display ads only to searchers within that area. Otherwise, you'll end up paying for clicks from people who you can't provide services for.
With all that said, planning can only get you so far. The truth is, you won't know how your campaigns will perform until they are launched. The most important thing is to monitor your AdWords dashboard after the campaign launch and use that information to make adjustments that will improve your overall performance.
---
Optimize your campaigns after launch
#7: Track everything!
Make sure you have Google Analytics (or another analytics tool) installed on your website. If you're a Pronto client, we've already set your site up with Google Analytics.
We also recommend using a call tracking solution to determine the source of calls that originate from your website.
Regardless of where it comes from, the more data you have, the better you'll understand how your campaigns are performing. Within Google Analytics, you can track bounce rates, time on site, and conversions, to determine the strengths and weaknesses of your campaigns.
If you're new to Google Analytics, read our blog about understanding Google Analytics.
#8: Pause underperforming keywords
Regularly check the performance of keywords for each of your campaigns. In the early stages of a campaign, this should be done every day. Once things are under control, you can scale it back to 2–3 times per week.
Watch out for keywords that are attracting traffic but not conversions, or keywords with high bounce rates. You're paying for those clicks so if they're not turning into leads or sales, pause those keywords right away!
#9: Adjust bids for optimal ad positioning
When reviewing your campaigns, pay close attention to the positions your ads are appearing in. Sometimes, when keywords have a very low click-through rate, it's because the ads they appear in are too low on the page.
Try slowly increasing your bid over a few days until the ad moves to a higher position, which should translate into more clicks.
#10: Ad variation testing
Always be testing! Within each of your ad groups, make sure you are always running at least two different ad versions.
Once you've collected enough data to decide which version is performing better, get rid of the loser and add a new variation into the mix. This allows you to make incremental improvements throughout the lifetime of your campaign.
#11: Expand your keyword list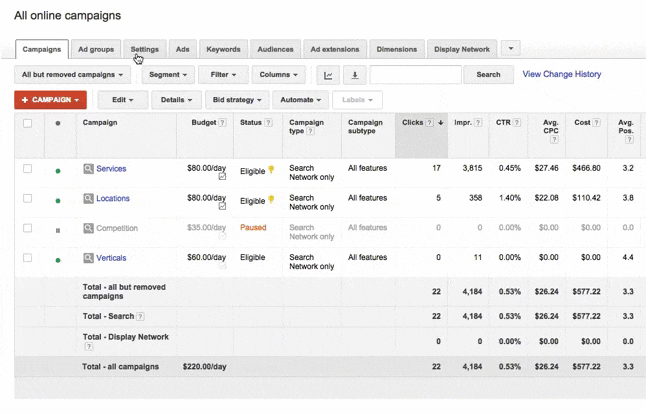 When you notice keywords that are driving quality traffic and conversions on a regular basis, consider expanding them from Exact Match to Broad Match. This will allow your ad to appear for more search phrases, which should mean getting more traffic. If you do expand to Broad Match, make sure you keep an eye on which phrases are sending traffic.
When you see any that are irrelevant to your business, add them to your negative keywords list by going to the Keywords tab in AdWords, selecting All from the Details Dropdown menu and selecting the irrelevant keywords before clicking Add as negative keyword.
Detailed instructions on managing negative keywords can also be found here.
---
The results of good planning and optimization
Here's an example of an existing AdWords campaign our team took over from a client. We started by diving into the campaign's performance and following our optimization procedures and making changes based on data we collected.
In a few months, we were able to quadruple the click-through rate of their ads.

And after about six months, we were able to reduce this client's average cost per lead from AdWords by over $100. This company now spends $1,000 less per month on their ad budget than when they first came to us, but still receive the same amount of leads from their campaigns.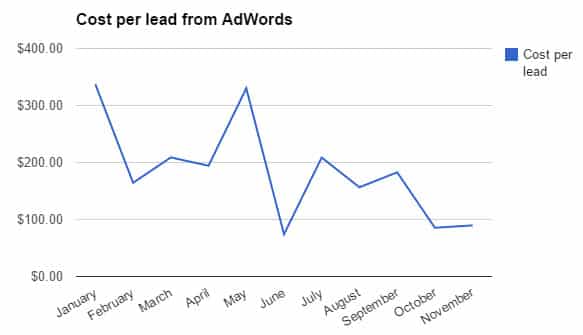 AdWords is an extremely nuanced marketing platform. With a regimented process for building and managing your campaigns, success is within reach for businesses of all sizes. As always, if you have any questions about how to get started with our Google AdWords campaign management service, don't hesitate to get in touch with our paid search experts for a free consultation.