Background
Digital Boardwalk specializes in Managed IT Support, providing Cloud Computing and Network Security in Pensacola, Lakeland, Panama City, Mobile, Gulf Shores and Montgomery.
The Project: Google Ad Landing Page Update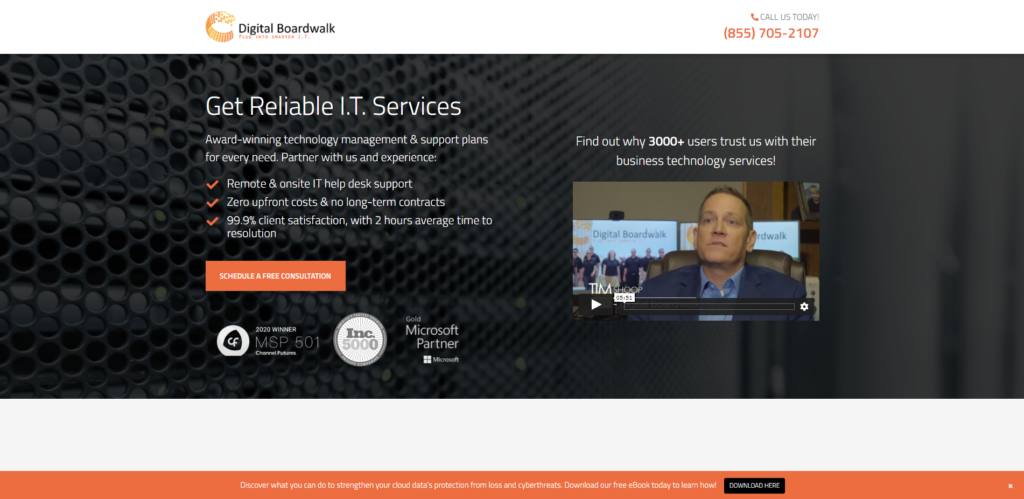 Digital Boardwalk shared their own design mockups, outlining their preferred design layout
Digital Boardwalk operates in a competitive market and has been running Google Ad campaigns for its IT services and support offerings.
Feeling like their campaign landing pages needed a facelift to increase conversions, the Florida-based firm leveraged Pronto's Website Support service to implement their desired changes.
Digital Boardwalk had two design mockups for each of their landing pages designed internally, outlining their preferred layout which allowed for a faster production process.
Support Tip: If you don't have your own design, Pronto can handle your request from scratch. But it's always a good idea to outline your main points as much as possible in a shareable doc.
The Website Update Request
An email to Pronto Support got the project started:
Hello,
We need to update a couple of the existing landing pages we have for our Google Ads.
I've attached 2 separate folders for each page with a mockup of what we want the pages to look like once updated, as well as the related assets and a text document explaining the details for each.
The URLs we need to update are https://www.digitalboardwalk.com/lp/it-services/ and https://www.digitalboardwalk.com/lp/it-support/
Please let me know if you need any further information from me to get started on this.

If possible, we'd like to preview the pages before taking it fully live so we can make sure everything looks good and set up our tracking.
Thank you!
Pro tip: It's better to organize your landing pages under a parent page — it will help with tracking traffic and goal conversions and Google Analytics.
Project Breakdown: Client Preparation & Participation Leads to a Swift Outcome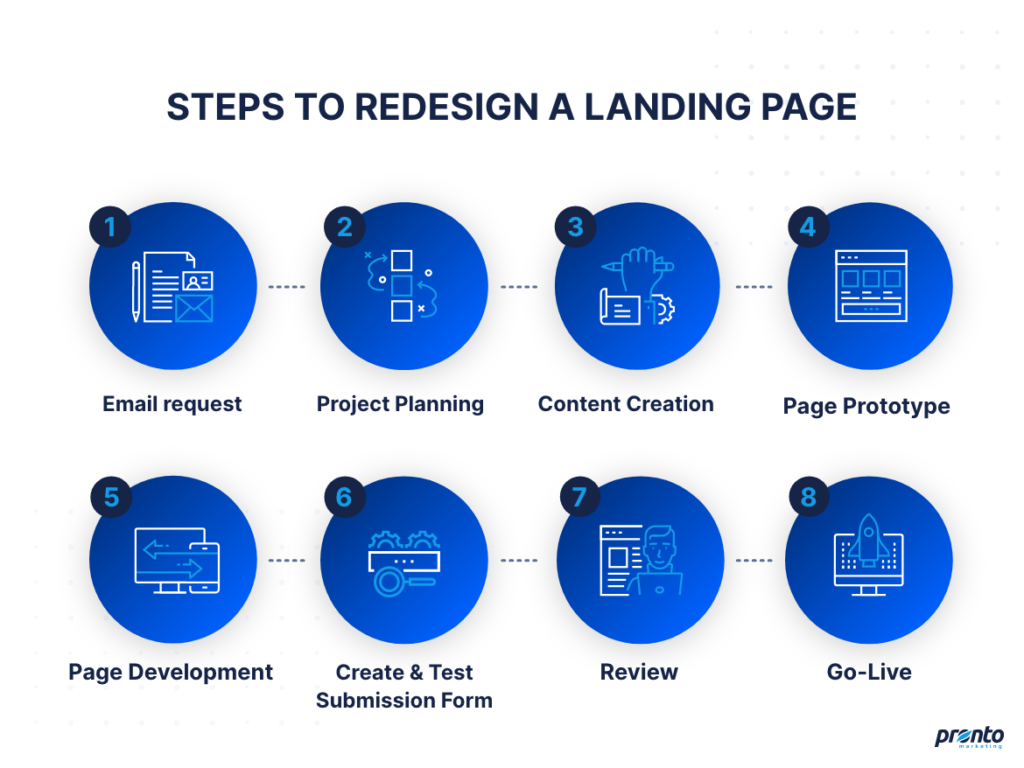 After validating the design mockups, our team bypassed steps two, three, and four of our process (see above) and moved immediately to page development.
Once done, we delivered a page demo for each of the IT firm's pages and took feedback.
In a swift round of revisions, Digital Boardwalk requested to resize and reposition its logo as well as update the phone number in the header. Our support team made the changes immediately and sought final approval.
Thanks to the IT firm's preparation and active participation throughout, the new landing pages were approved and published live on the site in less than two weeks.
CRM integration options:
Embed your CRM form directly on your landing page
Use a plugin that connects your form to your CRM
Use a third-party integration tool such as Zapier
Project Outcome & Next Steps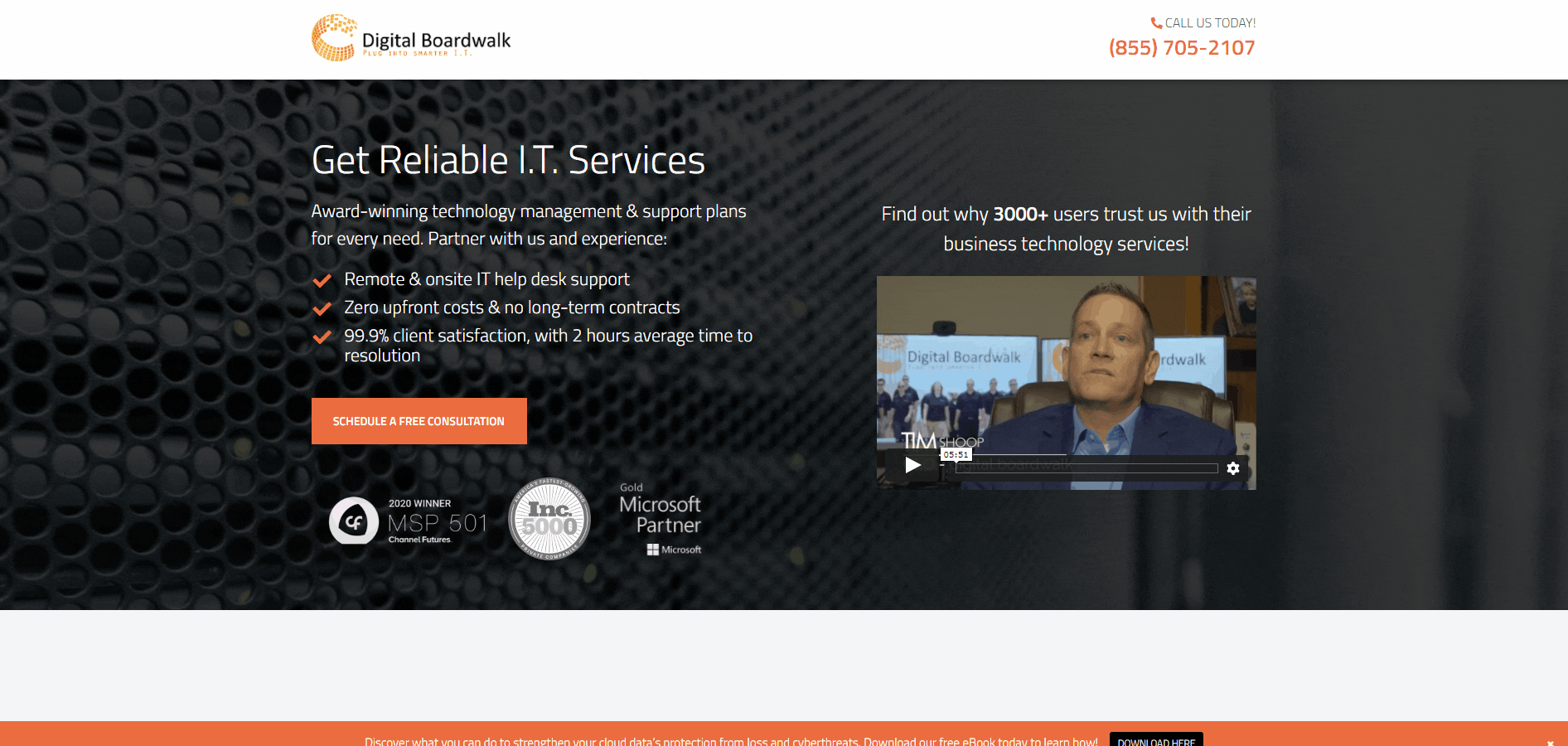 Digital Boardwalk ad prospects are now met with two new landing pages that are optimized for conversion
Landing pages are often enough the first page on your website that a visitor sees, which means they are your most powerful chance to make a pitch for your services. With this in mind, Digital Boardwalk wanted to put its best foot forward and do so quickly.
After working with Pronto Support, Digital Boardwalk now has two new Google Ad landing pages with impactful, high-converting content elements to entice their prospects.
The new pages look fantastic! Thanks for all your help on this!" — Kina Robinett, Marketing Manager.
Pronto's WordPress Support team can help you transform your own service pages, or complete any other website edits or projects you have in mind — all for one monthly fee!
Request a free consultation, or if you're already a client – submit your support request here.