Do you find it hard for your MSP company to stand out? 
The Managed IT Services industry has become overcrowded in the last five years. So what can you do to take over the competition?  
Let's face it: Every MSP claims to provide the best customer service or cloud back up solution. So sayin' it ain't so…
What can you really do to position your brand as unique? The short answer: You become a leader by showcasing your expertise.
Thought leadership is one of the few remaining differentiators that can truly make you unique from the competition. But it can't be the same old materials.
Your prospects are looking for someone with a strong record of success that provides value and high-quality service to their customers; they want a partner who can keep up with changing market conditions and regulations. You can present that image with the right lead magnets.
Let's look at three educational marketing offers that only an MSP can offer, and that will help you stand out in what is likely a crowded local marketplace. 
Educational Marketing Offers By Managed Services Providers
1. eBooks
eBooks are a dime a dozen these days. You can find templates, white-label copy from vendor partners, and thousands of spins on the same topics on your competitors' websites.
So, how do you write an eBook that stands out and provides actual value to your prospects? You ask them what they need to know. 
Not all markets are the same in terms of industry or geography. The questions you get if you work exclusively with medical offices are probably different from those you'd get if you worked with law firms and ad agencies.
Ensure the eBook you create is something unique to you as an MSP and that speaks to your target audience's problems. Here's how:
Start with a clear idea of what you want the eBook to do

– Is this designed to solve a common problem for ALL prospects? Or is it designed to help people choose between you and another provider? What level of the funnel are they at? 

Talk to your customers and review your feedback data –

What are people asking about? If you're building a top of funnel educational eBook, what questions are people asking related to security updates, cloud conversions, or backup restoration? What can you help them with? If they're asking frequently similar questions about your services, what kind of eBook can you write that addresses those questions more directly? 

Is it valuable enough to solicit an email address? –

Are you giving them something they can't get elsewhere for free? If you essentially rewrite the latest article from an IT services magazine, it's not enough. It needs to have your personal spin on it. 
Keep in mind that a good MSP ebook aims to provide value, introduce your company, and showcase your unique selling proposition. If you don't do those three things, the content isn't strong enough to stand on its own. 
A recent Website Build by Pronto for Stratus Technology Partners shows a great example of an ebook download element your homepage should have.
2. Downtime Calculator
One of the easiest ways to show your prospects the value of what you do is with math. Calculating exactly how much money they stand to lose through downtime and illustrating what your company does to avoid that downtime.
Here's an example of a downtime calculator for MSPs: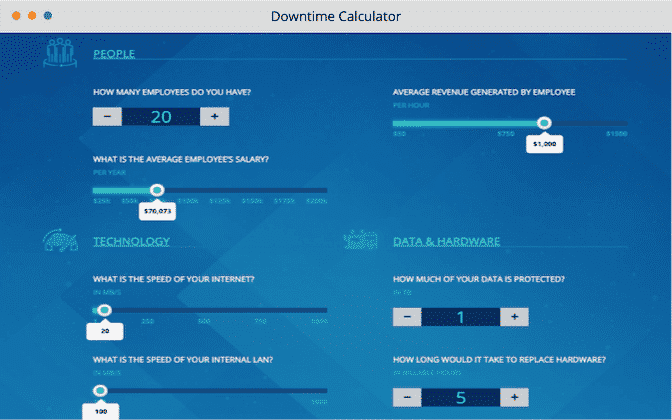 The tool does three things:
It shows exactly how bad things are if systems go down when under a deadline or working with limited resources. 

It can show the total cost of that downtime, plus the repair to fix it, making for easy comparison against the cost of retaining an MSP.

It provides a measurable result that can be shared with management internally, which simplifies the buying cycle.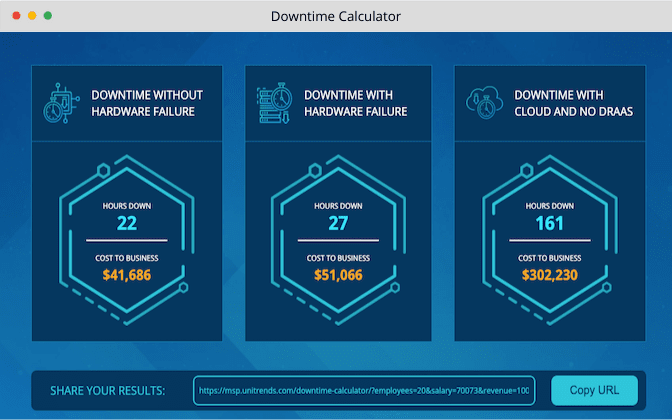 Is the downtime calculator more work than an eBook? Yes, but the value it provides to prospects, especially if they are not the final decision-makers, is immense. 
Struggling with marketing? Get help with Pronto's Marketing Blueprint
3. Situational Case Studies
Every business should offer case studies that showcase the hard work they've done for their clients, but an MSP has an advantage that other industries don't. The sheer range of different situations in which your services are essential.
Your website should feature case studies that focus on several different business issues that your non-technical prospects will understand.
Remember, these are not IT people. They are office managers and small business owners. They have concerns and want a partner they can trust, but don't particularly care how the sausage is made. They just want to see results. 
Anyhow, your case studies should focus on the following:
Productivity improvements

Downtime reductions 

Actual revenue increases or recaptures

Repair reductions and cost savings
If you can talk to people in terms of the two things they care most about (time and money), it will resonate far more than how technically sophisticated a particular installation was. At the same time, you can highlight emergency work, long term retainers, short term migrations, and everything in between.
All are situational to your clients' needs and likely to resonate for different prospects you're targeting. Combine this with live customer satisfaction data, and NPS averages and you'll blow them away with the information you already have. 
Ready to promote your MSP? Check out our MSP Marketing services
Building a Library of Valuable Content
As a Managed Services Provider, you have a huge advantage in content development for marketing campaigns. You have lots of data in hand already like survey responses, questions from sales calls, documentation around common questions, and more. 
By leveraging that data and building lead magnets designed specifically for your audience, you can capture a higher percentage of traffic on your website, build stronger relationships with new leads and establish your company as a thought leader in the industry locally.
On the other hand, if your website and marketing are out of sync, then Pronto Marketing is the way to go.