Your business is constantly changing, and your website should evolve with that change. Making incremental improvements along the way will instill an accurate representation of your business online indefinitely.
What are those incremental improvements? There are many, but we broke down our top seven actions to keep your WordPress website in top shape.
7 Actions to keep your WordPress site in high-gear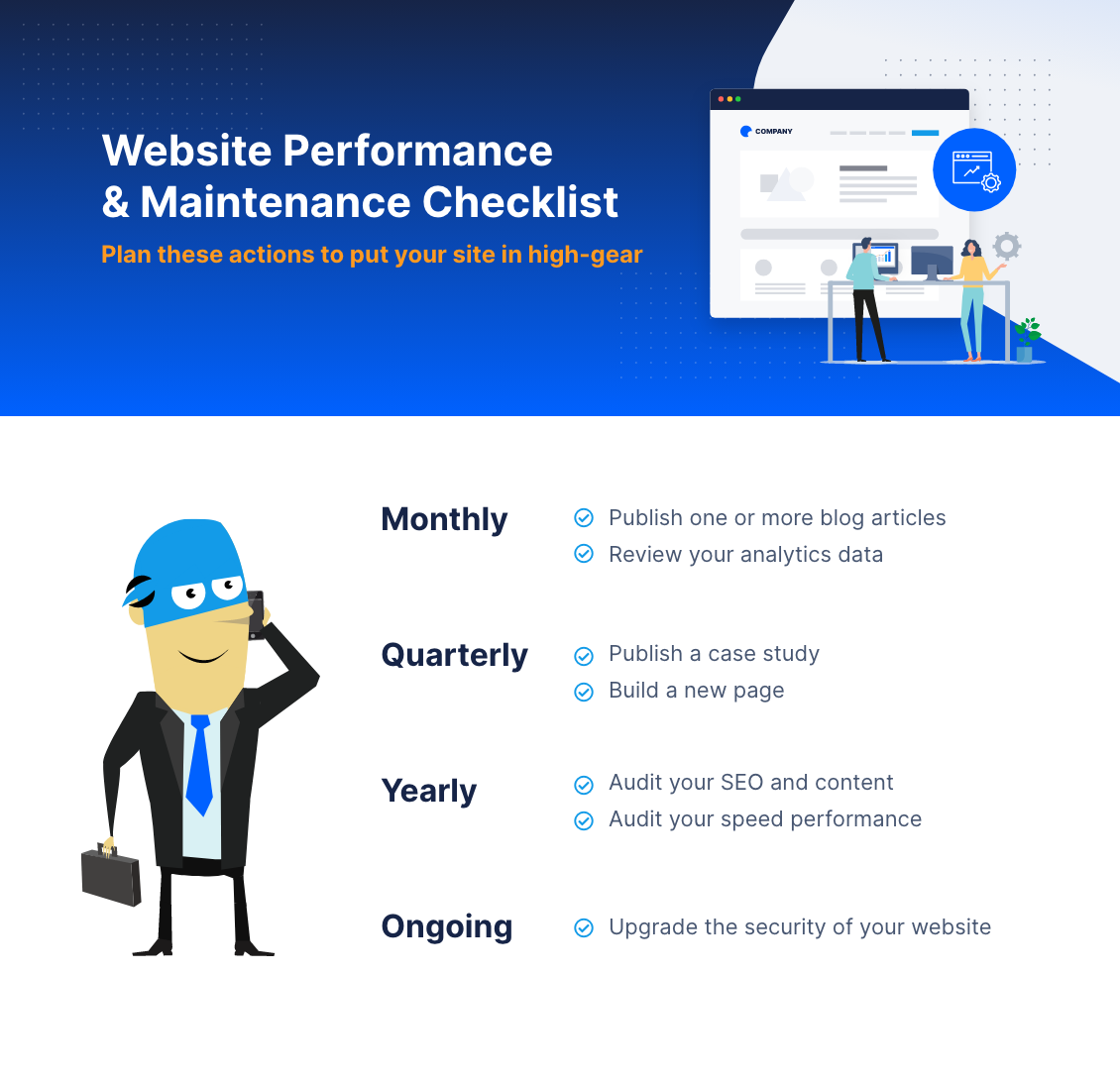 1. Publish one or more blog articles (monthly)
Pieces of content are like the building blocks of your online presence. Publishing at least one blog article per month is a good baseline target, but aiming for two or three will ensure that you have more than enough fuel for your marketing engine.
Blog articles work to bring in top of funnel traffic to your website by serving as an educational resource that people can find on organic Google search results. You can also use them as downloadable items like ebooks, which can be leveraged for lead generation, email campaign fodder, and landing page content for ad campaigns.
The more content you produce regularly will earn you more traffic from organic search results and give you more reasons to reach out to your prospects or existing clients.
Build a content development process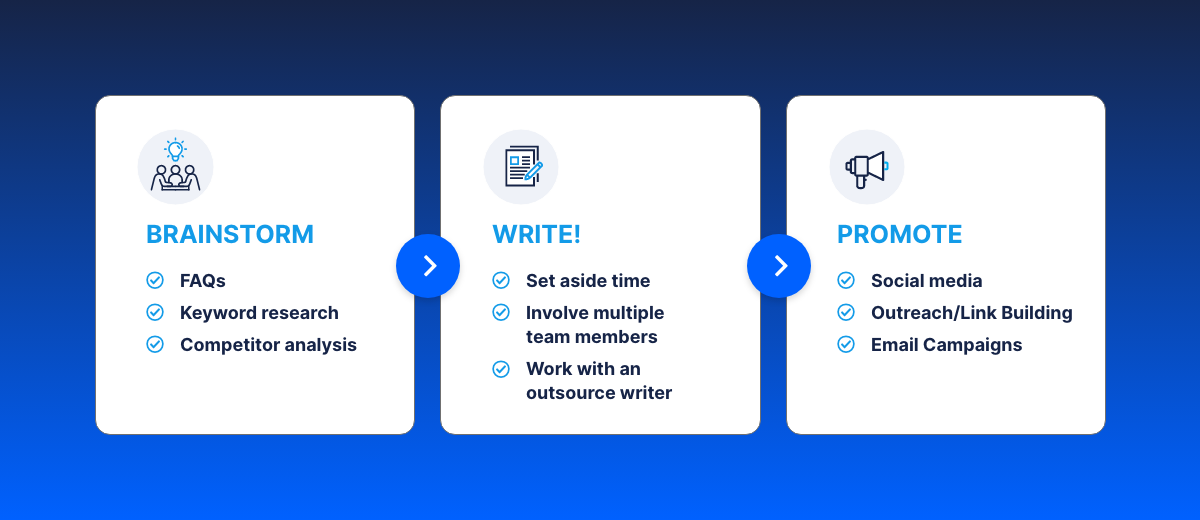 Brainstorm
Before you get started, the first thing you need to do is brainstorm the topics you want to write about. There are many fancy ways to do this (keyword research, competitor analysis, etc.), but the best way to generate ideas is very simple: gather your team and ask them about the most common questions asked by prospects and clients.
With a little bit of brainstorming, you should be able to generate a decent chunk of ideas that will fill up a content calendar for several months.
Write
Writing can be very time-consuming, and we're all busy with other things that go along with running a business. It's not always easy to find the time to sit down and write several hundred words about a topic, but there are a couple of ways to ease the load.
One is to involve more of your team members. Perhaps you have other experts around your company that are knowledgeable and capable of writing blog articles. Another method is to hire an outsourced writer. But avoid just throwing a topic their way. It's best to prepare a detailed outline first.
Promote
The last piece is to promote your blog article. Writing articles themselves aren't necessarily going to bring in a ton of traffic alone or magically solve any marketing challenges you have. You must get the word out there, and there are many different venues to do so, but here are three:
Share on social media
Launch email campaigns
Engage in link building
2. Review your analytics data (monthly)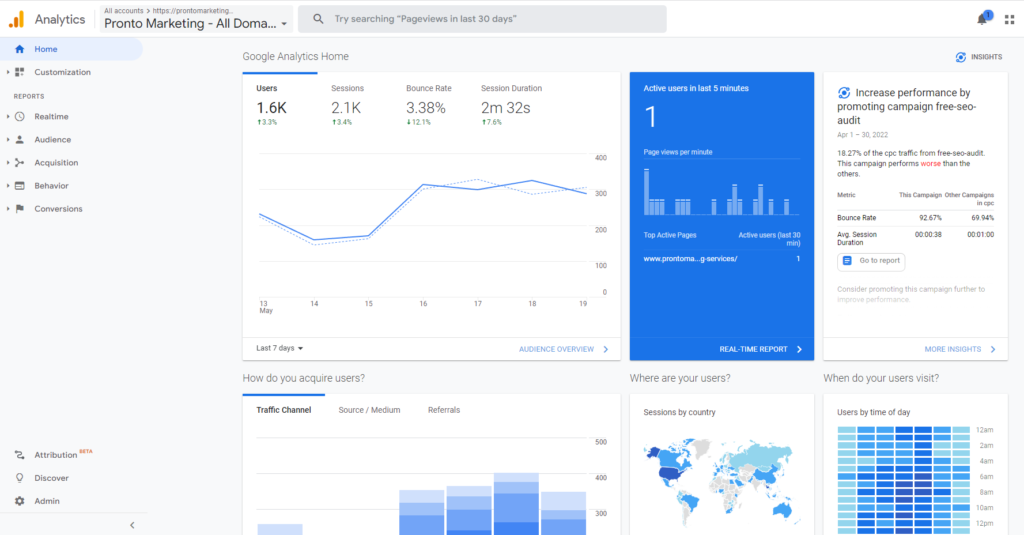 Traffic data analytics can really help inform your website marketing decisions. Tools like Google Analytics give you a ton of information about which pages bring in a lot of traffic, whether your visitors are converting into leads, which traffic sources or types of audiences are arriving on your website, and whether or not they are engaging with your site.
All that helps you make decisions about what topics are most important for you, or which pages are struggling and perhaps need to be reworked. Here are three basic reports in Google Analytics that you should be reviewing on a monthly basis:
All Channels Report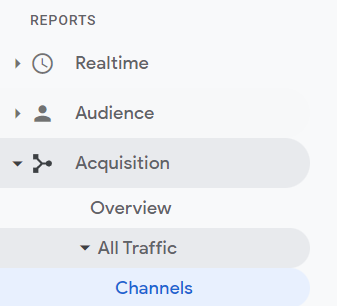 Acquisitions > All Traffic > Channels
This report tells you how people are arriving on your website. There are a few big categories here:
Organic Search means the visitor typed something into Google and scrolled through the results and found your website
Referral means the visitor came via a link from another website
Paid Search refers to someone who clicked like a Google Ad
Direct lumps anything that doesn't fit into one of the other categories
With all this, you want to keep an eye on how your traffic is doing overall. Is traffic trending up or down? Is there something you should be worried about? This is the high-level overview of your website that you need to be keeping tabs on at all times.
All Pages Report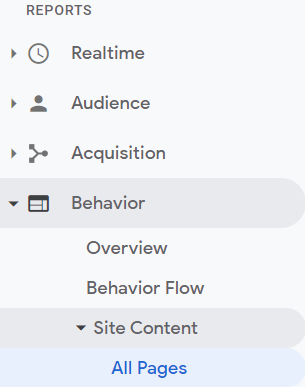 Behavior > Site Content > All Pages
This report tells you how many pages views all your site's various pages are getting. If you have a blog, for example, that is among your top-visited pages, that's a good hint to write more about that topic.
You can also see how visitors behave once they arrive on a page. One big thing to look at is the Time On Page. Sticking with the blog post example, if someone is remaining on that page for let's say seven minutes on average, you can be sure that many visitors are reading the blog in its entirety. Conversely, if the average time spent on a blog page is one or two minutes, you can guess that the content, or at least the opening paragraphs, needs to be improved.
Another metric to consider is the Bounce Rate. Every page on your site should inspire more action from visitors. You don't want people merely jumping into a page and then taking off completely after a few minutes. As a rule of thumb, a bounce rate in the range of 26 to 40 percent is excellent, 41 to 55 percent is roughly average, and 56 to 70 percent is higher than average.
Goals Report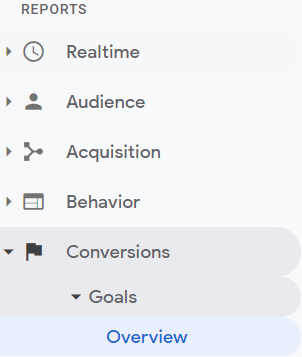 Conversions > Goals > Overview
Before getting started, there is a little bit of extra work needed in the admin section of Google Analytics. You first have to tell Google what your goal is by setting up what you want to track.
This report allows you to measure specific user interactions on your website like form submissions, purchases, downloads, etc. Through Google Analytics Goals, you will be able to understand whether your website is helping your business achieve its objectives.
3. Publish a case study (quarterly)
What's better than a testimonial? An in-depth analysis of one of your happy and successful customers with data points driving the story home. Publishing quarterly case studies or customer stories is a fantastic way to convince prospects who are still considering their options.
These pieces of content are best for prospects a little further down the sales funnel. They've read some blog articles, they've looked at your pricing page, and now they are really considering whether they want to work with you or not. A case study is a great way to show them that you can deliver tangible results. Here are a few pointers on how to build your own:
Find your happiest clients
Run regular customer surveys that help you keep track of which clients are most satisfied with your services or products.
Look for tangible results
Narrow down your list of happy clients by looking at the results they've gotten from your services or products.
Tell their story with data
Get the client involved. Interview them so you fully understand why they chose to work with you and why they are happy. Add data points to make the story even more compelling.
4. Build a new page (quarterly)
While blog articles can help bring in new traffic to your website, various types of pages within your site are what help you turn those visitors into leads.
Good supporting pages provide that next level detail about what you offer and why interested visitors should work with you. You need to think about what you're offering and whether you have the right pages on your site.
What you sell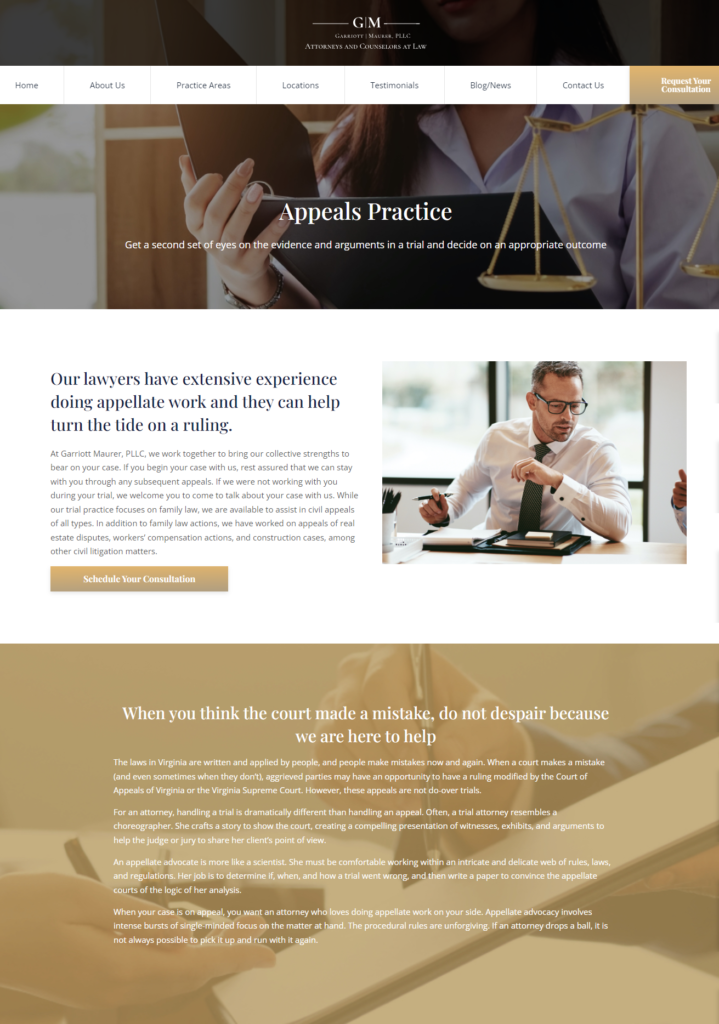 First, you want to ensure you are covering what you sell, and you can do this with well-produced service or product pages. These pages should go over exactly what you offer in fine detail. If you have fixed pricing, be sure to extrapolate that. If you have a list of features included in a particular plan, add that rundown. The key is to leave your visitors feeling like every question, concern, and curiosity has been addressed.
Who you sell to
Location page

Industry page

Other demographics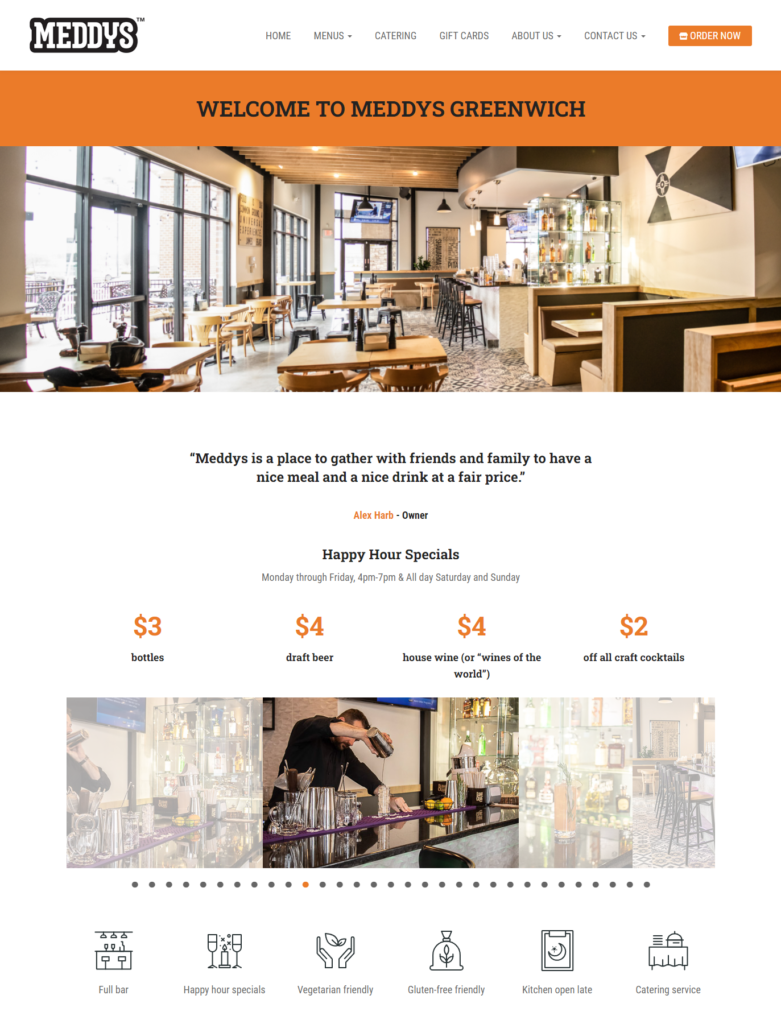 You also want to address who you're selling to. These pages are a little more specific. If you serve a particular area, a well-crafted location page can help you rank higher in local Google searches.
You might be targeting specific industries or other demographics that fit your business. Let's say an accounting firm is looking for IT support. If they see an industry page on your site that shows your experience in that field, they're going to be much more likely to trust your ability to deliver.
Why they should buy it
Landing page

How We Work page

FAQs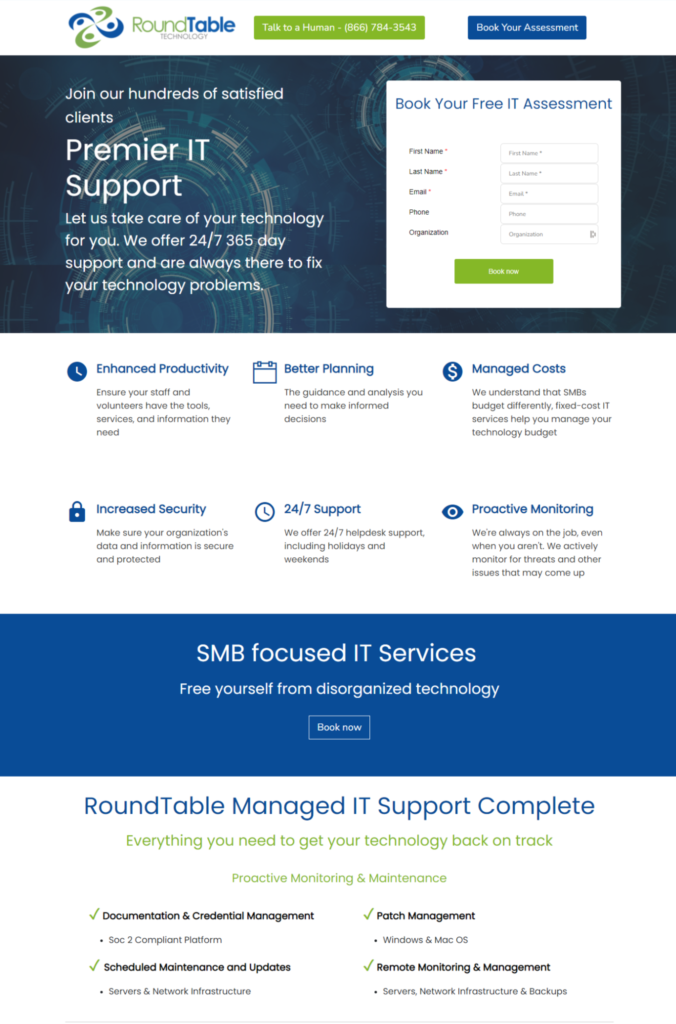 Lastly, consider adding pages that tell people why they should buy what you're selling. A landing page is a great way to deliver an enticing offer or something free to download. An FAQ page allows visitors to understand your services and products more. A how we work page digs deeper on your overall process, instilling trust among visitors.
5. Audit your SEO and content (yearly)
Sites can get messy over time. Doing a deep analysis of your search optimization and content can help you find areas to improve as well as opportunities to capitalize on. A great tool for this is Google Search Console, a really in-depth tool with a lot of different insights. Here are two important places to look:
Performance Report > Pages
Here, one of the things you want to be looking at is your Click-Through-Rate (CTR). This tallies the number of clicks a page has received from Google search results and divides it by the number of impressions (the number of times it showed up in individual searches).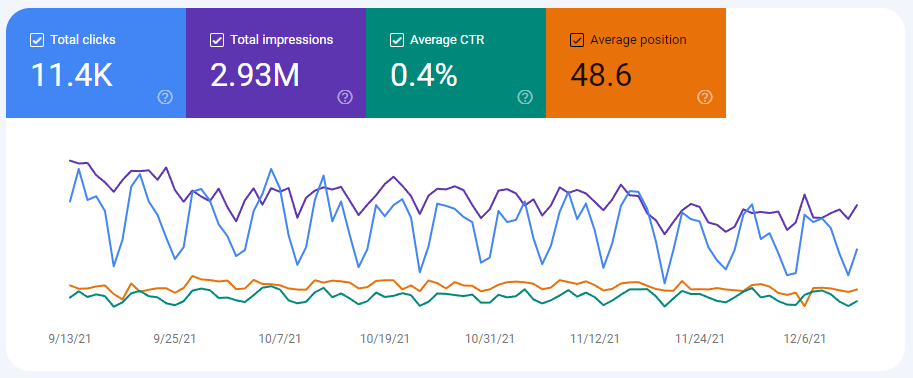 CTRs can vary quite a lot, but it's best to target pages under 1%. A quick way to bump up your CTR is to optimize your title and meta tags (find out how in our Ultimate Web Marketing Checklist!).
Performance Report > Queries
This report tells you which keywords your site is ranking for. If you sort by position, you can see which keywords are ranking the highest for your website. At the very top, you will typically find things like your brand name, but if we look at keywords that are averaging in the 11 to 15 range, there are potential opportunities to push those back up within the top ten (page one Google).
There are many different ways to improve your page rankings, but the most effective way to climb ahead is to build quality backlinks.
6. Audit your speed performance (yearly)
Just like the overall structure of your site can get messy, so can the code on individual pages. Doing a deep clean on your most important pages once a year will keep them loading quickly.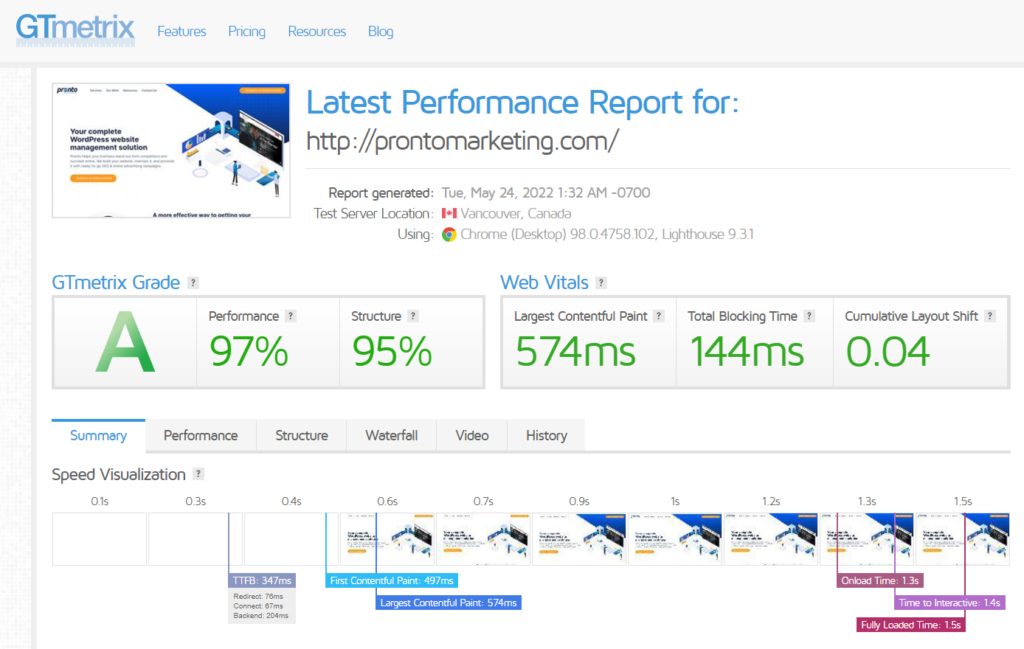 A fast and easy tool to audit the performance and structure of your site is GTmetrix. Inside, you see a bunch of different and perhaps confusing metrics, but there are three that you really need to be monitoring:
The amount of time it takes for the largest piece of content on the page (e.g., the banner image) to load.
The amount of time that running additional scripts prevents content from loading on the page.
The time delay between the initial content loading and layout shifts that occur as additional content loads.

GTmetrix makes it rather simple when looking at this data. What's in green is ideal, and what's in red is problematic. If there's a lot of red showing in your web vitals, there are a couple of things you can do:
Basic Optimization
Compress images and other large files on your pages to improve loading times. Some helpful plugins that can do this for you include Imagify, EWWW Image Optimizer, and WP Smush.
Deep Optimization
Review your site's code to drive huge improvements in your page speed. Plugins that will do this for you include Autoptimize, Fast Velocity Minify, and Merge + Minify + Refresh.